Research In Motion (RIMM) has dropped to prices last seen in 2004, yet management has not yet seen fit to buy a single share under its latest stock repurchase authorization. According to its third quarter fiscal year 2012 earnings report from December 15, RIMM let another quarter come and go without repurchasing shares. Total outstanding shares remained essentially the same as last quarter and "common shares repurchased" remains zero.
This lack of activity has occurred without commentary or explanation from the company. Surprisingly, analysts in the last earnings call did not seem to ask about it (click here for the transcript for the Q&A from the earnings call). Last quarter, I gave RIMM a "pass" given the company saw fit to spend over $1B elsewhere:
"Uses of cash included strategic purchases of intellectual property assets associated with RIM's participation in a consortium of companies that successfully bid to acquire Nortel Networks Corporation's patent portfolio, of which RIM's cost is approximately $780 million, capital expenditures of approximately $285 million, and working capital requirements."
This time, while making adjusted net income of $667M (GAAP net income of $265M), RIMM drew down $600M in cash and cash equivalents. Cash, cash equivalents, AND short-term and long-term investments stayed essentially flat. In other words, there remains plenty of money for initiating the buyback. Note well that RIMM had a similar balance sheet when it executed two massive and aggressive buybacks in previous years.
With shares trading in the teens, plenty of cash on the balance sheet, and an as yet unused share repurchase authorization, I have to conclude that there is a high likelihood that management still sees further downside ahead. If so, RIMM will likely trade in the single digits by the time of the next earnings call. Certainly, shorts are not concerned with the prospects of a buyback. Short interest continues to increase steadily except for a sudden drop at the end of November. Smelling blood, growth in shares short could actually accelerate in the coming weeks.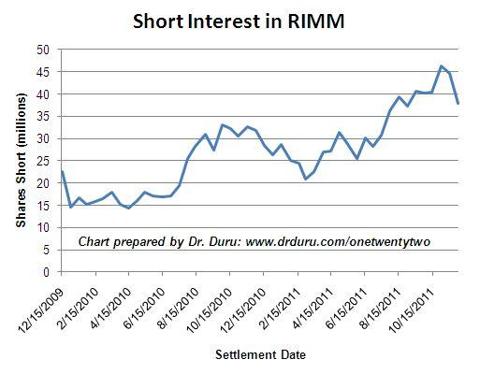 Source: NASDAQ RIMM Short Interest
The chart below also shows that RIMM has little historical price support until around $8.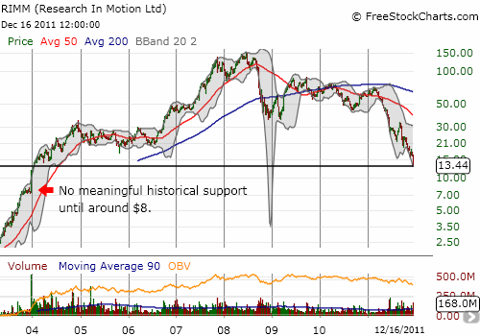 Source: FreeStockCharts.com
In the past, I have tried to look for the positive spin or silver lining in RIMM's story. Not this time. It is proof by execution and demonstration from here all the way down as low as whereever RIMM is going.
Be careful out there!

Disclosure: I am long RIMM. I am also long RIMM puts