Can you beat an ETF? It is a simple question, but you have to be clear on what you mean by 'beat'. Most investors would say if you can pick a few stocks that perform better than a best-fit ETF, you somehow did a good job.
The idea of looking at ETFs and the positions inside of them came about when we found a indicator for John Deere (DE) in the article entitled MOO: A Tell for John Deere?, which got a lot of hits. Why couldn't we use some of the same thinking to figure out if excess return could be had by simply selecting the largest positions in an ETF and leaving the rest behind?
This three part series will focus on the raw results, some analysis of what is really going on, and a homemade long-short strategy based on the results. Of course, a time machine would be the most useful device. Backtesting does nothing but show you can find numbers that work. Let's start by scratching the surface.
Make life easy. We started with nine S&P Sector SPDR ETFs and picked the largest percentage holdings inside the ETFs. There was no target number of stocks, and simply took the top few holdings that comprised the largest percentage of the basket. What does this look like? See the table below.
From here we created an equal weighted model over a 2 and 5 year time period. Those numbers were compared to the ETF and the S+P 500 using SPY as a proxy. The results were not expected. Most of the equal weighted 'custom' portfolios outperformed the ETF by a wide margin. Over a five-year period the top stocks in XLK increased 112% versus 16% with the straight ETF. That is not a small difference.
What happened with a disaster sector like financials? The top three stocks held in XLF lost around 9% over five years versus a loss of 60% for the ETF. If you want to get blown away by some incredible numbers, see the table below.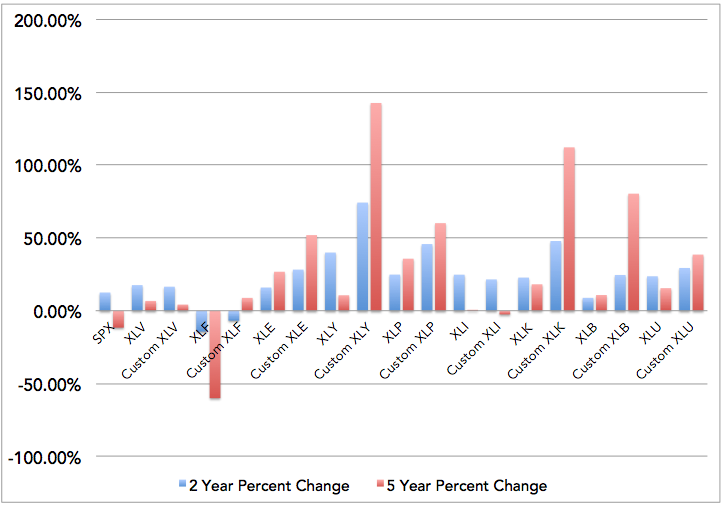 What didn't work? XLV and XLI didn't make much of a difference. For an investor, having the added diversification of a basket of dozens of stocks in a sector outweighs the lure of outsized gains. But all of this happened in the past.
Why is this a problem? None of this reflected what the top positions in 2006 were at the time. Below is a break down of what the top holding in 2006 and what would have happened if you used to top positions back then.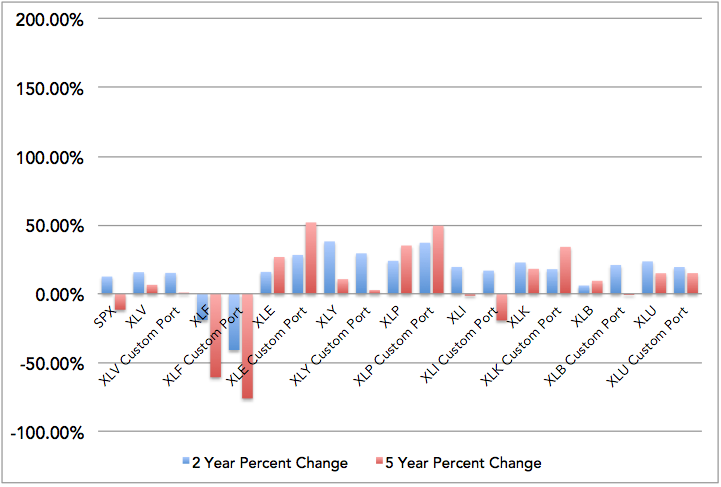 Clearly, things didn't come out as rosy without a rear view mirror. What we see when looking backwards are top positions in 2011 appear to be that way because of recent growth relative to their index peers. For instance, Apple (AAPL) wasn't a top 4 holding of XLK in 2006. While the custom portfolio still beat the ETF, it was mostly on the back of IBMs performance and not the triple digit return we saw at the top.
So, does the momentum continue for longer periods of time? If you look at what custom models from the top positions in 2006 did the best there is some evidence towards momentum going both ways. Custom portfolios that showed 20% or more movement (XLP, XLE) did better with the top positions. Those that lost more than 20% (XLF) did worse with the top positions.
Perhaps this 'too small for a real sample' data set would suggest that when you have a strong trend the biggest names move the most and vise versa on the downside. In fact, XLE had the same top two holdings over from 2006 and 2011, XOM and CVX. Again, if we only knew ahead of time the sectors that would have the most momentum we could put this information to good use.
In part two of this series we will look at what stocks caused this dramatic change in performance and what it can tell us about consistent results from buying a basket versus the top holdings.
Disclosure: I am long AAPL.