Seems like every week Warren Buffett is announcing a large scale solar project. Ok, maybe that's because he has announced the purchase of major projects in the last two weeks. [Read Buffet's Solar Deal Appears Opportunistic, Not Bullish On The Industry]
After the close on Friday, Buffett's MidAmerican Energy (part of Berkshire Hathaway (NYSE:BRK.A), (NYSE:BRK.B)) announced a deal to purchase a 49% interest in the Agua Caliente solar project from NRG Energy (NYSE:NRG). The 290-megawatt solar project in Arizona will cost $1.8B to construct and already has a long-term power purchase agreement with Pacific Gas and Electric ((PG&E)). The project will be completed in 2014 and is being constructed by First Solar (NASDAQ:FSLR).
Investors need to understand that this deal appears very similar to the one last week, with a couple of major differences. Like the last deal, MidAmerican is buying into an existing project that already has a long term supply deal with PG&E. The project is also eligible for some construction discounts of up to 30% of the costs. The major difference is that this project has a federal government loan guarantee (not that it's clear Buffettt would even need it). The other probably minor difference is that Buffett is only buying a 49% stake in the project from NRG versus outright ownership.
The big key for solar panel manufacturers is that Buffett is not stepping in to buy new projects or projects not backed by government incentives.
More details from a Reuters report:
NRG had said in May that it planned to bring partners into the project. The company first said a year ago that it would invest up to $800 million in the Agua Caliente power plant.
Solar power is still more expensive than electricity generated from fossil fuels, but the Agua Caliente project may qualify for a cash grant totaling 30 percent of its construction costs under a federal program to stimulate development of renewable energy.
"Solar projects on a market basis are far from economic, but when you consider the fact that utilities have to buy solar power right now, MidAmerican, NRG and other solar project owners can make a good return," said Morningstar analyst Travis Miller.
Maybe something can be made out of the fact that FSLR is the manufacturer for both projects, though that's stretching it at best. One only has to look at the below chart of FSLR since the first announcement.
After the initial bump the stock has plummeted on an earnings warning from the company. In fact, the company plans to move into only sustainable markets by 2014, rather than pursuing subsidized markets. Anybody wonder if that date is just a coincidence?
Click to enlarge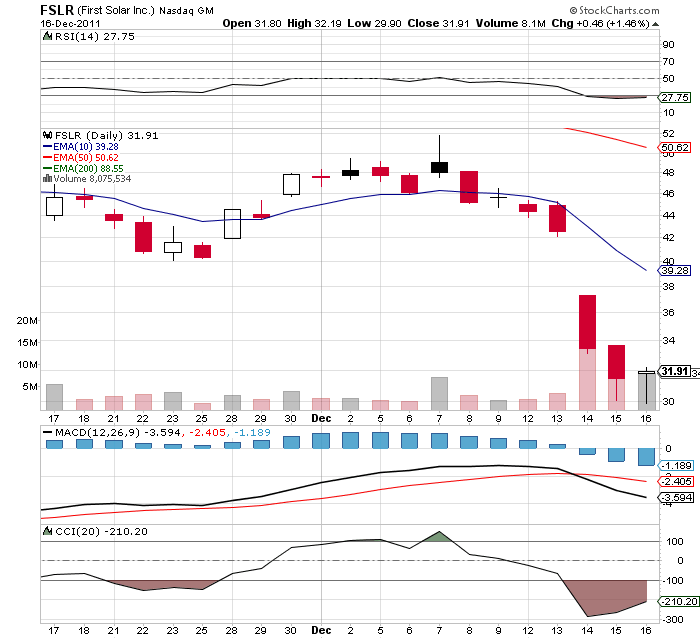 Click to enlarge
Disclosure: I have no positions in any stocks mentioned, and no plans to initiate any positions within the next 72 hours.
Additional disclosure: Please consult your financial advisor before making any investment decisions.