I first mentioned Focus Media's (NASDAQ:FMCN) Interactive LCD screen in my Q3 earnings recap. The new Interactive LCD screen is completely different from the Basic LCD, LCD 2.0 digital frame, and the LCD 1.0 picture frame that are widely debated over the past couple weeks.
In my view, Focus Media is repositioning itself from a low-tech digital advertising company that only delivers advertisement to a high-tech interactive advertising company that not only delivers advertisement but also transforms viewers into shoppers. In this article, I will provide readers with a close look at Focus Media's next generation Interactive LCD screen (pictured below, click to enlarge images).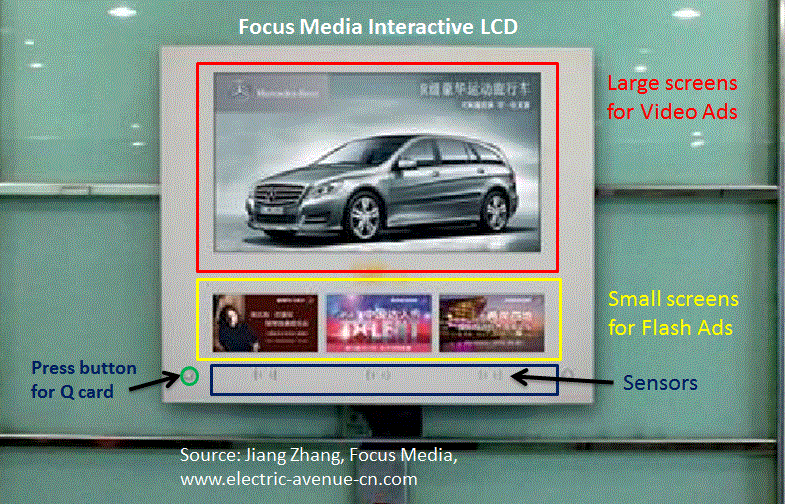 Click to enlarge
The Interactive LCD screen features one large screen for video advertisement and three small screens for lash ads that feature local coupons and promotions. The screen also stores 100 Q Cards (RFID cards), which are manually refilled as soon as they run out.
Consumers can press the button the bottom left corner to receive the free Q-card and register the card via SMS or online. To get the coupon or the local deal, consumers need to scan the Q Card against the sensor located below the smaller screens in order to receive a SMS coupon which they can use at the nearest location. The LCD screens are also compatible with RFID-embedded SIMs or near field communication to cater to the growing usage of smart phones in China.
The new Interactive LCD screen is critical to Focus Media's future growth because it transforms viewers into buyers, which is important from the advertisers' point of view, and opens new revenue stream because promotion and direct sales budget are different from advertising budget. Most importantly, the new platform will attract new clientele including social networking firms and local businesses (eg. Restaurants, hair/nail salons, fitness centers). For example, Renren (NYSE:RENN) signed a 1-year contract with Focus Media in June to promote its Nuomi (group-buying) deals on the Interactive LCD screens. As Focus Media scales up its Interactive LCD network, I believe that local businesses will likely adopt the platform to increase their store traffic and brand awareness.
Focus Media conducted tests on the Interactive LCD screens during first half of 2011. At the end of 2Q11, the management outlined that it would roll out 30K Interactive LCD screens by October in seven major cities across China, namely Shanghai, Guangzhou, Beijing, Shenzhen, Nanjing, Chengdu, and Hangzhou. By year end, the management hopes to roll out 40K Interactive LCD screens in total and upgrade 60K LCD screens by modifying them with sensors.
Going forward I am positive on Focus Media's growth strategy. My channel check suggests that advertisers in Tier 2 cities have already shown strong interest in the platform and hopes to incorporate it as part of their marketing strategy when it becomes fully commercialized in 2012 and 2013.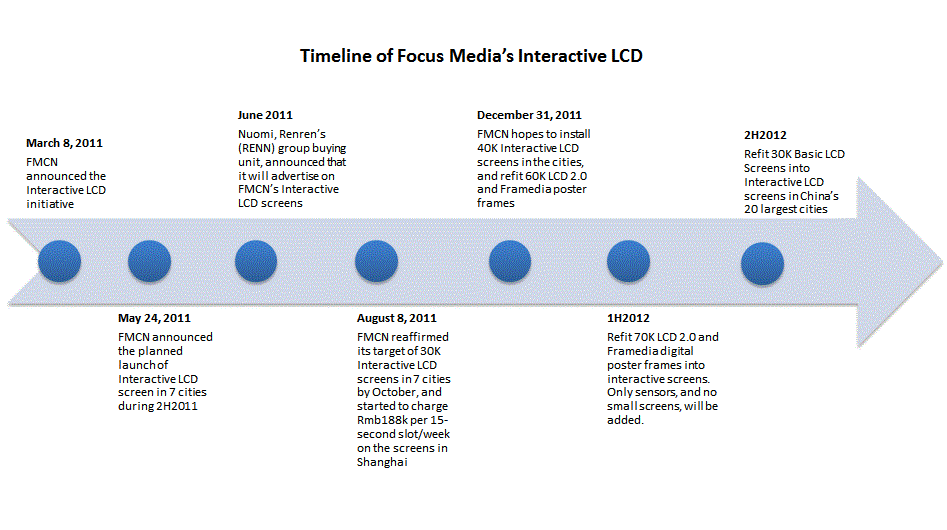 Click to enlarge
Disclosure: I have no positions in any stocks mentioned, and no plans to initiate any positions within the next 72 hours.