There has been lots of news about the Amazon (NASDAQ:AMZN) Kindle Fire since it was first announced on September 28th and started shipping in mid-November. The latest is that the Kindle Fire is selling at a strong one million units per week heading into Christmas. Many analysts, especially the technically-oriented ones, have spent lots of time comparing the Fire to the iPad2 and making the case that the Fire is an inferior device. Others have claimed Amazon is now in a battle royal between Apple (NASDAQ:AAPL) and Amazon for the tablet market.
A small minority of observers on Seeking Alpha such as Rocco Pendola, Scot Wingo, and yours truly have been correctly explaining what the Kindle Fire is about: It is a portal into all things Amazon, both media and merchandise, and that is exactly what millions of customers are now proving they want by buying one. Jeff Bezos has no interest in competing with Apple in tablets. He has an interest in selling more stuff on Amazon, and the Kindle Fire is a great tool for doing that. If you read some of the negative reviews out there you would never know it, with some even going so far as to call the Kindle Fire a 'failure'.
Far from it. The Kindle Fire is doing its intended job. Since it started shipping in mid-November, there are now almost 6 million new users who are happily downloading and watching media from the Amazon library and buying stuff for Christmas using their free trial Amazon Prime accounts they got with the Kindle Fire. As one data point, I have spent over $500 on Amazon for Christmas that I might have otherwise spent at Wal-Mart (NYSE:WMT) or JC Penney (NYSE:JCP), and all the items are showing up at my door now, tax free and 2 day shipping free, in plenty of time for wrapping and putting under the tree. It is anybody's guess what the additional gross merchandise and media revenue will be per Kindle Fire customer by the end of this quarter. But even at $100 average per customer- that's $600M in additional revenue, plus $1.2B in revenues for the $199 Kindle Fires themselves, in just 6 weeks.
And don't forget the Amazon Prime free trial upgrades. I never got Prime before because I was satisfied with the standard free shipping times on Amazon. But now that it includes tons of free media and I have something to watch it on, the $79 price that also includes free, two day shipping seems more reasonable. Suppose 20% of new Kindle Fire owners upgrade to Prime, as I did today. That's another $100M.
And for those of you who think that Amazon is selling the Kindle Fire as a loss leader, think again. There are dozens of made-in-China Android tablet models similar to the Fire selling for as low as $50. These manufacturers sell for low margins, but the manufacturing cost of building 6 million tablets for Amazon is a lot less than many people estimate.
Hmmm, let's see now, one new product generating approaching $2B in revenue in just half a quarter, and with all of it profitable.
Anyone still want to call that a 'failure'?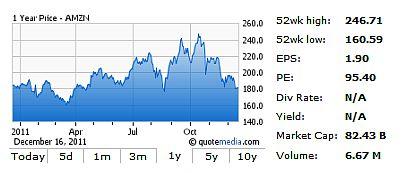 Disclosure: I am long AMZN.