Chip stocks have had a tough second half of the year. 2012 should be a better year for the sector once the crisis in Europe hopefully lessens, tech spending picks up in the second half of the year and 2011 year end tax selling abates. Here are two cash rich chip stocks with low valuations. These seem to have little downside and could rebound strongly in 2012.
Analog Devices (NASDAQ:ADI) – "Analog Devices, Inc. engages in the design, manufacture, and marketing of analog, mixed-signal, and digital signal processing integrated circuits (ICs) used in industrial, automotive, consumer, and communication applications". (Yahoo Finance)
4 reasons why ADI is great long term buy at $34 a share:
1. The company has almost 25% of market capitalization in net cash.
2. The stock seems to be in an upward trend recently, with higher lows in the last several months (See Chart).
Click to enlarge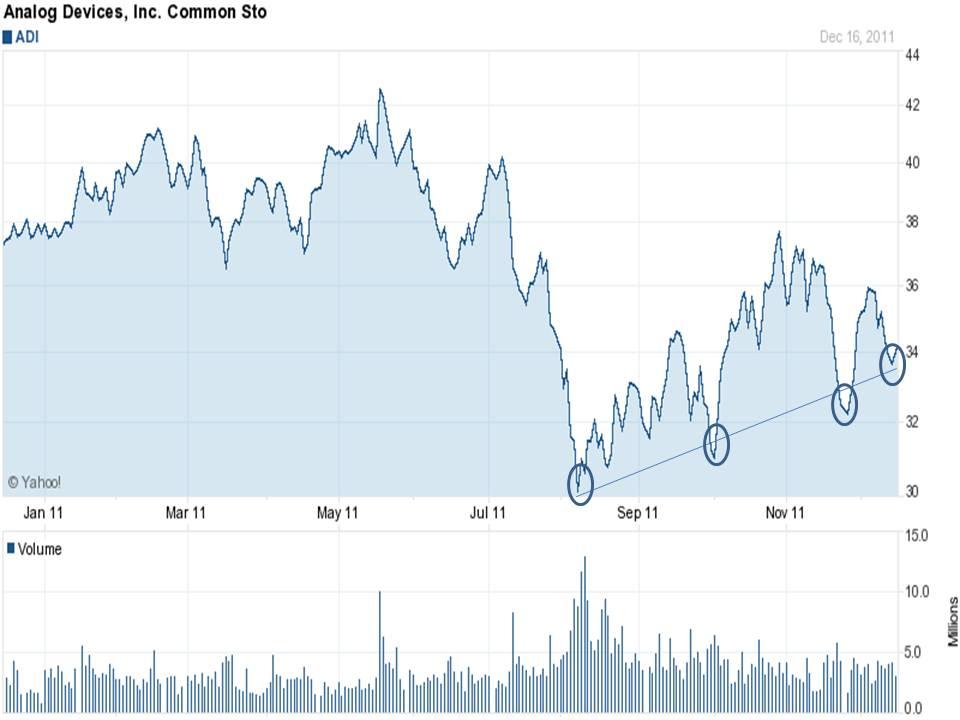 3. Revenue growth should rebound next year after falling near 6% in FY2011. Analysts' consensus forecasts call for 9% sales growth in 2012.
4. Although EPS has been choppy over the last half decade, ADI has grown earnings at an average 13% over the past five years. At less than 10 times forward earnings once net cash is taken into account, the company seems cheap on a long term basis.
Integrated Device Technology (NASDAQ:IDTI) – "Integrated Device Technology, Inc. designs, develops, manufactures, and markets a range of integrated circuits for communications, computing, and consumer industries worldwide. It operates in two segments, Communications, and Computing and Consumer". (Yahoo Finance)
4 reasons IDTI is a bargain at just over $5 a share:
1. It is selling in the bottom third of its five year valuation range based on P/E, P/S and P/CF.
2. Around 35% of its market capitalization is in net cash.
3. IDTI has strong technical support in the $5 to $5.50 range (See Chart).
Click to enlarge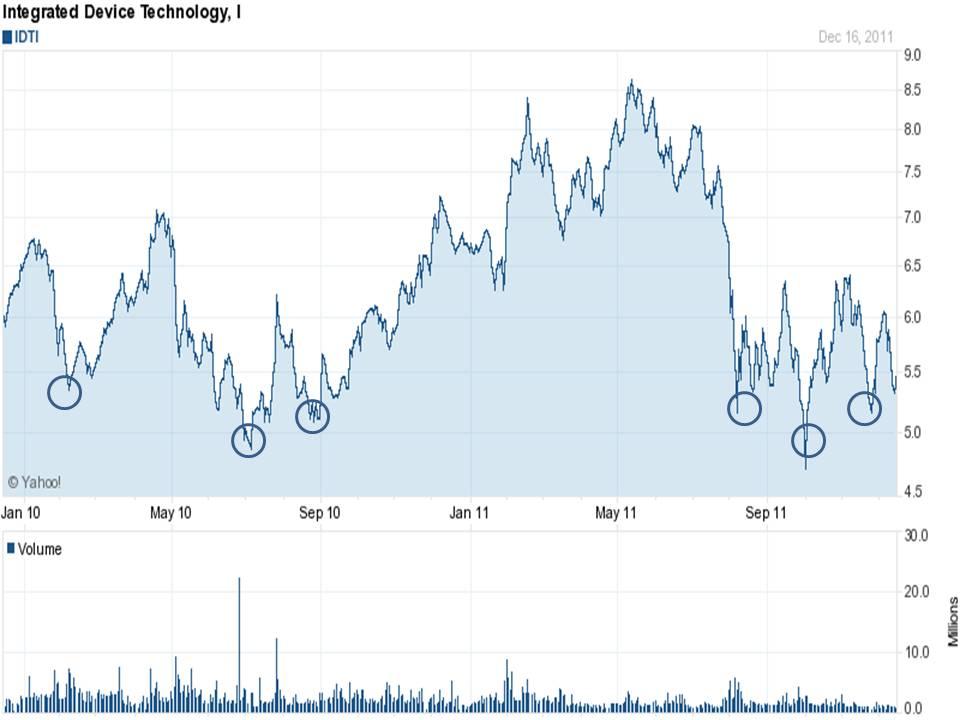 4. IDTI has beat earnings estimates 11 of the last 12 quarters. The average beat over consensus over the last four quarters is north of 18%.