A tough second half for Bruce Berkowitz's Fairholme Fund
In an article published in early June, (Bruce Berkowitz: 'Beat the Pack by Breaking From It'), I reported on a presentation Fairholme Fund (FAIRX) manager Bruce Berkowitz gave to the New York City chapter of the American Association of Individual Investors. At that presentation, on June 1st, Berkowitz was asked about his fund's negative performance to that point (FAIRX was down 10.71% year-to-date, as of then). From June 1st until December 16th, the Fairholme Fund has declined another 28.46%.
Hedging the Fairholme Fund's top holdings
Last week, Seeking Alpha contributor Zvi Bar reviewed the recent performance of the Fairholme Fund's top holdings. One of these stocks, The St. Joe Company (JOE), was of particular interest to me, as I had bet against it by buying puts on it at the beginning of this year. At the time of Bruce Berkowitz's presentation in June, JOE was one of the most expensive Fairholme Fund holdings to hedge. Now, the most expensive of Fairholme's top holdings to hedge is Sears Holding Corporation (SHLD). You can see that in the table below, which shows the costs of hedging JOE, SHLD, and the Fairholme Fund's other top holdings against greater-than-27% declines over the next several months, using optimal puts.
A Comparison
For comparison purposes, the table also shows the cost of hedging the SPDR Dow Jones Industrial Average ETF (NYSEARCA:DIA) against the same decline. First, a reminder about what optimal puts are, and a note about why I've used 27% as decline threshold; then, a screen capture showing the optimal puts to hedge one of these stocks, Berkshire Hathaway (BRK.B).
About Optimal Puts
Optimal puts are the ones that will give you the level of protection you want at the lowest possible cost. Portfolio Armor uses an algorithm developed by a finance Ph.D. to sort through and analyze all of the available puts for your position, scanning for the optimal ones.
Decline Thresholds
In this context, "threshold" is the maximum decline you are willing to risk. Another way of thinking about it is this: the percentage you can tolerate losing. Ordinarily, I use 20% decline thresholds when hedging equities, but one of these stocks, Sears Holding Corporation (SHLD), was too expensive to hedge against any decline smaller than 27% (i.e., the cost of hedging SHLD against a 26% decline was itself greater than 26% of position value; because of that, Portfolio Armor indicated no optimal puts were available for that). I have used 27% as decline threshold for all of the names in the table below, to accomodate SHLD.
The Optimal Puts to Berkshire Hathaway
Below is a screen capture showing the optimal put option contract to hedge 100 shares of BRK.B against a greater than 27% decline over the next six months, as of Friday's close. A note about these optimal put options and their cost: To be conservative, Portfolio Armor calculated the cost based on the ask price of the optimal puts. In practice, an investor can often purchase puts for a lower price, i.e., some price between the bid and the ask.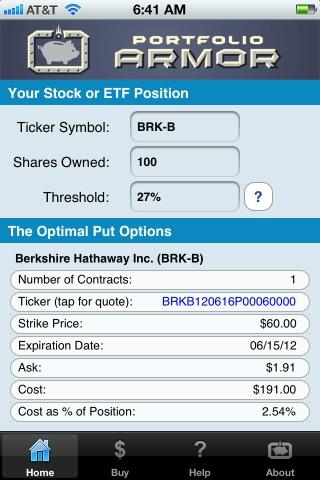 Hedging Costs As Of Friday's Close
The hedging costs below are as of Friday's close and are presented as percentages of position value. Regarding the stock below with the highest hedging costs, Sears Holding Corporation (SHLD), recall a previous article ("High Optimal Hedging Costs: A Red Flag?") where we speculated that high hedging costs could presage future underperformace.
| | | |
| --- | --- | --- |
| Symbol | Name | Hedging Cost |
| AIG | American International Group | 6.46%* |
| SHLD | Sears Holding Corporation | 24.2%** |
| BAC | Bank of America Corporation | 13.5%* |
| | Citigroup, Inc. | 9.76%** |
| BAM | Brookfield Asset Management | 3.98%** |
| CIT | CIT Group Inc. | 6.28%*** |
| BRK.B | Berkshire Hathaway | 2.54%** |
| LUK | Leucadia National Corp. | 6.13%** |
| JOE | The St. Joe Company | 9.31%** |
| DIA | SPDR DJIA | 1.67%** |
*Based on optimal puts expiring in May, 2012
**Based on optimal puts expiring in June, 2012
***Based on optimal puts expiring in July, 2012
Disclosure: I have no positions in any stocks mentioned, and no plans to initiate any positions within the next 72 hours.
Additional disclosure: As I noted in the article, I held puts on JOE earlier this year, but I sold them in August.