The hostile bid by Martin Marietta Materials (NYSE:MLM) for larger Vulcan Materials (NYSE:VMC) last week caught a lot of attention, but beaten-down construction-related stocks had already been enjoying some investor attention lately. While the performance within the group has been mixed, the average stock ($100mm or greater market cap) in the building products, construction materials and construction and engineering industries (53 stocks) has beaten the S&P 500 over the past month by over 2% and by almost 8% over the past three months. Homebuilders are up even more robustly over the past three months, outperforming the S&P 500 by a stunning 18% but still down 21% on average over 2011 relative to the market.
The recent excitement seems to be a contrarian reflex, as the data doesn't seem to justify such a sharp move. We also seem unlikely to be about to embark on a fiscal spending program that might improve the near-term fortunes. When I add the 15 homebuilders to the other 53 stocks, I get a sense why value investors may be willing to take a shot even in the absence of improving trends. Of the 68 stocks, there are 25 that trade at less than 2X tangible book value. There are also 30 that trade below 20PE (with some overlap).
When business is depressed, as it is for these industries, one of the metrics I like to use to assess value is price to sales compared to a ten-year median. Sales are depressed. The thinking is that if you can buy the stocks at a big enough discount to the typical valuation, you can benefit from both a pick-up in sales and an improving P/S ratio.
With this in mind, I screened the 68 stocks to see how many we could get at less than 80% of the ten-year median, below 1.5X TBV or less than 14 PE. This left 46 names, which is too many for a first cut (but a good signal of potential value), so I tightened the parameters by requiring that the company have less than 50% net debt to capital and that the P/S relative to the 10 year median is less than 1.2X. Here are the 27 that made the cut (click to enlarge image):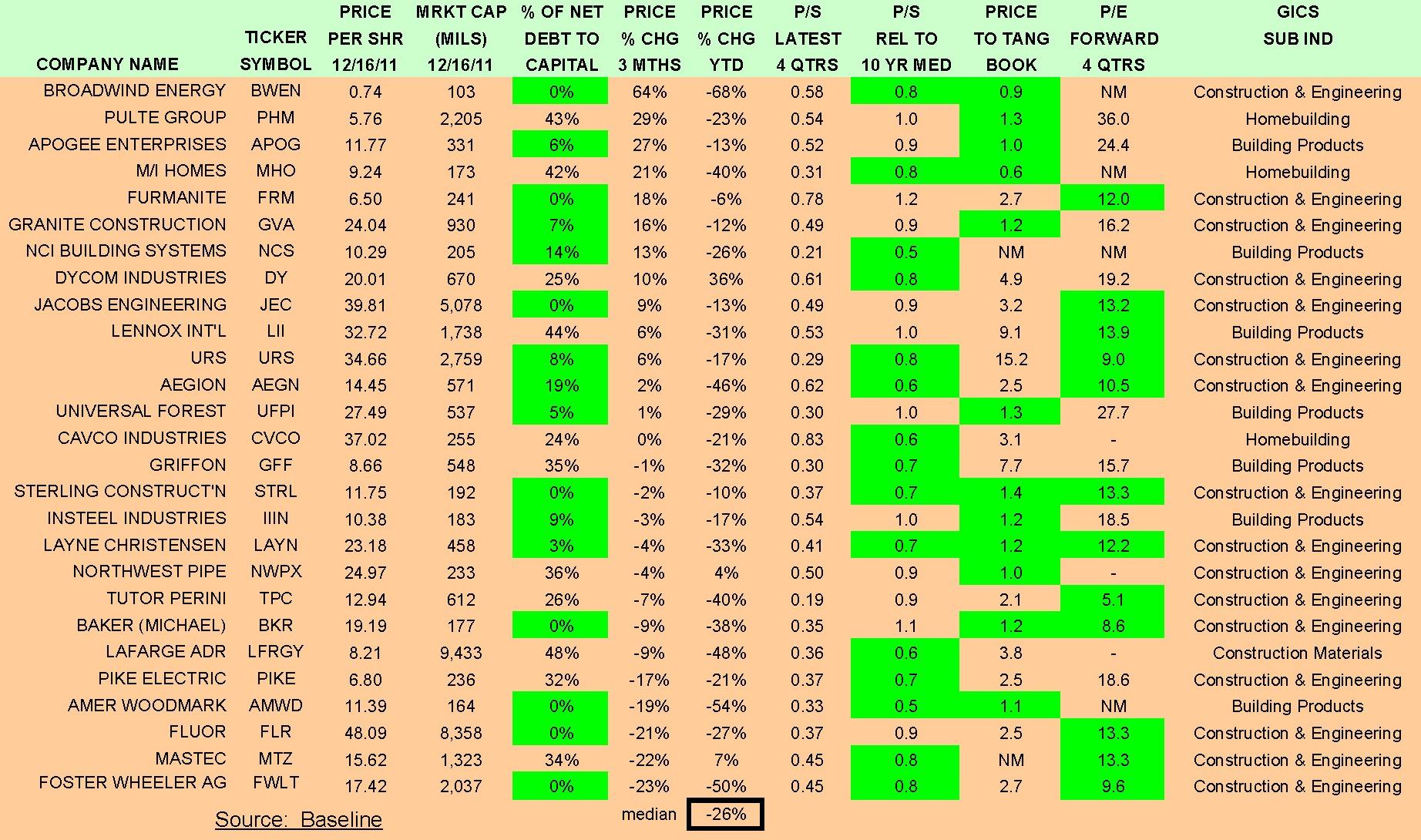 Click to enlarge
I sorted the list by 3 month return. Clearly, while some of the stocks are attracting investor attention, many still are not. So far in 2011, these stocks are down typically by 26%. Note also that I highlighted stocks with net debt to capital less than 20%.
I am familiar with a few of these stocks, including Insteel Industries (NASDAQ:IIIN), which is focused on wire products used in concrete for primarily road construction but also for commercial construction. I include this one in one of my model portfolios because they consolidated the industry smartly a year ago by acquiring the #2 company in the industry. On the most recent call, the company described industry conditions as stable but depressed. I view this one as a call option on eventual recovery and believe it is well managed.
I have also followed Layne Christensen (NASDAQ:LAYN) closely for the past couple of years. This one was one of just two to hit on ALL of the metrics, including having relatively low debt. The biggest part of their business is related to water infrastructure, and they have stumbled lately on execution and amidst competitive pricing. There are lots of moving parts here, including a new CEO who just came off the Board of Directors and is already revamping their energy efforts. While parts of their business are troubled, the mineral mining is running flat out. I continue to monitor this one from my watchlist, but I like the insider ownership and the valuation. If I were convinced that housing construction would improve, this is one I would likely consider.
Another one on my watchlist is Apogee (NASDAQ:APOG), based in Minneapolis and focused on glass. The company just rocketed on a good report but remains cheap. Just before bringing in an outsider as its new CEO, the company made an acquisition in Latin America. This one looked really cheap to me when I wrote about it in early October, but I underestimated its attractiveness at the time.
I don't know Sterling Construction (NASDAQ:STRL) very well, but, like LAYN, it scores well on all of the metrics. Focused on road and marine construction, it sure has maintained its earnings despite challenging industry conditions. Insiders own an impressive 9%. The reasonably low PE is even more impressive considering the company has over $3 per share in cash net of debt.
The other one that jumps out at me is American Woodmark (NASDAQ:AMWD). The cabinet maker seems really cheap, and I can't help but notice the recent strength at Home Depot (NYSE:HD) and Lowe's (NYSE:LOW), both of which distribute its products (71% of sales). Insiders own 29% of the company (mainly the Brandt family). Clearly, current conditions remain challenging, as the company just announced a restructuring last week. It also recently suspended its dividend.
So, while I am not exactly sure what is driving investor interest in housing and commercial construction, clearly the stocks have been beating the market recently. As my screening indicates, there seems to be a lot of value in the group, which has been in decline since 2006. Hopefully, this screen helps hone in on some names that might have been left behind or that still look appealing. Let me know your thoughts!
Disclosure: I am long IIIN in the Top 20 Model Portfolio at Invest By Model