Jim Cramer, CNBC's Mad Money Madman, is the most prolific stock-picker today. Throughout the Mad Money program, Cramer makes several calls each day. The show has been airing since March 14th 2005. Over the years he has come up with numerous gimmicks and angles to present his ideas. One of which was the FADS CAN acronym. In a May 27th 2011 post to his RealMoney blog, Jim Cramer announced that his FADS CAN stocks are back in action, the blog was titled "FADS CAN Is Back in Action". Please review the following short excerpt:
They tried to keep Chipotle (CMG) down, with worries about raw costs. Fifty-week high. There have been endless negative articles about Netflix (NFLX) and how everyone is gunning for it. Just took out the 52-week high. Could there be more people saying negative things about the valuation of Salesforce.com (CRM)? I don't' think so. Fifty-two week high this week. Can you believe the power of Amazon (AMZN) after the quarter it reported? Sure, with gasoline at $4, you can. Deckers (DECK) skipped a beat, but it has rejoined the bull market show and is moving past that last quarter as a supply chain problem in Europe. That's all it was. Apple's (AAPL) finally getting jiggy, and even F5 Networks (FFIV) is showing life after fellow data-center player NetApp (NTAP) reported a stellar quarter. In other words, the acronym FADS CAN is back in action, and there's nothing more bullish than having these high-octane leaders back in charge of the next move.
I have not heard Cramer touting his FADS CAN acronym for quite some time and thought I'd do a review of their performance since Cramer's May 27th blog declaring they are back in action. It appears the more apropos acronym would be FADS CANT because five out of the seven momentum plays are down and two are down big. In fact if you had invested $100 dollars in each of the seven FADS CAN stocks for a total of a $700 dollar investment, today you would only have $381 dollars left for a 45% loss. Please review the following table detailing the FADS CAN stock performance from May27th till today.
FADS CAN Stock Performance Chart
click on image to enlarge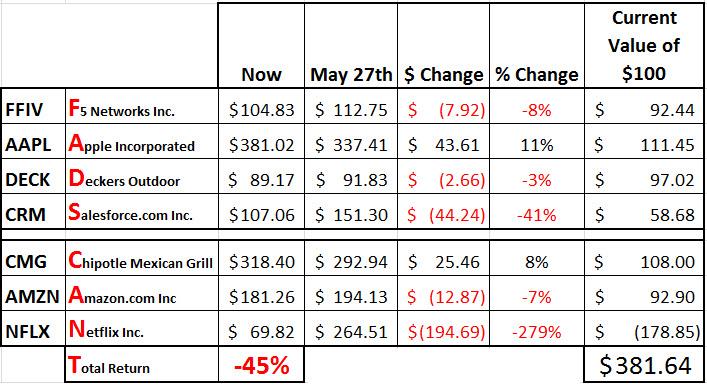 How many high profile skyrocketing momentum stocks have you watched come crashing back to earth recently? The answer is a whole bunch. Netflix comes to my mind first off followed by Green Mountain Coffee Roasters Inc. (GMCR), Open Table (OPEN), Travel Zoo (TZOO) and Soda Stream (SODA). All pumped incessantly by Cramer during their huge runs and then left for dead when they ran out of steam due to accounting irregularites, CEO blunders and all sorts of headline risk landmines.
NFLX was part of his FADS CAN gimmick acronym; well I'm here to say FADS CANT because the definition of a Fad is a temporary fashion or notion followed enthusiastically by a particular group until it isn't. This sounds eerily like momentum stocks and the traders that are captivated with them.
Cramer is not a bad guy, but he has a show to do and in the search for material and ratings, he seems to focus on the high flying "stocks de jour" and spends quite a bit of the show touting his winners and ignoring his losers. He has plenty of winning calls; nevertheless, if you make a call on most stocks in the universe on a monthly basis, you are bound to have enough correct picks to fill an hour program.
The following is a famous quote from Benjamin Graham, a famous value investor who has made millions in the market:
Most of the time common stocks are subject to irrational and excessive price fluctuations in both directions as the consequence of the ingrained tendency of most people to speculate or gamble... to give way to hope, fear and greed.
I believe it is quite apropos regarding these momentum plays. I posit the market is at an inflection point and momentum stocks are soon to be more and more out of favor. Current shareholder's dreams of doubling their money on momentum stocks with sky high PE ratios like Chipotle and Salesforce.com will soon turn to nightmarish elevator rides to the basement floor. As we all know, in life, timing is everything. Well, it works the same way in the market and the time is now to sell these momentum plays due to macro and company specific headwinds, with possibly the exception of Apple.
It appears Amazon's latest endeavor, the Kindle Fire, is not receiving rave reviews and could be the straw that breaks this camel's back according to a recent article in the New York Times. With Amazon's sky high fundamentals, the market may not be very forgiving of an earnings miss a la the Netflix debacle. High-flying Chipotle Mexican Grill ranks #2 on NPD's list of the fastest-growing restaurant chains in America (as measured by Y/Y customer growth), only trailing private burger chain Five Guys. Nevertheless, the stock price has gotten way ahead of the company's growth with price to earnings ratios of 52; not to mention the vast insider selling.
This restaurant momentum story has played out numerous times over the years and has mostly ending badly. Salesforce.com has a market cap of $16 billion and a P/E ratio of 5777. Salesforce trades at over 10.5 times tangible book value and will lose money this year and the next. Seven insiders sold a significant amount of the stock during the past month. This cloud play is reminiscent of the dot com boom of the year 2000, and we all know how that ended. Not to mention the competition is ramping up. Oracle (ORCL) and Microsoft (MSFT) are entering the fray and will inevitably cause profit margins to erode.
Conclusion
Momentum traders chase upward trends in a stock's price. They believe that these stocks will continue to soar due to the 'momentum' already behind them. The notion relies on the conviction that there are great quantities of traders willing to buy whatever stock is hot. Momentum investors do not essentially believe momentum stocks will prosper in the long run, nonetheless they do think in the short run individuals will continue to buy them, perpetuating the momentum. The problem is a momentum stock is hot until it's not and by that time it will be too late. The risk is not worth the reward. Momentum Stocks tend to take the stairs up and the elevator down leaving retail investors who are not watching the market 24/7 more often than not holding the bag.