Korean stocks tumble as news breaks of Kim Jong-Il's death
South Korean stocks dropped in Monday trading as news broke that North Korean leader Kim Jong-Il had passed away over the weekend. The Korean Stock Exchange KOSPI Index closed down 3.43% on the news. Voice of America Seoul bureau chief Steve Herman reported via Twitter that the armed forces of the Republic of Korea (South Korea) had been put on alert following the news of Kim Jong-II's death:
Yonhap: ROK military goes on emergency alert following DPRK announcement of Kim Jong-Il's death. #Korea

— Steve Herman (@W7VOA) December 19, 2011
Hedging South Korean Equities
The table below shows the costs, as of Friday's close, of hedging two Korean stocks that trade in the US and have US options traded on them, as well as the costs of hedging South Korean equities broadly via the iShares MSCI South Korea Index ETF (EWY).
A comparison
For comparison purposes, the table also shows the cost of hedging the iShares MSCI EAFE Index ETF (EFA) against the same decline. First, a reminder about what optimal puts are, and an explanation of the 20% decline threshold; then, a screen capture showing the optimal puts to hedge the iShares MSCI South Korea Index ETF - EWY.
About Optimal Puts
Optimal puts are the ones that will give you the level of protection you want at the lowest possible cost. Portfolio Armor uses an algorithm developed by a finance Ph.D. to sort through and analyze all of the available puts for your position, scanning for the optimal ones.
Decline Thresholds
In this context, "threshold" is the maximum decline you are willing to risk. Another way of thinking about it is this: the percentage you can tolerate losing. I've used 20% as a decline thresholds for the names below. You can enter any percentage you like for a decline threshold when scanning for optimal puts (the higher the percentage though, the greater the chance you will find optimal puts for your position).
The Optimal Puts to hedge EWY
Below is a screen capture showing the optimal put option contract to hedge 100 shares of EWY against a greater than 20% decline between now and July 20th, 2012, as of Friday's close. A note about these optimal put options and their cost: To be conservative, Portfolio Armor calculated the cost based on the ask price of the optimal puts. In practice, an investor can often purchase puts for a lower price, i.e., some price between the bid and the ask.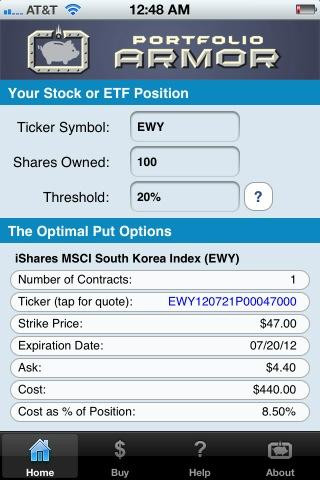 Hedging Costs As Of Friday's Close
The hedging costs below are as of Friday's close and are presented as percentages of position value. It will be interesting to see if these hedging costs increase significantly during Monday's trading.
| | | |
| --- | --- | --- |
| Symbol | Name | Hedging Cost |
| SKM | SK Telecom Co. Ltd. | 6.72%** |
| PKX | POSCO | 8.22%* |
| EWY | iShares MSCI South Korea | 8.50%*** |
| | iShares MSCI EAFE Index | 5.40%** |
*Based on optimal puts expiring in May, 2012
**Based on optimal puts expiring in June, 2012
***Based on optimal puts expiring in July, 2012
Disclosure: I have no positions in any stocks mentioned, and no plans to initiate any positions within the next 72 hours.