The perma-bull Laszlo Birinyi is out saying buy iconic brands to Beat the Market in 2012. Jeremy Grantham is positioned in Johnson and Johnson (NYSE:JNJ) and Coke (NYSE:KO), among many other safe large caps. Hedge funds are backing up the truck and loading up on shares of Intel (NASDAQ:INTC), Microsoft (NASDAQ:MSFT) and Cisco (NASDAQ:CSCO). Although the second half of 2011 has seen a flight to quality trade, numerous signs are saying this trade will continue into 2012.
Using Interbrand's top brands of 2011, let's check out what investors should be considering for their portfolios. These companies are undervalued to their projected free cash flows, they have a long track record of producing those cash flows, they're returning a high proportion of cash per dollar invested [CROIC], they have bullet proof dividends, and they pay consistent dividends every year. They are safe, profitable and "iconic". I continue to use Vuru as part of my research and all figures are from the December 16th close.
Of the 100 companies, only 49 are listed on the NYSE/NASDAQ. I excluded financials with the exception of American Express (NYSE:AXP). Each criterion is out of 2 - a 0 being poor, 1 being a passing grade, and 2 being exceptional. Unfortunately, no company scored a perfect 10 out of 10.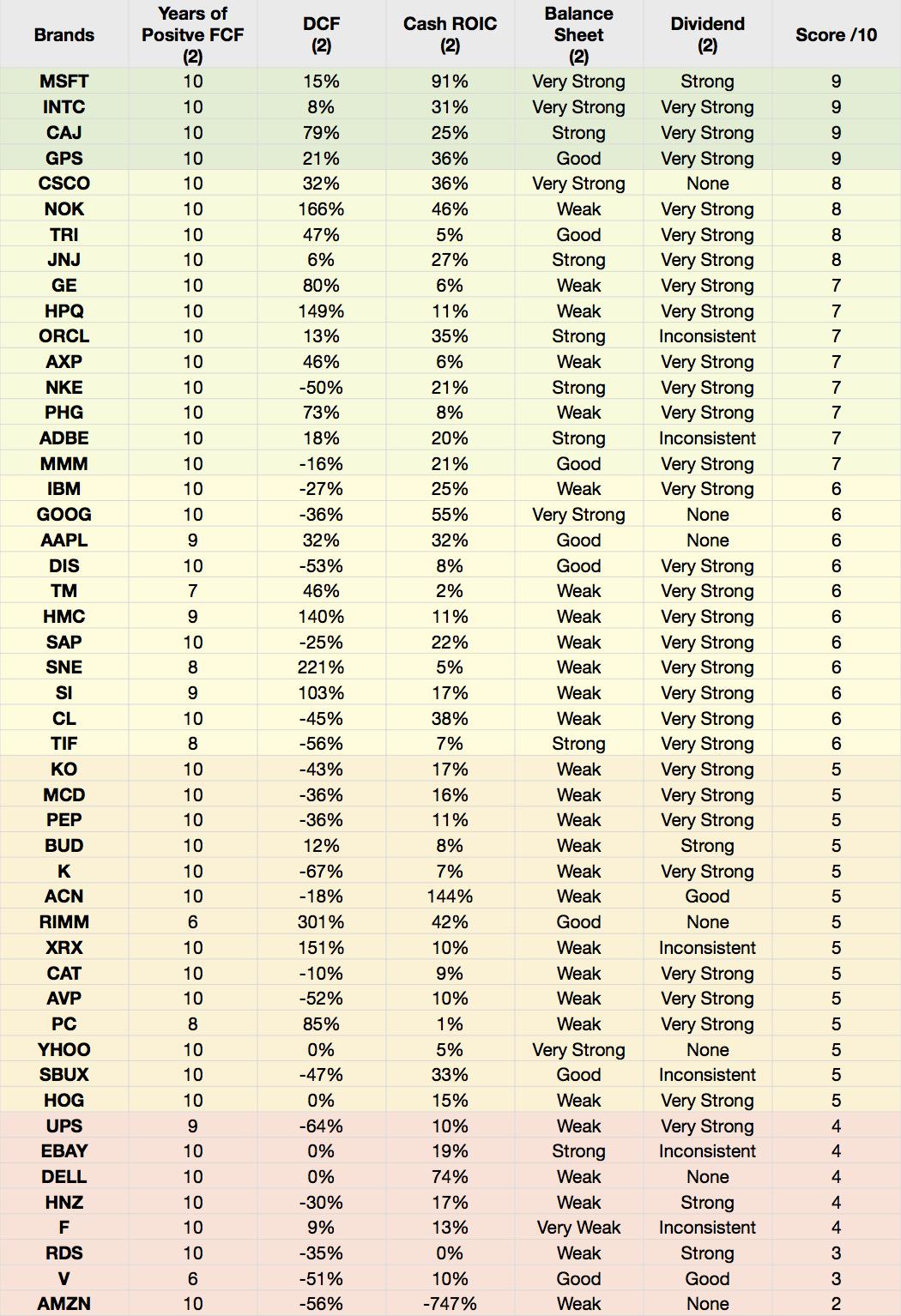 Click to enlarge
I've been a fan of Intel for a while, but there is not huge potential for capital appreciation. Microsoft is doing all the right things and has a better credit rating than the American government. Still, the market is hesitant to reward this megacap, and the $28 level has been an extremely strong resistance. Gap (NYSE:GPS) has made some terrible mistakes, so I'm not bullish on them yet, but a turnaround could be in the cards. I hadn't thought much about Canon (NYSE:CAJ) before, but with 72% of sales coming from outside the US, it could be a great addition to portfolios for more international exposure. For all of these, more research is needed before pulling the trigger.
Have a happy holidays, and good luck in 2012.
Disclosure: I am long HPQ.
Additional disclosure: The views presented are solely my own and not reflective of the investment strategy of any firm I have worked for, past or present. Always speak with your broker or advisor.