The news flow coming out about the Postal Service may seem like a beautiful gift to any holder of UPS (NYSE:UPS) stock. The Postal Service has already made announcements that it will close hundreds of post offices and lay off thousands of workers. Even though Congress has worked with the Post Office to set up a 5 month moratorium on those office closings, the service as old as the country itself seems destined to fall.
It has been long thought that this kind of system failure would be something that would benefit UPS and other private package delivery services. The line of thinking was that people would start using the private services for this standard mail delivery if this basic service failed. However, there are now many who are starting to rethink this concept.
Wal-Mart And Others Step Up To The Plate
In a Josh Sanburn article for Time Magazine titled Gloom of Night, he outlines how the failure of the Postal Service may lead to private companies large and small taking over parts of these services. Although he contends that the private businesses will not be able to do the work as effectively, he still sees this as the path that we are currently destined for. Notably, the author does not particularly point out UPS as a service that could pick up a lot of the workload left by the Postal Service. In fact, he focuses more on how small town businesses and places like Wal-Mart (NYSE:WMT) could end up taking a lot of the responsiblity. He notes that stores like this could (or already do) sell stamps and take care of the other basic functions that a post office does. However, there are a few key things that these stores do not do, including the weighing of packages and more.
The Ripple Effect
If the Postal Service does fall, then it could have dramatic effects on many small businesses. Currently one of the largest generators of income for the Postal Service is what is commonly referred to as "junk mail". These advertising companies provide so much of this mail because it has such a huge profit margin for them. Although many people simply throw their junk mail in the garbage without looking at it, there are apparently enough people making purchases to make this method of advertising effective and important. If the Postal Service fails, then these companies will have few other options. Although they could turn to UPS, the prices that are offered by the company would be too high for these advertisers to make money. That means that many of these companies could simply die off. That means less mail for the typical person, but it also means the loss of more jobs and companies.
UPS Stock
All of the above information is not all that important to the average UPS investor unless they were counting on increased revenues from the failure of the Postal Service. The stock currently trades at $71.76 a share at the time of this writing, with a dividend yield of 2.9%. The company has been able to grow its earnings at a rate of between 10-15% for many years and has expected earnings of $4.80 for next year. Clearly this is a strong company that many investors believe in. It has an average price target of around $83 a share.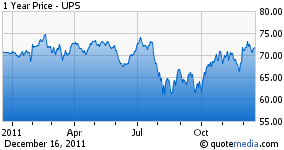 I will not flat out recommend this stock because of concerns that I have about its debt levels and the fact that I believe that competitors might have an edge here. However, I think that this is a stock worth keeping an eye on. Those who are pure dividend players may considering purchasing the healthy 2.9% dividend and just letting that money reinvest and grow on itself. However, I do not think that this is a name I would purchase at the moment.
Disclosure: I have no positions in any stocks mentioned, and no plans to initiate any positions within the next 72 hours.