Dear Jim and Mike,
Thank you for being the "forefathers" of the smartphone market; Research In Motion (RIMM) truly revolutionized the way we communicated by adding messaging/email to the boring cellphone!
As a long-time shareholder who held steadfastly true even during the NTP saga that threatened RIMM's ongoing viability, it was easier to hold on then given that RIMM was the only dominant player in its space and that lawsuit was always about money. However, this time, the threat is different.
I can certainly understand why most shareholders are angry and may want both of you removed given that:
RIMM's stock has cratered by over 70% year to date and is flirting toward levels not seen since 2004.
RIMM's market capitalization has gone thru an epic slide from over $30B to less than $8B; stock closed at $13.44 EOD.
RIMM's US smartphone share continues to slide. Quarter to Quarter sequential decline remains unabated.
PlayBook (the product and the launch) was an absolute disaster.
BB10 (dare I say BBX?) has been delayed again.
Cash was used to repurchase shares earlier this year at higher prices; was that just a smokescreen?
Is hindsight really 20/20 or can you see the writing on the wall?
Your response to the iPhone; and your response to Neff made me wonder what you had for breakfast...
...iPhone is launching, to the best of my knowledge in one carrier and one country and we're in about a 100 countries and 300 carriers...
"Talk -- all I'm [hearing] is talk about it," he said, dismissing the iPhone's chances in the enterprise. "I think it's important that we put this thing in perspective."

He said iPhone penetration remains low, with Nokia's N95 more than doubling iPhone European sales, although the N95 costs twice as much.
Walt: "Something has happened" over the years to "your iconic leadership."

Kara: "Not in Sumatra," but here, in the United States.

Mike: We're running a business. We invented the smartphone. We decided to go global.
Visually...(click chart to expand)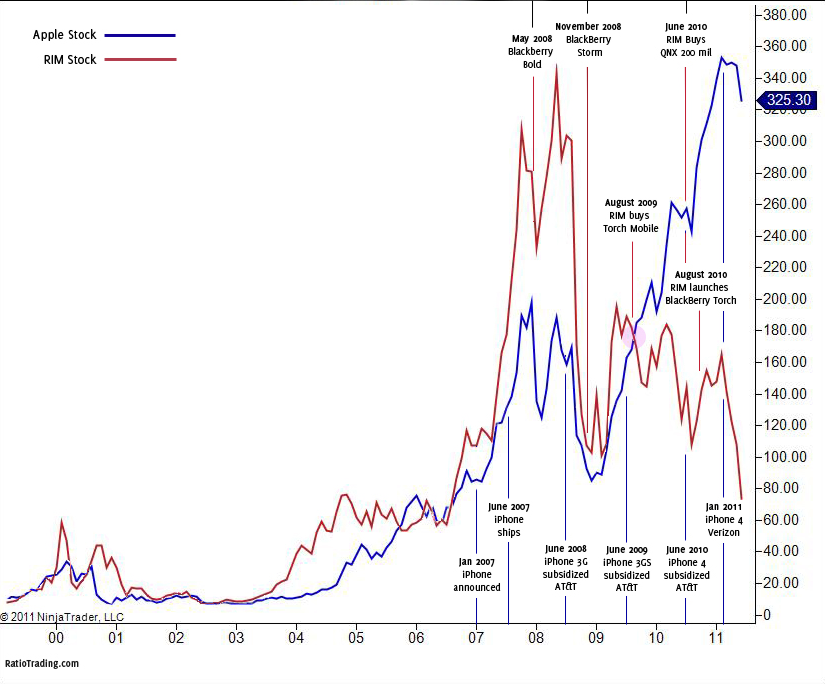 When RIMM touted BBX and PlayBook as the "next big thing"? I wrote about it here and here. While RIMM fans may perceive this as being "nit picking," I wanted to share with them (and you) why it pays to listen (or watch) and understand what is presented in the CCs or interviews and how executives handle themselves provides hints of what is going on with the company that numbers sometimes cannot tell.
Allow me to use some examples from your recent conference call transcript and compare that to the suggestions I wrote about in my recent article titled "What would Apple do if it ran RIMM?"
Suggestion #1 - Accept that your past accomplishments does not guarantee RIMM's future success. Quit the hyperbole's and stop "spinning" your press releases!
...and while we have remained solidly profitable and delivered significant unit volume during this transition, we recognize that our shareholders MAY feel we have fallen short in terms of product execution, market share and financial performance.
Duh...seriously? Using the word "may" in that very sentence tells me that you guys just don't get it. "Significant" relative to what?
There is no doubt RIMM is profitable now; but "solidly"? You've missed your own "missed" estimates and have sequentially declined over the past 3 quarters. How "solid" is that?
...regarding our commitment to completing this challenging transition and commitment to leaving no stone unturned when it comes to evaluating the business and determining the best ways to improve our performance going forward.
Where was this perspective when the iPhone and the droids first came to the market? If you couldn't see it then, how will you see it now?
...it is important for you to know that Mike and I, as 2 of RIM's largest shareholders, understand investor sentiment and we are more committed than ever to addressing the issues at hand.
Both of you have made your money; you've sold shares along the way. Even if your holdings become worthless, both of you are set for life. Can you say the same to the shrinking portfolios and those who got recently laid off?
...while the proposed transformation may take some time, we believe that the steps we are taking will improve our performance and better enable us to deliver on what we expect of ourselves.
History has shown that both of you have been incapable of seeing the strategic shift in your business; how would your approach be any different today?
What is the timeline? By the time BB10 ships; AAPL and the droids will have a full year ahead of them in sales and to prep up their next gen phones.
...we understand that our marketing efforts over the past year have not achieved the desired results, impacting the company's performance...
I understand you are spending $100M in marketing; I have a better idea for you - pay me $10M and I'll fix this ship in less than a year! I mean, how do you "package" your grandma's rotary phone and convince consumers that it is the next big thing? Guys, the Ad agencies (are they related to you?) will love you both! Great use of your shareholders' money!
Make great products with the end user in mind and you won't have to spend this amount of money in marketing!
...This chipset will not be available until mid-2012, and as a result of this and certain other factors, we now expect our first BlackBerry 10 smartphones to reach market in the latter part of calendar 2012...
Now, compare this to what you said during your Q2 2011 CC...
...development efforts on the first QNX-based smartphone products are going extremely well, and we plan to ensure that when we launch, the product will have the features, industrial design and content and app ecosystem it needs to deliver a dynamic and industry-leading customer experience. The development platform for QNX phones will be presented in more detail at DevCon in October...
Are you saying that you didn't know that the chipset wasn't available? Given how RIMM flubbed the trademark to BBX, I guess that scenario is possible. To hear you dance around the subject was as painful as listening to your epic interview meltdown...
Leading edge? What happened to PlayBook?
Is the delay a software issue because QNX isn't porting very well to your BB platform?
...we don't break out geographic subs. I mean, we did give you a little bit of color on the call there...
There is a big difference between "not being able" to break it down (due to MIS limitations) and "will not provide" that to you (which I fully understand). Which is which? IF it is the former, then it gives us a glimpse on why management consistently stumbles in delivering the goods.
Suggestion #2 - Ditch the PlayBook (for now). As expected...
...I firmly believe that the BlackBerry PlayBook tablet remains the most secure and most advanced tablet platform on the market today. With true real-time multitasking, Flash-enabled browsing, uncompromised video streaming for both HTML5 and Flash video, which constitutes the majority of premium video content on the Internet today...
Have you asked yourselves why PlayBook didn't sell well and why you had to discount to move it?
Can you make money at $199? Remember your quote below from Q4 2011?
...and the PlayBook, you've seen the interest is fantastic, and it's really a no-compromise environment. You get the performance and you get the tonnage of apps and you get the uncompromised web and you get -- CIOs are pleased by its enterprise greatness. It is a hot, hot capability...
The Ugly Truth? Heavily discounted and had to be written down...but yet the "spin" continues as you can read from the quote below...
...we've seen a significant increase in sell-throughs since the launch of these programs ($199), and we expect this trend to continue with the launch of PlayBook 2.0 software in February...
Suggestion #3 - Keep it simple. Here is an easy excercise: write down ALL the BB models that you are still currently supporting; how many do you get? May I humbly suggest ONLY making 2 models - one with Qwerty keyboard and one that is pure touch. As the next gen model comes in; the old one gets discounted. Not a rocket science.
...are evaluating a number of areas, including product management and the number of SKUs offered, supply chain and building material cost efficiency...
Bluntly, there is NO time. RIMM hasn't succeeded given its plethora of BB models; what isn't clear about that?" It is evident that your board either is gutless or clueless; there is no excuse for them not to see this coming.
...that is being led by a cross-functional executive team that will identify opportunities to drive efficiency in the organization. This program includes evaluating our current and future product portfolio to determine the appropriate number of SKUs and segments to address, as well as focusing on cost and supply chain efficiency...
Why must we make things complicated? Let me guess...we should run a monte carlo simulation on what the optimal number of SKUs based on another monte carlo simulation on various carrier specs!
This suggests that no one wants to be accountable for any difficult decisions that need to be made. Leadership starts with the top; if the "top" is indecisive and is not accountable...there will be no progress.
I can bet that this "cross functional" effort means more "process" and more useless "reports"!
Respectfully, you are running out of time to make RIMM great again. The game has changed and you are about 4 years behind! Hence, it is even more imperative that you devote all your resources into making BB10 the best it can ever be. Otherwise, amateur hour will truly be over.
Unless there is a meaningful catalyst (buyout, ouster, etc...), RIMM continues to be dead money till BB10 wows the market. Compelling fundamental valuation alone will not save it from drifting lower.
Let me use a hockey analogy to close this missive.
Imagine you are a gifted player that has lit up all the scoring stats at the major junior level and have played in championship teams. Now, you are playing in the NHL. Does your past performance guarantee that you will have the same success at the pro level? Why is that?
RIMM was great; for RIMM to be great again...it needs to disrupt itself. It starts with both of you.
Disclosure: I am long AAPL. I may short or go long RIMM for a scalp.