Dividend investors don't have as many choices in the technology sector as they do in other industry groups, but these 5 stocks do pay dividends: Intel (NASDAQ:INTC), Qualcom (NASDAQ:QCOM), Microsoft (NASDAQ:MSFT), IBM, and Texas Instruments (NYSE:TXN)
There seems to be many investors out there who are bearish on stocks in general going into 2012. There's a chance we could see a deep market correction. If we do, what are some good price points to pick up shares in some of these companies?
To a certain extent, you can look at dividend yield. For each of these stocks, I've created a chart that shows how "cheap" these stocks might get in terms of their yields today vs. what they paid out back in late 2008.
Intel (INTC)
Recent price: $23.23
Recent yield: 3.60%
click to enlarge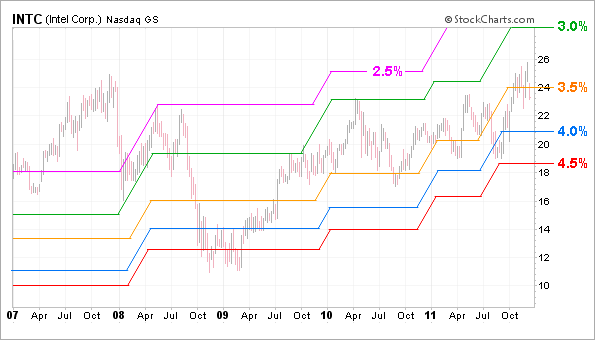 Click to enlarge
Intel pays out 50% more in dividends today than it did back in late 2008. During that period when the stock traded as low as $11 per share, it yielded around 4.5%. Today, however, with a payout of 84 cents per year, you'd get that same yield at $18.67. Since then, it's rarely offered more than a 4% yield, but would reach that point at $21.
Qualcom (QCOM)
Recent price: $52.61
Recent yield: 1.60%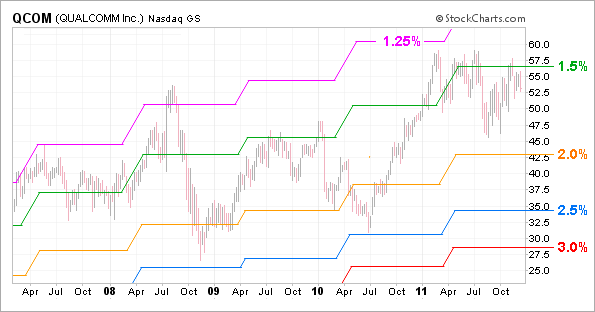 Click to enlarge
Qualcom shares are near multi-year highs, so its yield probably doesn't attract all that many dividend investors. But the company has raised its dividend each year. In terms of dividend yield, if you're satisfied with 2%, then buying shares near $43 would be comparable to the $32.50 level back in late 2008 and early 2009.
Microsoft (MSFT)
Recent price: $26.00
Recent yield: 3.10%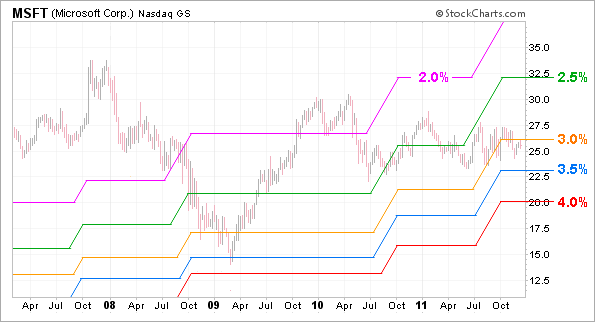 Click to enlarge
I heard one commentator on CNBC refer to Microsoft as a good stock for old people who want to own a stock, but not one that actually moves much. And for the past 18 months it hasn't.
That being said, Microsoft's latest annual dividend increases have ranged from 18% to 25%, so in terms of yield, today's $26 price corresponds to around $17.33 in March 2009. Note that back then, the stock offered a yield of 3.5% at a price of around $15. Today, you could get that same yield at around $22.80.
IBM (NYSE:IBM)
Recent price: $183.57
Recent yield: 1.60%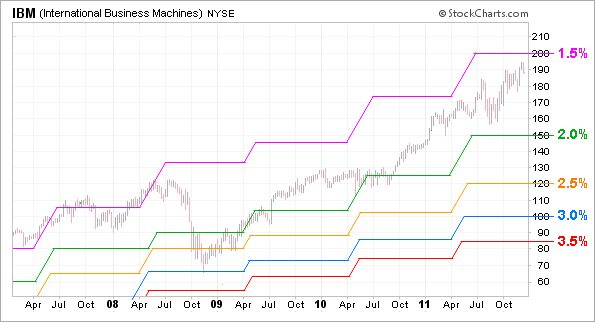 Click to enlarge
Like Qualcomm, IBM's yield is relatively low, but considering the growth in earnings and dividends, the stock isn't likely to be an ultra high yielder unless the markets totally fall apart or the IBM growth story changes.
The last dividend increase was 25%. Even so, this stock briefly offered a yield of at around 3% in late 2008. Getting that same yield today would require the stock to fall 50% to $100. If the global economy doesn't fall apart, I doubt you'll be able to acquire shares at that level. And if IBM does fall to $100, I think IBM investors have more to worry about than dividends.
Texas Instruments (TXN)
Recent price: $28.69
Recent yield: 2.40%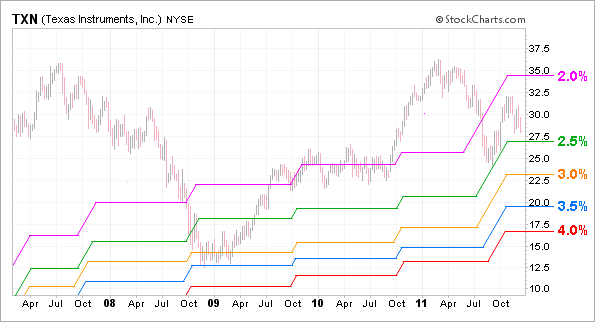 Click to enlarge
Last up is Texas Instruments. Its dividend payout is about 50% higher than it was in late 2008. Back then if offered a chance to buy shares with a yield of 3 to 3.5%. Since then, shares have rarely been available at a yield of more than 2.5%. But if shares fall to $22.67, the yield would be 3%.
Cheap relative to what?
Many investors look at earnings and cash flow as a benchmark to deciding if a stock is "cheap." But I like to look at the dividend yield as well. As you can see on these charts, assuming the world doesn't totally fall apart, these 5 stocks certainly don't have to fall to 2008-2009 lows to be as cheap as they were back then.