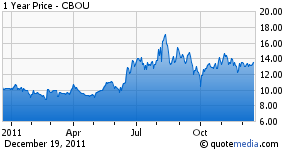 Every investor dreams of investing in the next Starbucks (NASDAQ:SBUX). The next Starbucks might be a direct competitor to Starbucks: Caribou Coffee (NASDAQ:CBOU). Caribou Coffee is the second largest company-owned coffee house franchise in the U.S., with 407 company-owned locations and 147 franchised locations. It was founded in 1992 and went public in 2005.
I first heard of Caribou through word of mouth — people kept asking me if I knew where the closest Caribou Coffee was located. After looking to see if it was publicly traded, I visited a Caribou coffee and liked the ambiance. The store was very clean and modern. There were tables to sit and meet friends, much like Starbucks. They had a variety of drinks and pastries. The staff was friendly and service was good.
I do not drink coffee so I asked a dozen people I know what they thought about it. A few said it was their favorite coffee and the rest said it was very good. A dozen people is a very small sample, but from the word of mouth and feedback I received, I concluded that it has a good product.
Caribou has two opportunities for huge growth. One is through opening of more stores. With only 554 stores, there is a lot of opportunity to expand. Caribou is focusing more on franchising stores than it is opening company-owned stores. There were 24 new franchise locations opened in the past year, which resulted in a roughly 30% increase in franchise revenue.
The other opportunity is one they are also already successfully implementing — commercial sales. Commercial sales in 3rd quarter 2011 were up 75% over the same quarter last year. This fast growing segment now makes up nearly 25% of company revenue. You can now find Caribou coffee at Target (NYSE:TGT) and Wal-Mart (NYSE:WMT).
Examining earnings takes a little deciphering. In the first quarter this year they had a $21.3 million tax benefit that skewed earnings figures and the one-time benefit should be ignored. Investors should focus on Free Cash Flow (FCF) because there has consistently been much larger depreciation charges than capital expenditures.
Free Cash Flow (defined here as Net Income + Depreciation – Capex) was $5.37 million in 2008, $18.5 million in 2009, and $15.4 million in 2010. Earnings reported were -$16.3 million in 2008, $5.2 million in 2009, and $9.4 million in 2010. In other words, Caribou is performing much better than earnings indicate.
Another thing to like about the company is that they have no long-term debt, which means they have the ability to expand through raising capital if it is required.
With current sales growth in the double-digits and great long-term opportunity for growth, Caribou is a stock you might want to never sell.
Disclosure: I have no positions in any stocks mentioned, and no plans to initiate any positions within the next 72 hours. Some clients of mine own stock in Caribou