When I heard that Kim Jong Il had died, I looked at the South Korean KOSPI index and noticed it had fallen quite a bit Sunday night, down about 3.4% last I checked.
This actually could be good news for Korean stocks in the long run. The most widely traded ETF is the iShares MSCI South Korea Fund (NYSEARCA:EWY). But back in 2010 another fund launched, the IQ South Korea Small Cap Index ETF (NASDAQ:SKOR-OLD).
Do small cap Korean small caps offer more upside than the larger cap companies in the EWY ETF? I think so.
First, here's a look at the holdings of each ETF: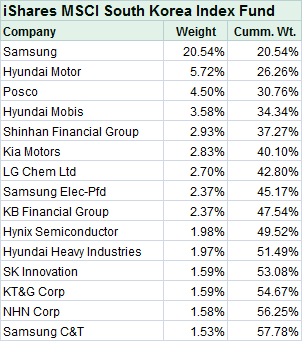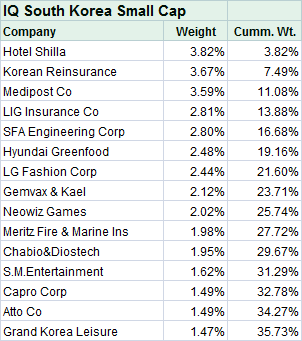 Note that EWY is heavily weighted toward Samsung, Hyundai Motors, and Posco (a steel company). Just those three stocks alone account for more than 30% of this fund's holdings. For SKOR, the top 10 holdings represent only 27.7% of that ETF's exposure.
These small cap companies are those that are more local and probably more leveraged to what's going on inside the Korean economy with far less exposure to the country's exports.
The SKOR ETF has only been trading since April 2010, but I took a look at its relative performance to EWY.
Here's a chart showing the performance of both ETFs.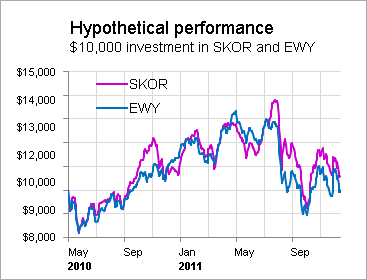 And here's a chart showing a hypothetical long SKOR/short EWY position.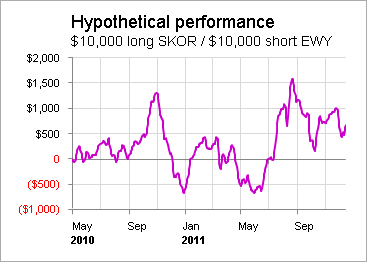 What I note is how well SKOR has performed on a relative basis vs. EWY since July of this year. That's when markets fell apart as the European debt crisis began to flare up.
It may not be practical to hold a short EWY position against a long position in SKOR, but I might consider buying EWY puts as a hedge against declines in SKOR. And taking a long position in SKOR might not be practical to begin with either, considering that the total value of the fund is only $11 million (compared to $3 billion for EWY).
But if I did want to take a position in SKOR, I'd wait at least a few days to see how the markets react to this news, especially as we digest how North Korea's new leader Kim Jong Un might steer the country. Perhaps there will be more stability on the peninsula. You never know.
One key to stability? Basketball. Evidently, Kim Jong Un has a fascination with the NBA, especially Michael Jordan. If there's anyone who might convince Kim to lead the country to peace and prosperity, it could well be Michael Jordan.
So Michael, if you're out there, do you think you can lend a hand? I know you're not a diplomat, but you and Kim might get along well. No, the weather in Pyongyang isn't great this time of year, but it's for a good cause.
Disclosure: I have no positions in any stocks mentioned, and no plans to initiate any positions within the next 72 hours.