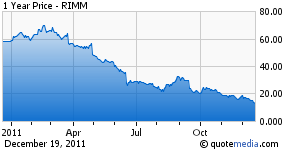 Research in Motion (RIMM) is now a workout. Its value as an independent going concern has been marked down to roughly $7 billion. Its management team and board of directors have turned in a horrific performance since the launch of the iPhone.
But ... RIMM is now too cheap for the simple reason that it is now worth more in the hands of others than it is on its own.
Consider the following list of assets:
1) The Blackberry trade name.
2) A network operations centre with 75 million customers.
3) A patent portfolio and software that delivers state of the art push e-mail and encryption that is proprietary.
4) Proven and tested relationships with carriers around the world.
5) BlackBerry Messenger - a "Killer App" in emerging markets.
6) Positive net working capital/liquidity of at least $3 billion.
Plus ... the most important asset of all ... the ability of new and/or existing management to make changes to the company's strategy.
Strategic Options include:
1) Separating and licensing the network operations business to other handset vendors ....or simply harvesting it for free cashflow over time.
2) Shutting-down the handset business and/or selling it or vending it into Nokia (NYSE:NOK)/Microsoft (NASDAQ:MSFT) or somebody else.
3) Swapping patent assets, BBM, etc with other companies in exchange for a new Open OS (see Nokia and their burning platform).
4) Auctioning off/licensing the Blackberry trade name to those already making Android devices in exchange for future service revenues.
5) Selling patent rights to raise cash.
6) Slashing R&D and marketing spending altogether by exiting the hardware business.
Etc.
Those who view RIMM as a handset company are missing the value. This company's value lies in its messaging platform.
While current management deludes itself into thinking that QNX will result in a vibrant eco-system. The correct strategic decision would be to tap-in to one of the other 3 ecosystems (iOS, Windows Phone or Android) while licensing-in secure messaging and BBM as part of the package.
The new handset partner would enjoy all the benefits of the Blackberry Trade name's value. (Picture the Samsung Blackberry)
RIMM services platform would get the value from the downstream subscriber fees.
And-if the handset partner can stem the tide of defections from Blackberry, then the value of the service business could exceed $10 billion. (10x $1 billion in free cashflow).
To be clear. RIMM's future lies not as a stand alone company but rather with a successful and potent handset partner. Somebody who can resurrect the Blackberry trade name in North America while continuing to help grow RIM's valuable service business.
Here's the trade RIMM should do.
Go to Samsung (OTC:SSNLF) or Google or Microsoft or Nokia and offer them the exclusive rights to the Blackberry trade name in exchange for the guaranteed kick-back of secure email subscribers for every handset sold.
Presto. RIMM trades for $20 a share.
If RIMM continues to pursue QNX ... well ... the end will be ugly.
But ... with a bit of vision and a willingness to partner with competitors in the handset space ... RIMM has lots of residual value into the future and shareholders who own the stock at this level should be rewarded for their courage.
10x $1 billion in free cashflow from a robust messaging centre with 100 million subscribers has to be a lay-up with a partner.
That is how you get at least $10 billion of value.
As for the handsets?
Mr. Lazaridis and co. ... let somebody else make them for you.