In an effort to understand why investors are selling, driving the stock lower and the yield up, we'll take a look at history starting with the Verizon properties acquisition. Frontier (FTR) announced a deal with Verizon Communications (VZ) in May 2009. When Frontier announced the acquisition in May 2009, expectations were based on the following pro forma numbers:
2008 Statistics

$mil

FTR

VZ

Prop.

Sub-Total

Synergies

Total

Revenue

$2,237

$4,287

$6,524

---

$6,524

EBITDA

1,214

1,918

3,132

$500

3,632

% EBITDA Margin

54.30%

44.70%

48.00%

---

55.70%

Interest Expense

(363)

(290)

(653)

0

(653)

Cash Taxes

(79)

(285)

(364)

(190)

(554)

Capital Expenditures

(288)

(413)

(701)

0

(701)

Other

9

0

9

0

9

Free Cash Flow

$493

$930

$1,423

$310

$1,733

FCF/Share

$1.58

$1.37

$1.44

---

$1.75

Net Debt/EBITDA

3.8x

1.7x

2.6x

---

2.2x

Dividends ($0.75/share)

---

---

$742

---

$742

Dividend Payout Ratio

---

---

52%

---

43%
The important numbers are FCF of 1.7B and a FCF payout ratio of 43%. The FCF payout ratio provided enough cushion to safeguard the dividend, handle unforeseen pension funding issues and maintain the leverage ratio (Net Debt to EBITDA ratio).
The deal was completed in July 2010. Once integration was under way FTR issued 2011 FCF guidance on February 23, 2011, in a range of $1.15-1.2B; a payout ratio approximately 64%. The leverage ratio rose above the target of 2.5 to 3.1. Still there was plenty of room for the $750m yearly dividend and items mentioned above.
At the Goldman Sacks conference on September 20, 2011, FTR lowered the 2011 free cash flow projection from a midpoint of $1.175 Billion to $1.1 Billion in part due to Hurricane Irene. It reiterated the dividend is safe and secure and it saw no headwinds to change its commitment. The theme here is guidance is trending in the wrong direction.
FCF should trend up in Q4 if guidance is not changed. The following graph depicts Q4 meeting guidance.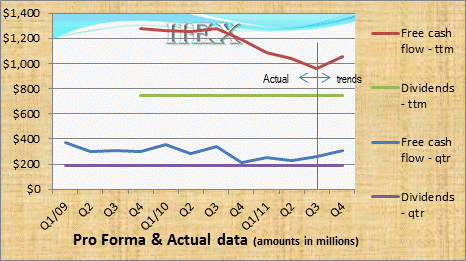 So why is the stock falling and yield hitting record highs? FTR measures FCF after integration expense. The original guidance provided room for integration expenses not to threaten the dividend on a short-term basis. There were funds to pay dividend and integration costs with enough left over to help reduce leverage, fund the pension etc. The CEO- Mary Agnes Wilderotter said this on the Q3 conference call:
we have residual free cash flow that will continue to generate every year that not only covers a dividend, but gives us a very good cushion.
This cushion has vanished when accounting for integration and pension costs. This might have led to the decision to contribute $58 million of real estate to the pension plan during Q3 vs. cash.
Compounding the problem; during Q3 news has turned negative on the pension front. The rate of return has gone from a gain of 4.4% during the first half of FY2011, to a negative 3.4% to date, i.e., the Plan's investments decreased approximately $100 million during the quarter. Management has based assumptions on a yearly return of 8%.
The graph below adds FCF after integration expenses.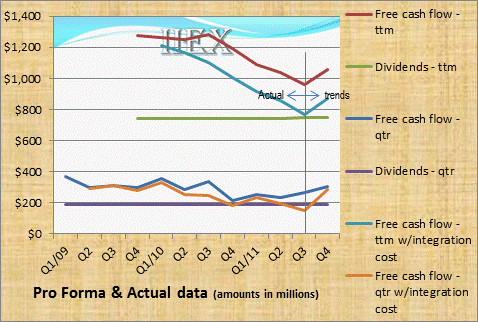 Note the ttm FCF including integration cost is dangerously close to the dividend line in Q3. It must be reversed starting with Q4 by meeting or exceeding guidance. 2012 FCF guidance should meet or exceed the original 2011 guidance. FTR cannot afford to lower guidance again. The fourth-quarter earnings release will probably be the most telling as to what to expect going forward concerning the dividend.
We see two short-term possibilities.
Management meets expectations and FCF starts to trend up as shown above. 2012 FCF guidance confirms the trend. No dividend cuts required making today's price a bargain.
The trend flattens out or trends down requiring a dividend cut. The dividend would not be eliminated but could be cut 15 to 25 cents until integration is complete saving $150-250m a year. This would still represent a large yield at today's price and could act as a positive to the stock price since additional cash would be available to handle any unforeseen integration problems, fund the pension or be used to improve their leverage ratio.
The current dividend is still safe based on current guidance given by management. It's important to note that acquisition/integration costs are a short-term issue that will disappear after 2012. The question is; is there enough cash flow to get past 2012 without a cut to the dividend.
FTR is at a tipping point that should be decided one way or the other when Q4 earnings are released and full 2012 guidance is announced. The market is forecasting guidance will not be met and/or 2012 guidance will show little if any improvement.
Free cash flow data from past FTR filings reflected in this article in Excel format can be downloaded here.
FTR's November investor presentation slides can be found here.
Disclosure: I am long FTR.