Is it time to flee to safety? With the economic and political climates only becoming more tumultuous, I have been paying closer attention to dividend stocks recently. We all know about the blue chip dividend companies, but there are attractive companies with high yields that are going ex-dividend every week. This strategy can work in one of two ways: either you buy before the ex-date to receive the dividend, or buy after if the stock declines far below the after-tax amount of the dividend.
Buying the stock to receive the dividend is intuitive, but many have contacted me requesting further details on the second strategy. Investopedia has a great example of how this works. To explain this, I will use AT&T (NYSE:T) as an example. AT&T declared a $0.43 dividend to shareholders of record on October 10, 2011. On the ex-dividend date, the stock price should decline by the after-tax dividend amount, with an assumed tax rate of approximately 15%, because many dividends qualify for a lower tax rate. As a result, an investor would expect the stock price to decline by $0.37 = [$0.43 * (1-.15)]. If AT&T declined by more than $0.37 in the absence of negative news, you might have an attractive opportunity on your hands. Executing this strategy can generate outsized returns over short periods of times.
To focus on these opportunities I ran a screen with a focus on relative safety for the investments. Since this is a high yield quest I began with a specification of a dividend yield greater than four percent and an ex-dividend date within the next week. To provide some layer of safety I narrowed down the environment by looking at companies with market capitalizations greater than one billion, PEs between zero and twenty, and institutional holding percentage of at least twenty-five percent. While not a precise requirement, I prefer companies that have underperformed the S&P 500 year-to-date as it indicates limited downside relative to peers. This is summarized below:
Dividend Yield ≥ 4.0%
Ex-Dividend Date = Next week
Market Capitalization ≥ $1B
PE Ratio: 0-20
Institutional Ownership ≥ 25%
Ordinarily the screener generates approximately five viable trading candidates; however, this week the screen populated some companies with dangerous high dividends. This week I would like to take the opportunity to highlight some of these companies and contrast them with viable dividend capture strategies.
Avoid: High Yielding Mortgage Real Estate Investment Trusts (mREITs)
From mreit.com: am "mREIT is a Mortgage REIT ... which is an entity that specializes in investing solely in mortgage products (e.g. purchasing and selling mortgage-backed securities). Like other REITs (Real Estate Investment Trusts), an mREIT can only deal with mortgages and 90% of earnings must be paid out to its investors annually." Since these companies are required to distribute such a high percent of earnings to investors, the yields are much higher than you find with more traditional companies; however, the stock prices and dividends can both be quite volatile.
Seeking Alpha contributor Todd Johnson writes extensively about these type of companies, and I highly suggest his articles if you are interested in this space.
Buy: Defensive Tobacco and Utility Stocks
Portland General Electric Company (NYSE:POR): 4.3% Yield – Ex-Dividend 12/22
Portland General Electric Company is a utility company with over 800,000 customers in Oregon. If you have been following my dividend capture series, you will know that I am a strong proponent of utility company stocks. In late November Dividend Channel named POR as a "Top 10 dividend paying utility stock" due to its low book value and high yield (1.1 and 4.3% versus an average of 2.0 and 4.2%, respectively).
Philip Morris International Inc. (NYSE:PM): 4.07% Yield – Ex-Dividend 12/20
Altria Group, Inc. (NYSE:MO): 5.63% Yield – Ex-Dividend 12/22
Philip Morris and Altria are the gold standards for dividend companies and should be in all investors' portfolios. The tobacco industry is generally mature and management can easily return funds to shareholders via dividends and share repurchases. With so much volatility and uncertainty in the global economy this is precisely the type of safe company that investors will flock too. The legal ruling against strong warning labels on cigarettes should benefit all companies in the industry. For these reason I hold PM in my "Great Recession II" portfolio.
In deciding between the two companies, you can select PM with the lower yield but higher growth prospects, or MO if you are more concerned with generating income.
In conclusion, I want to take the opportunity to stress that ex-dividend strategies can be profitable, but can also be traps. Just because you only plan on holding the position for a short period of time does not mean that you should invest in low-quality companies or simply chase yields. The mREITS mentioned above might be perfectly sound investments but the risk is too great if you are unfamiliar with the industry or underlying fundamentals. The information presented above has been summarized below.
Click to enlarge.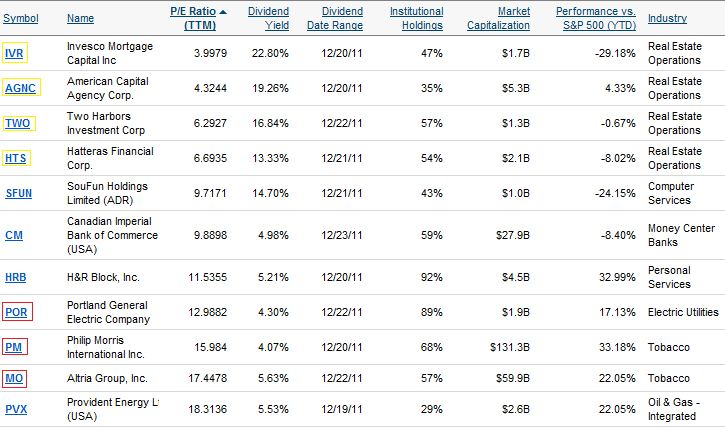 Disclosure: I am long MO, PM, T.