Apple (NASDAQ:AAPL) was co-founded by the late visionary Steven Paul Jobs and has completely transformed every industry it operates in. The focus on innovation has made Apple one of the largest and best performing companies in the world. I have recommended option strategies on Apple since 2010 with tremendous results. For reference, please view the first and other articles in the series to fully understand the strategy and its strong potential returns. As we enter the post-Jobs era, it is even more important to keep a close eye on your investment and execute care with your trades. Since Jobs has passed, the company's performance will be under a magnifying glass.
Click to enlarge

A brief recap of last week in Apple (Down $10.66 (-2.7%)):
Apple held the 390 price level through most of Tuesday but when it fell through the resistance it fell down to 378 before stabilizing around 380 for the remainder of the week. While investors never like to see their stocks decline so rapidly, a chartist might prefer that sharp drop with short-term capitulation rather than a prolonged slide. This "roller coaster" drop pattern with sharp declines in both RSI and money flow are indicators that a near-term flow has been created. If you sold the monthly calls expiring last week you were able to cushion the $11 decline with options that expired worthless. For example, if you wrote the AAPL December 17 (Monthly) 400s you could have mitigated $2.18 of losses. If you were more conservative and wrote the 390s you would be smiling with "only" a $3 per share loss on the week for Apple.
As I have discussed the common theme for the past month has been moderate volatility on insignificant news. The volatility will only increase as rumors of the iPad 3 begin to pick up steam. This volatility should be embraced by option sellers as it increases the premium received on calls written. If historical trends continue, Tim Cook will announce the iPad 3 in January or February and it will be available for sale in March. The iPad still has essentially no competition (see why Amazon's (NASDAQ:AMZN) Kindle Fire does not compete with the iPad) and with the rumored retina display and all-but-confirmed A5 chip, the iPad 3 will continue to lead the pack. Competitors commonly measure tablets shipped; Apple measures tablets sold. Competitors discuss numbers in hundreds of thousands; Apple discusses millions.
I stand by my opinion from last week that we will see at least a modest pop in Apple before year end related to window dressing. To summarize, money managers sell losers and buy winners before reporting so that they can create the illusion that they owned the "hot stocks" throughout the period.
Below I present three possible scenarios and the potential returns for Apple options. The first scenario represents a negative outlook for Apple while the final two scenarios are more reasonable. These scenarios are just projections and there is no guarantee that they will come to fruition. As a general rule, selling calls with higher strike prices has greater potential return but additional risk of loss due to the lower (or lack of) downside protection. For more information on the fundamentals of covered calls, consult Investopedia.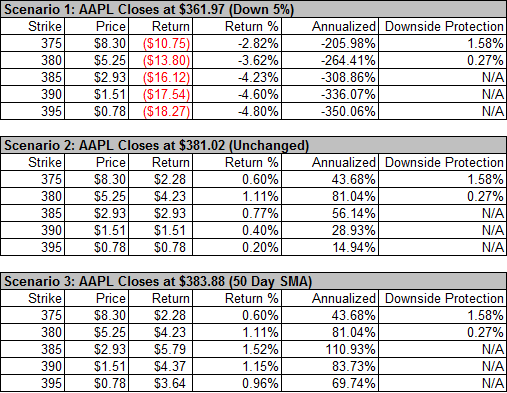 Additionally, if you would like even more information, I have prepared a sensitivity analysis for absolute return and percent returns, respectively. After studying the information above, these two charts make it easy to pick a strike price based on where you believe Apple will close on Friday.
Click to enlarge

With this information, executing a buy-write on AAPL December 23 (Weekly) 390s is the optimal risk-return strategy. If you are uncomfortable with this strategy I suggest a buy-write 385s or 395s. Even if you are extremely bullish you can still profitably sell covered calls; Apple is volatile enough that you will have opportunities to repurchase on dips. An alternative approach is to sell out-of-the-money 380 puts and collect the premium without having to purchase the stock outright. Note that if the stock declines to the strike price, you are obligated to buy the stock (or close out the position).
Disclosure: Author is long AAPL and BBY.