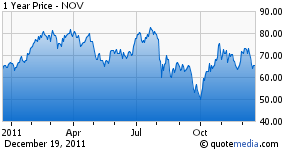 National Oilwell Varco (NYSE:NOV) is a large-cap dominant global manufacturer of capital equipment for oil and gas drilling. NOV offers the broadest product line for equipment and service needs of the drilling industry. Their products range from offshore drilling rigs, complete land-based drilling and servicing rigs, pumps, BOPs, and tubing.
Revenues are expected to be around $14.4 billion in 2011, up from $ 12.6 billion last year. Estimates are for revenues to continue their rise to $17.2 billion in 2012 and upwards of $19.0 billion in 2013. NOV is headquartered in Houston, Texas and has more than 35,000 employees and over 700 manufacturing, sales and service locations around the world.
NOV has the enviable position of being the market leader in two of the three major drilling equipment sectors. The company's Rig Technology unit is estimated to supply 75% of jackup rigs with a current order backlog of $1.2 bil, 63% of floater rigs (drill ships and semis) with an order backlog of $8.7 billion and 15% of land-based rigs with an order backlog of $3.5 bil. 2011 revenues for the Rig Technology unit is expect to be around $7.5 billion this year, rising to around $9.2 billion in 2012 and $10.2 billion in 2013.
The Petroleum Services and Supplies unit manufactures, sells, and rents drill pipe, and connections, drilling motors, pumps, bits, downhole tools, solids control systems and other products. Revenues in 2011 are expected to be $5.6 bil, increasing to $6.6 billion in 2012 and $6.8 billion in 2013.
The Distribution Services unit offers maintenance, repair and spare parts along with purchase, inventory and logistics management services. Revenues in 2011 are expected to be $1.7 bil, increasing to $2.1 billion in 2012 and $2.0 billion in 2013.
Global oil demand growth will continue to drive an expansion of drilling activity, supporting the market for capital expenditure for new and replacement rigs. As the trend for new oil discoveries being in off shore, shale, and otherwise unconventional and potentially hostile environments, the complexities and cost of the rigs and equipment will continue increase.
The underlying growth in the rig capital expenditure market is being supported by several factors. These include new offshore fields in Brazil, Africa, Australia, and Asia. After several years of slow US land-based rig replacement business, it seems that not only is the rig count expanding, but older equipment is starting to be replaced at a faster pace as newer technology continues to improve drilling results. As Europe begins its growth in shale drilling, the opportunities for NOV will also improve.
Like many capital equipment suppliers, late 2008, all of 2009 and the first half of 2010 were not kind. Orders collapsed as oil prices experienced a decline and drilling activity became curtailed. However, orders for new equipment have been building since the 3rd quarter 2010. Since the end of 2010, orders and backlog has been growing, and currently match or exceed their previous peak in 2008. A portion of the current market strength could be attributed to playing catch up for orders not placed during the recession.
NOV has a strong balance sheet with little debt and a growing pile of cash. Long-term debt stands at just $512 million and the company has a cash balance of $3.8 bil. Based on annual operating cash flows of between $2.5 and $3.7 billion over the next few years, it is feasible cash on hand could grow to almost $8.0 billion by 2013. There are about 425 million shares outstanding and the NOV has a market capitalization of $27.7 bil.
Driven by a strong underlying expansion of drilling activity, earnings are expected to be $4.69 in 2011 and $5.85 in 2012. Earnings estimates range from $6.25 to $7.25 in 2013. This earnings expansion should support a higher share price, with current valuation calculated at a 2012 forward PE of 11.1 and a 2013 forward PE of 10.4.
However, looking past 2013, the drivers for additional growth gets a bit murky and opportunities may begin to level off. The drilling business is very cyclical and investors should realize we are probably early mid-cycle.
NOV has traded with a 5-yr PE range of 5.5 to 29.0, with an average PE of 17. Applying a PE of 15 to $6.25 earnings in 2013 creates a price target of around $93. With shares currently trading at $65, this would create a potential gain of around 43%.
NOV could be used as a medium-term investment to diversify an large-cap oil and gas portfolio focused on capital gains. While it would have been nice to have bought at lower prices, current valuations should still create sufficient investor opportunity.
As always, investors should conduct their own due diligence, should develop their own understanding of these potential opportunities, and should determine how it may fit their current financial situation.
Disclosure: I have no positions in any stocks mentioned, and no plans to initiate any positions within the next 72 hours.