Despite the two bullish days to close out the week, it wasn't nearly enough to offset the damage done over the first three days of last week. All told, stocks lost an average of 2.8% over the past five sessions -- the first losing week in the last three.
Is there more of the same on the way? We'll slice and dice the index below. First though, we want to start at the top – at the economic numbers – and then work our way down.
Economic Calendar
It was another busy week for economists and number crunchers, right from the very beginning. Here are the highlights:
Inflation: In some ways there's more of it, and in some ways less, or none (which isn't exactly a good thing). The producer price inflation figure advanced 0.3%, reversing a 0.3% dip for October. On a core basis though, it only increased by 0.1% in November. For consumers, there was no inflation, versus a 0.1% drop in October. Even on a core basis, inflation was only up 0.2%; the annualized inflation rate now stands at 3.39%, which has been dialed down from September's peak at 3.87%. Not that September's rate was absolutely stifling, but the lower figure of 3.395 is at least psychologically more tolerable.
Retail sales: With or without autos, they grew 0.2%, well short of expectations in the 0.5% to 0.6% range. This more than anything else is an alarming sign of an economic slowdown.
Unemployment claims: In contrast to weakening retail sales, new and continuing unemployment claims are dropping quite a bit. In fact, both reached multi-year lows with their most recent readings, of 366K and 3.603 million, respectively.
Industrial productivity: The one data point that should have investors more rattled than any other was largely dismissed – industrial production was down (by 0.2%) in November for the first time in six months. Capacity utilization fell from 78.0% to 77.8% – also the first significant drop in as many months. Not that one bad month makes or breaks a trend, but the correlation between these data points and the long-term market is very strong. To see each start to wane after a few stagnant months is indeed how recessions begin. Take a look at the chart below. We're not in dire straits just yet, but slowly getting there.
Capacity Utilization, Industrial Productivity and SPX Chart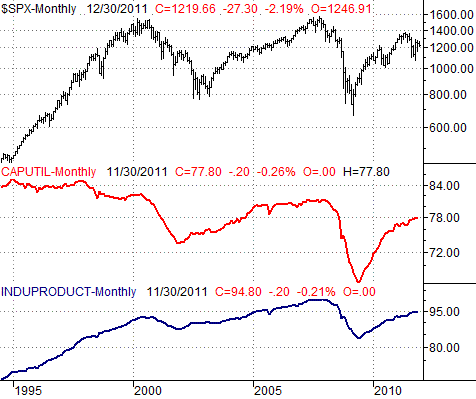 Economic Calendar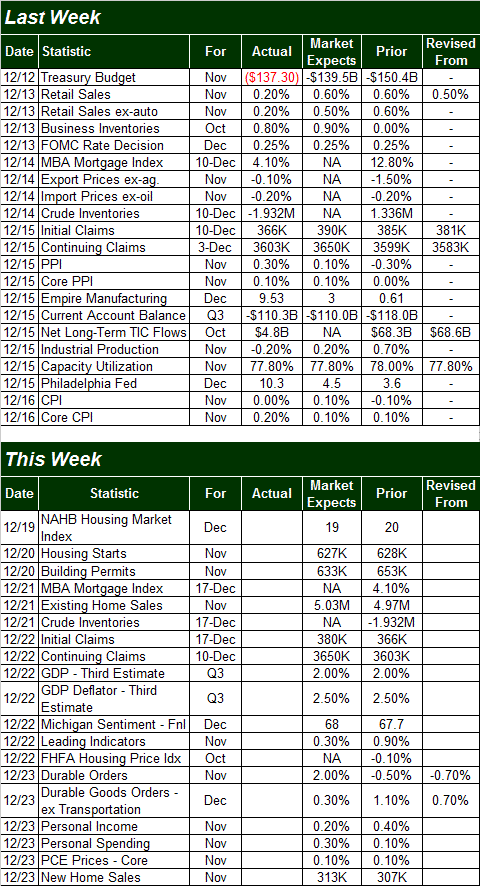 As for the coming week, there's a little less on the docket, though not a lot less. The biggies are:
Tuesday: Housing starts and building permits will continue to paint the construction picture. Look for slightly lower numbers, though some of that could be a seasonal slow-down [the seasonal adjustment doesn't always fully work].
Wednesday: Existing home sales. Will the National Board of realtors start fixing their pumped up numbers as of this month? For now, the pros are expecting a sales rate of 5.03 million per year. New home sales for November will be unveiled on Friday, and are expected to rise slightly to a rate of 313K per year.
Thursday: New and ongoing unemployment claims are both expected to push a little higher this week, though only because last week's big dips left them little to no room to sink.
Friday: Personal income and personal spending. Is the consumer dead or alive? The numbers continue to say he's moderately healthy, both in terms of income growth, and a willingness to spend it.
S&P 500
Just when it looked like the market was going to stand all the way up and begin walking again, it stumbled (thanks to Europe, again), putting its actual health back into a question at a point in time when the last thing it could afford is any doubt.
The bad news is, the S&P 500 (SPX) (NYSEARCA:SPY) closed under the 20-day and 50-day moving averages (blue and purple, respectively), after failing to hurdle the 200-day moving average line (green) a couple of weeks ago. Indeed, not only did the SPX fall under those key short-term moving average lines last week, they ended up acting as ceilings on Thursday and Friday, bringing a quick end to any rally effort those days. The good news is, the CBOE Volatility index (VIX) (NYSEARCA:VXX) (NYSEARCA:VXZ) moved under its 200-day moving average line (also green) for the first time since July.
The VIX's action last week was the subject of a fairly hot debate, even within a fairly small circle. With the market falling, the VIX 'should have' moved upward. It didn't. Instead, it continued to move lower, suggesting that what the market was actually doing didn't necessarily reflect what traders were thinking. The falling VIX says folks are less and less worried.
The counter-argument is that the waning VIX value doesn't indicate anything other than trade fatigue – it's drifting lower only because folks are becoming numb to the onslaught of economic/market problems. And, the people on this side of the fence are also quick to point out, that the VIX is still finding something of a floor at 24.30, where it made a major low in October. Is it going to push up and off that floor again? If not, then stocks are in more bullish shape than they might appear at first glance.
The problem is still the same though – we're in limbo.
There's a floor at 1204.77, where the 100-day moving average line (gray) is waiting. As long as that support holds, we can afford to give the benefit of the doubt to the market. Anything under it is a problem for the bulls, particularly if the VIX makes its way back above the 200-day average line. Even if stocks do push back above the 50-day average at 1228.77 though, the market still hasn't hurdled the biggie at 1267. That's the only thing that'll be truly convincing in a bullish way now.
SPX & VIX Daily Chart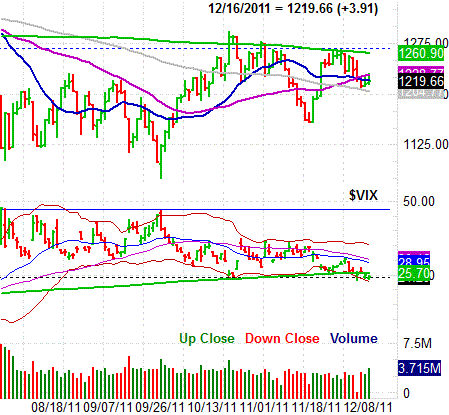 And just for good measure/perspective, a look at the daily chart of the NASDAQ's (NASDAQ:QQQ) and Dow Jones Industrial's (NYSEARCA:DIA) daily charts. Both charts pretty much tell the same tale as the S&P 500's.
Dow Jones Industrials, NASDAQ Composite – Daily Chart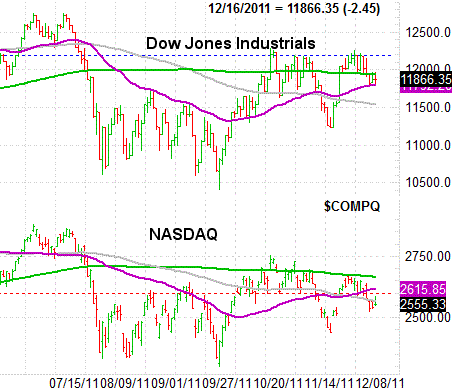 Disclosure: I have no positions in any stocks mentioned, and no plans to initiate any positions within the next 72 hours.