I haven't had the time to plan returning to the scene because I haven't left it. -- Mick Jagger
For those tracking my articles, it should be clear by now that my entire focus is on trying to listen to the underlying message of markets to see if conditions favor being risk-on (stocks) or risk-off (bonds). My analysis is centered around intermarket relationships, which effectively means looking at various sectors and asset classes relative to each other to see if market participants are knowingly or unknowingly sending a consistent message. I have noted that conditions matter far more than predictions, and that the prior calls I've made this year have been within the context of what I believe markets are signaling a high probability of doing.
The deflation pulse call in February, silver top call in April, "QE3 is you and me" article in May, summer crash call in June, and "fall melt-up" call on September 29 -- before the October jump -- were all predictions made within the context of what underlying conditions favored. When Italy's yields jumped to over 7% in early November, I immediately called for the end of the fall melt-up, turning then to this idea that we would be headed for a "December to remember breakdown" in risk assets given severe deterioration that was occurring within the market. Then, SuperBen and the League of Extraordinary Bankers stepped in to save the day about two weeks ago, with conditions dramatically improving as a result. I then flipped back to saying that the Fall Melt-Up was back.
It appears as though market internals have dramatically deteriorated once again, with it particularly noticeable on Thursday and Friday of last week. It appears that the market whipsaw resulted in an analysis whipsaw for me, and I have returned to a more bearish stance. One of the primary reasons for why is the change in the crowd's expectations for future inflation.
Take a look below at the price ratio of the iShares TIPS Bond ETF (NYSEARCA:TIP) relative to the 7-10 Year Treasury Bond ETF (NYSEARCA:IEF). As a reminder, a rising price ratio means the numerator/TIP is outperforming (up more/down less) the denominator/IEF.
Click to enlarge.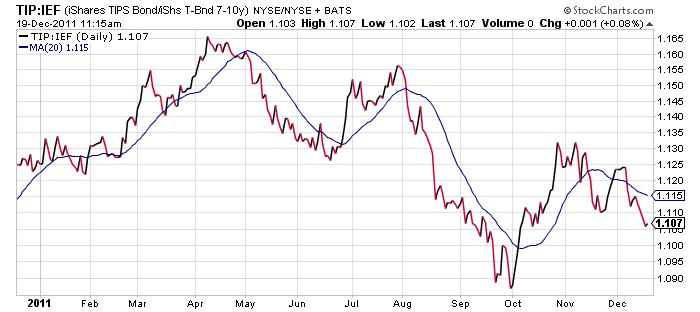 Click to enlarge
The trend in this ratio is one way of seeing if inflation expectations are rising or falling. An uptrending ratio means that investors are favoring Treasury Inflation Protected Securities relative to nominal Treasuries, which would occur when inflation expectations are rising. The opposite means that investors favor nominal bonds, which occurs when deflation fears come in to play. Its fairly easy to see how the ratio behaved all year, but I want to specifically note what is happening on the far right of the chart with recent price action.
The October move in the ratio occurred around the time the fall melt-up call was made, with equities following in what was on the best advance in decades for stocks. The ratio then paused, and fell off a cliff when Italy and Spain became a concern for markets given the overnight jump in borrowing costs. The reversal in the TIP/IEF trend is what led me to call for a December to remember breakdown, as I believed equities would react with a lag to the deflation fear that was starting to express itself at the time. The spike back up above the moving average coincided with global central bank intervention.
What is most troubling is that the ratio has not only begun to trend lower again, but is actually below levels seen before SuperBen and the League of Extraordinary Bankers stepped in. It appears as though the initial hope of rekindling inflation expectations sharply ended. The conditions are negative now for risk-taking. It appears as though the fall melt-up was really just an October move, and that the market bias is now towards lower prices in the near-term. Perhaps the December to remember breakdown may have been the right call after all.
Disclosure: I have no positions in any stocks mentioned, and no plans to initiate any positions within the next 72 hours.
Disclaimer: This writing is for informational purposes only and does not constitute an offer to sell, a solicitation to buy, or a recommendation regarding any securities transaction, or as an offer to provide advisory or other services by Pension Partners, LLC in any jurisdiction in which such offer, solicitation, purchase or sale would be unlawful under the securities laws of such jurisdiction. The information contained in this writing should not be construed as financial or investment advice on any subject matter. Pension Partners, LLC expressly disclaims all liability in respect to actions taken based on any or all of the information on this writing.