Hatteras Financial Corporation (NYSE:HTS), a mortgage Real Estate Investment Trust (mREIT), was at the eye of storm in the 2008 mortgage meltdown mess. That it managed to not only survive but thrive since then is testament to its business savvy.
Based in Winston-Salem, North Carolina, Hatteras Financial was formed to invest in single-family residential mortgage pass-through securities issued or guaranteed by U.S Government agencies or U.S. Government-sponsored entities, such as Fannie Mae (OTCQB:FNMA), Freddie Mac (OTCQB:FMCC), or Ginnie Mae.
It is externally managed by Atlantic Capital Advisors LLC, which, according to financial blogger Todd Johnson, has "outperformed the S&P 500 (NYSEARCA:SPY) by an annual 8.2% since Hatteras' initial public offering" in November 2007. Johnson continues:
What distinguishes Hatteras from most other mREITs is that it focuses on hybrid adjustable-rate mortgage (ARM) loans with short effective durations. Some analysts suggest that its focus on ARMs provides investors with a sort of hedge against rising interest rates, however, few analysts view that as a near-term possibility.
REITS are known to be good hedges against rising interest rates. As Stock Gumshoe, an online financial forecaster, describes it, REITS:
...borrow money at low commercial short-term interest rates, and "lend" money at higher rates by leveraging up their balance sheet with that short term paper to buy mortgage bonds. The ones that are effectively participating in this government 'guarantee' are those that buy entirely (or almost entirely) government mortgage paper, as in Fannie Mae, Freddie Mac, Ginnie Mae bonds.
Peter Beller at Forbes observed:
Mortgage REITs exude more than a whiff of speculation. The financial crash paradoxically made them popular. "A lot of people used them to bet against the market," since they do well when rates go down, says (Bose) George. On the other hand, the last time rates rose, even the best of the lot did poorly and investors should expect a similar performance this time, he adds. The difference: much less leverage than before the crash and much lower stock prices, meaning investors are taking less risk with the shares.
After gold, mREITS such as Hatteras are considered the next best "wealth fortress," according to Stock Gumshoe, which notes, the most commonly mentioned REITS are Capstone Mortgage (NYSE:CMO), Annaly Capital (NYSE:NLY), and Hatteras Financial.
In Y-Charts' REIT - Residential Stock Rankings, Hatteras ranks #5 in dividend yield of 14.90%, behind American Capital Agency (NASDAQ:AGNC), Armour Residential (NYSE:ARR), Two Harbors Investment (NYSE:TWO), and CYS Investments (NYSE:CYS). On both P/E ratio and Return on Capital, it ranks at #4 - above ARR and TWO.
The risks to these investment instruments, Stock Gumshoe writes, is: 1) "prepayment," whereby after paying a premium to buy the mortgage, the owner pays it off early to refinance; or 2) interest rate fluctuations, whereby "short term and long-term interest rates converge," resulting in less profit; or "rates move quickly in either direction," requiring more portfolio management.
On December 13, 2011, the company announced its fourth quarter dividend. "The Board of Directors of Hatteras Financial Corp." the press release stated, "...declared a quarterly dividend of $0.90 per common share for the fourth quarter of 2011." First, second and third quarter dividends were all $1.00 per share.
Hatteras has been one of the steadier dividend payers, and it has managed to meet its dividend expectations each of the last four years.
Hatteras Financial stock price has been in a trading range between $22 to $28 over the last year, as shown below (click to enlarge):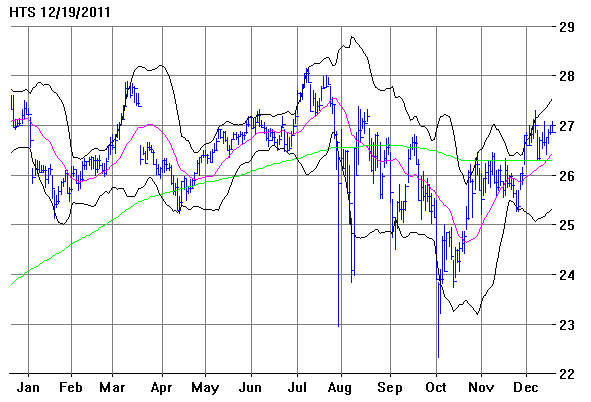 Click to enlarge
With Hattares Financial upcoming dividend payment, an investor might consider entering a collar position to take advantage of the dividend payment and protect against a large movement in the price of the stock. A collar may be entered by selling a call option and purchasing a put option for an existing or purchased stock.
Using PowerOptions tools, a collar was found for Hatteras Financial with an estimated potential profit of 3.8% and a maximum potential loss of 1.6%. The returns include receipt of the upcoming dividend. The specific call option to sell is the 2012 Jan 26 at $0.80 and the put option to purchase is the 2012 Jan 27 at $1.25. A profit/loss graph for one contract of the collar position is shown below: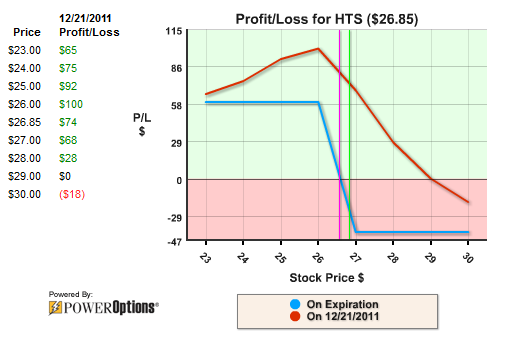 Click to enlarge
All else equal, the price of Hatteras Financial stock should drop the equivalent of the dividend payment on the ex-dividend day, or Wednesday, December 21, 2011, so this position could become profitable in two days.
Disclosure: I am long HTS, and have a collar position on HTS to take advantage of the dividend.