"All the things that mommy needs to keep her preoccupied and satisfied, in a full range of essentials," describes Bed Bath and Beyond's (NASDAQ:BBBY) four-store chain of concepts — now handling babies, cosmetics, anything for the qualified two-parent home, and bargain knick-knacks.
When Bed Bath & Beyond is not busy wowing its customers, it's busy focusing on customer service. The full slate of concepts includes actual Bed Bath & Beyond brick-and-mortar shops in addition to 3 more prime establishments: buybuy BABY, Christmas Tree Shops, and Harmon stores.
It's no wonder that a company so focused on customer service has not yet made a big impact on the Web in sales. That doesn't mean that Bed Bath & Beyond is not there. The Internet is a big pond, and it's hard to match the customer service that brick-and-mortar stores are capable of without investing considerable effort. Its Web presence, however meager, has been profitable - albeit not of the class of key rival stores. Internet sales increased from 7.9% of gross profits in 2010 to 6.3% of sales for the first half of 2011, indicating significant expansion of physical store real estate.
Nonetheless, dedicated efforts at positioning stores as the customer's first consideration by meeting goals of superlative customer service do not require an excessive and noisy Web presence but suffice with a simple, minimum comfort in knowing that there is an online option with home delivery a friable pluck away. The premium placed on customer service suggests that Bed Bath & Beyond may have more sophisticated plans.
Store Concepts in Brief
"Bed Bath & Beyond has everything you need to play 'house' for real." This popular and catchy sentiment is echoed in page upon page of Web mention of the store itself, demonstrating with clarity how the company positions itself to the shopping public. There are now 989 Bed Bath & Beyond stores.
The buybuy BABY chain, "Where Shopping is Child's Play," opened a recent store in Massachusetts after seizing a former Linens N' Things store front. The 56-store chain sells specialty items that cover baby's early birth through toddler years, using store organization not dissimilar to Shoe Carnival (NASDAQ:SCVL) locations.
With locations in 20 states, Christmas Tree Shops ("Don't you just love a bargain?") offer an online store flier, gift cards, and links to their physical locations online.
Harmon stores, currently with 46 storefronts, operate mostly in the New York/New Jersey/Connecticut tristate region, with some in Florida. Their motto is, "Your One Stop Shop For All Your Cosmetics, Health and Beauty Needs!" and the website promises 100% satisfaction online or at any store branch - true to form, in fact, for all Bed Bath & Beyond stores.
Rivals
For competitors, consider Linens N'Things, Pier 1 Imports (NYSE:PIR), Williams-Sonoma (NYSE:WSM), and Kohl's (NYSE:KSS). Linens N' Things took a turn into bankruptcy in recent years and thereby boosted Bed Bath & Beyond's profile. Williams-Sonoma (WSM) is recognized as Bed Bath & Beyond's biggest rival at the moment, following the near demise of Linens N' Things after bankruptcy filings.
News and Renovations
Additional locations have been planned to tak advantaged by a depressed real estate market. A total of 40 - and potentially more new stores - are planned for 2011.
Strategy
A core part of FY 2011 strategy, as reported by Gene Castagna, Bed Bath & Beyond chief financial officer, is to take the opportunity while profits abound to increase offerings of low margin items that can hope to present additional customer choice and sale value. Technological upgrades are planned to the tune of $250 - $300 million that should place the company on or above par with competitors for consumer appeal.
Problems Ahead?
Bed Bath & Beyond stores have been critiqued on a poor Web presence on grounds that sales should be stronger and in numbers similar to those of competitors. However, as evident by the corporation's own approach, Web success is taking a slow turn as matter of conservative approach and experimentation. Experimentation is nothing to worry about and suggests great potential for the company to boost its Web profile at its own leisure, taking time to do its own research and investigation. Critics also argue that competition may be set to increase both from department stores and from other sellers.
Bed Bath & Beyond's stock price has increased about 60% over the last two years, as shown below: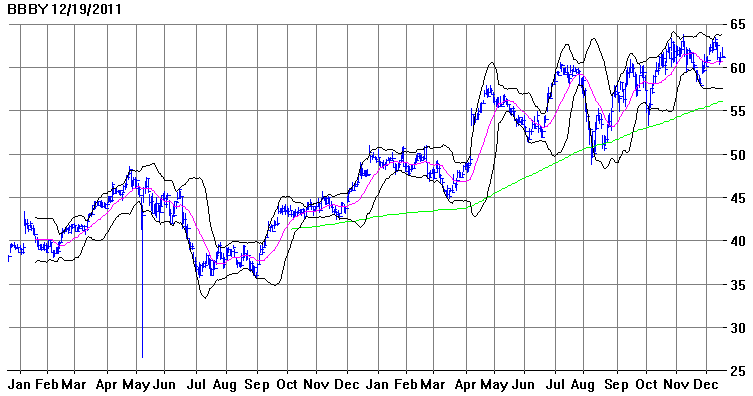 Click to enlarge
An investor with a large profit may be considering an exit of the position, but this could incur a taxable event. As an alternative, an investor might consider a married put for the company's stock. A married put can be entered by purchasing a put option with the put option acting as insurance in case the price of the stock drops significantly. A married put enables an investment to continue to participate in upward movement of the stock while providing protection in the event the stock price declines.
Using PowerOptions tools, a married put for Bed Bath & Beyond was found with a maximum potential loss of 5.8%. The specific put option to purchase is the 2012 May 62.50. The profit/loss graph for the married put position is shown below: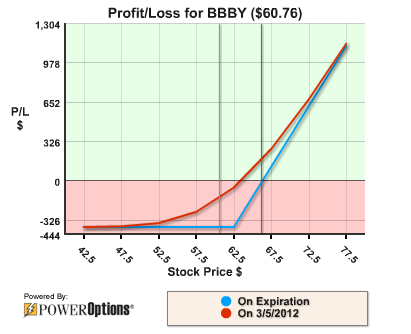 A nice feature of the married put strategy is that once the price of the stock is equal to or greater than the strike price of the put option, income methods can be used to generate income and reduce risk.
Disclosure: I have no positions in any stocks mentioned, and no plans to initiate any positions within the next 72 hours.