Of the two major platinum group metals, platinum and palladium, palladium prices have seemed to hold up better than platinum during a period when gold prices have fallen about 16% from year-to-date highs.
But given the recent sharp pullback in gold, platinum prices plummeted further. So did palladium as you can see on these performance charts, showing how a $10,000 investment in each metal would have fared year-to-date.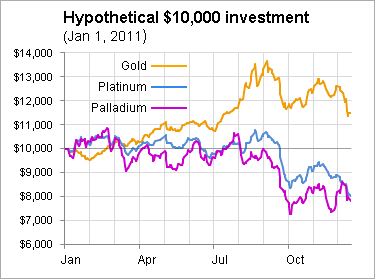 Yet if you go back to almost three years to early 2009, you can see palladium has actually held up quite well compared to platinum and gold.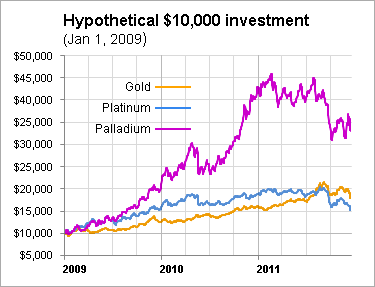 Some investors have taken note that platinum now trades at a discount to gold. Usually, platinum costs more than gold per ounce, but as you can see from this chart, platinum's rough parity to gold can last months or even years. The palladium/gold ratio is tough to see because of that spike about 10 years ago.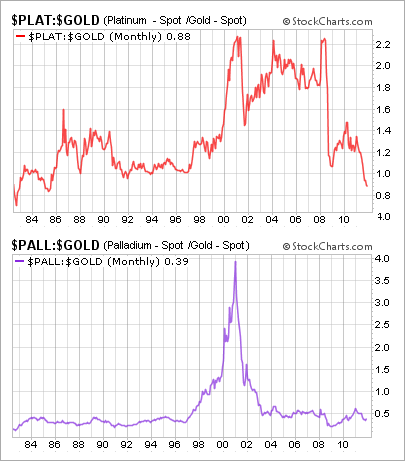 That spike in 2000-2001 was based on market disruptions caused by Russian firms suspending sales in the spot market. That sent palladium to more than $1,000 per ounce (as a comparison, gold was selling for about $250 per ounce back then). I would not count on a similar spike in this ratio in the future, but you can't rule it out either.
Looking at these ratios in the shorter term, you can see that if you were to use gold as a benchmark, palladium is still relatively expensive. I look at that as a bullish sign, at least compared to platinum.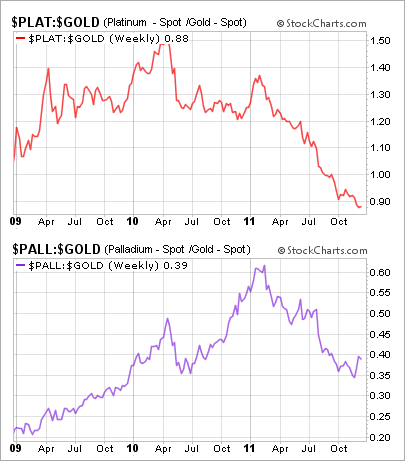 "Negative Physical Demand"
Johnson Matthey, a company that analyzes trends in the platinum group metals, isn't all that bullish on palladium prices. According to its most recent November price report (.pdf), Russian state sales of the metal have created "negative physical investment demand."
While the market may be mostly balanced or in surplus now, I'm still bullish on palladium – and platinum to a certain extent. As I pointed out back in October, I believe that over the long term palladium prices will rise. There are few if any substitutes for these metals as autocatalysts. And the palladium market is a tight one. That means it's subject to fairly volatile movements.
Metal or Miners?
I've been buying a few shares of the Palladium ETF (NYSEARCA:PALL) here and there for nearly two years and bought some more on Friday. The miners, Stillwater Mining (NYSE:SWC) and North American Palladium (NYSEMKT:PAL) may be good investments, but both have fallen significantly in the past few months as you can see here.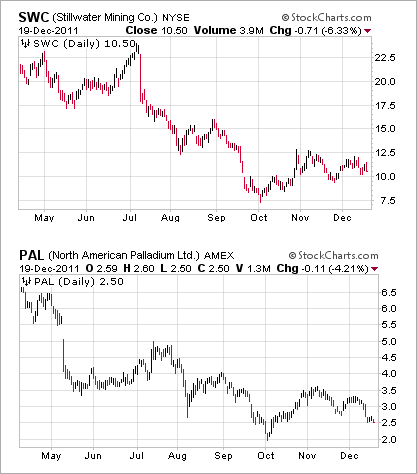 I don't know what's going on with PAL, which is down to around $2.50 from $6.50 just a few short months ago. As for SWC, it's down around 50% over the same period. One reason could be that the investment community is not too pleased with the company's July announcement of its $487 million purchase of Peregrine Metals to develop a copper and gold mine in Argentina.
I'm not pleased about the stock performance either, but this could easily work out well for SWC someday, so I'm keeping my shares for now. If you own SWC, you might be interested in Hard Assets Investor's interview with the company's CFO.
But at least in the near future when I add to my position in palladium, I'm going to do so in the form of the metal itself and not the miners.
Disclosure: I am long PALL, PPLT, SWC.