Disruptions in the global economy have kept international equities suppressed, with a devastating Japanese earthquake crippling the normal supply chain between the Asia economies and escalating concerns over the eurozone financial debt crisis. However, investors who opted to stick it out in domestic equity markets and exchange traded funds fared much better.
According to an S&P Capital IQ research note, ETFs and exchange traded notes that covered domestic U.S. markets performed better than those that track foreign markets. The S&P Capital IQ's MarketScope Advisor database reveals that 113 domestic ETFs/ETNs had positive returns year-to-date, while only five international or global ETFs/ETNs showed positive returns.
"With major stock markets outside the U.S. showing weak returns thus far in 2011, we have seen mixed results from equity ETFs or ETNs, with a majority of them in negative territory," Tom Graves, CFA, S&P Capital IQ Equity Analyst, said in the note. "We have seen generally stronger performance in 2011 from ETFs with more of an emphasis on domestic holdings."
The top 10 ETF performers of the year are all sector ETFs, which include utilities, consumer staples, healthcare and consumer discretionary.
S&P Capital IQ placed an "overweight" ranking on five of the year's top performers, which include Utilities Select Sector SPDR Fund (XLU), iShares Dow Jones US Pharmaceuticals Index Fund (IHE), PowerShares Dynamic Pharmaceuticals Portfolio (PJP), Vanguard Consumer Staples Index Fund (VDC) and Consumer Staples Select Sector SPDR Fund (XLP).
The five sector ETFs had year-to-date returns of between 10% to 16% for the year through Dec. 12.
The S&P Capital IQ Equity Research's ETF analysis ranks funds according to performance analytics, risk considerations, cost factors, holdings and expense ratios, among other analytical metrics.
Utilities Select Sector SPDR Fund
Click to enlarge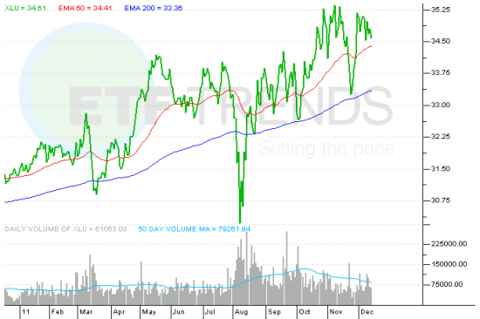 Max Chen contributed to this article
.