I rarely think the market is right. I believe non dividend stocks aren't much more than baseball cards. They are worth what you can convince someone to pay for it.
This is a quote from Mark Cuban, a famous investor who made millions in the market and is now the owner of the World Champion Dallas Mavericks. I believe it is quite apropos at this juncture. I posit the market is at an inflection point based on the latest shenanigans being perpetrated by the eurozone and the latest numbers coming out of China. I foresee more volatility in front of us. As we all know, in life, timing is everything. Well, it works the same way in the market and the time is now to pick up some shares in these high yield dividend paying volatility safe haven stocks with significant upside.
In this article we will discuss the following seven stocks: Philip Morris International, Inc. (NYSE:PM), Exelon Corporation (NYSE:EXC), Lockheed Martin Corporation (NYSE:LMT), CenturyLink, Inc. (NYSE:CTL), American Electric Power Co., Inc. (NYSE:AEP), FirstEnergy Corp. (NYSE:FE) and PG&E Corp. (NYSE:PCG).
Compelling Fundamental Statistics
The stocks discussed are S&P 500 large-cap or better stocks with dividend yields of 4% or greater and below industry average payout ratios. The payout ratio indicates how well earnings support the dividend payments ... the lower the ratio; the more secure the dividend because smaller dividends are easier to pay out than larger dividends. Dividend stocks have outperformed the market over the last six months. Additionally, these stocks have great stories and positive catalysts for future growth and strong fundamentals. Below are three tables with detailed statistics regarding each company's current summary, fundamental and earnings information.
Summary Statistics
Click to enlarge

Click to enlarge
Fundamental Statistics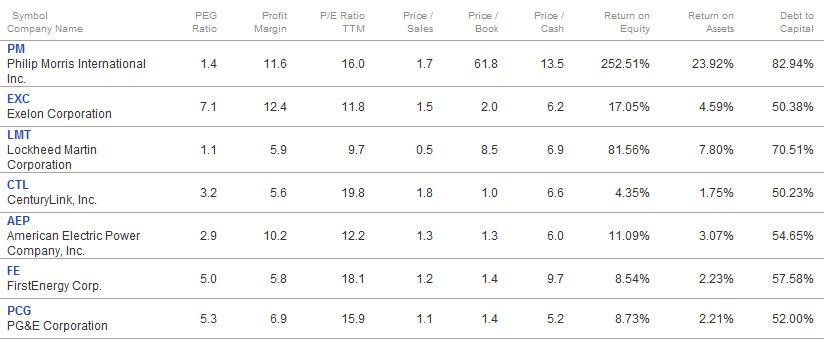 Click to enlarge
Earnings and Dividend Statistics

Click to enlarge
Charts provided by Scotrade.com.
Company Profiles and Potential Catalyst/Recent News
Philip Morris International Inc., through its subsidiaries, manufactures and sells cigarettes and other tobacco products. Its portfolio of international and local brands includes Marlboro, Merit, Parliament, Virginia Slims, L&M, Chesterfield, Bond Street, Lark, Muratti, Next, Philip Morris and Red & White.
The Board of Directors of Philip Morris International Inc. recently increased the company's regular quarterly dividend by 20.3%, to an annualized rate of $3.08 per common share. The new quarterly dividend of $0.77 per common share, up from $0.64 per common share, is payable on October 11, 2011, to stockholders of record as of September 27, 2011. The ex-dividend date is September 23, 2011.
Exelon Corporation operates as a utility services holding company in the United States. The company primarily engages in the generation of electricity.
The New York State Public Service Commission (PSC) recently issued a declaratory ruling that it does not need to review further the merger of Exelon Corporation and Constellation Energy (NYSE:CEG). The companies submitted their joint application to the New York State PSC on May 17, 2011.
Exelon President and COO Christopher M. Crane said:
It is a positive step that the New York State PSC does not require further review of our application, because it means they have cleared us to proceed. This is another milestone toward completing our merger, and we continue to be on track to close the transaction in the first quarter of 2012.
Lockheed Martin Corporation engages in the research, design, development, manufacture, integration, operation and sustainment of advanced technology systems and products in the areas of defense, space, intelligence, homeland security and government information technology in the United States and internationally.
The Japan Ministry of Defense has announced its selection of the Lockheed Martin F-35 Lightning II as the Japan Air Self Defense Force's (JASDF) next generation fighter aircraft, following the F-X competitive bid process. The F-35A conventional takeoff and landing variant (CTOL) was offered by the United States government with participation from Lockheed Martin. The initial contract will be for four jets in Japan Fiscal Year 2012, which begins April 1, 2012.
Bob Stevens, Lockheed Martin chairman and chief executive officer said:
We are honored by the confidence the Japanese government has placed in the F-35 and our industry team to deliver this Fifth Generation fighter to the Japan Air Self Defense Force. This announcement begins a new chapter in our long-standing partnership with Japanese industry and builds on the strong security cooperation between the U.S. and Japan.
CenturyLink, Inc., together with its subsidiaries, operates as an integrated communications company. The company provides a range of communications services, including voice, Internet, data and video services in the continental United States.
CenturyLink has won a multi-year task order valued at more than $250 million from the Defense Information Systems Agency/Defense Information Technology Contracting Organization (DISA/DITCO) to provide private line services for dedicated high-speed connections between military installations. As DISA/DITCO delivers more electronic information over greater distances, the need to transmit data, video and voice reliably and securely is essential. CenturyLink will leverage its state-of-the-art nationwide backbone to deliver secure and robust private line services, from Digital Signal Level (DS)-0 through Optical Carrier Level (OC)-768.
Diana Gowen, senior vice president and general manager of CenturyLink Government, said:
CenturyLink will deploy its optical network infrastructure to deliver highly reliable and capable private line services to support the critical and growing needs of our defense customers. CenturyLink's private line services have extensive geographic coverage that will ensure fast, direct and secure communications between U.S. military bases, posts, camps and stations.
American Electric Power Company, Inc., together with its subsidiaries, engages in the generation, transmission and distribution of electric power to retail customers.
American Electric Power is making several organizational and leadership changes, effective Jan. 1, 2012, to focus its transmission business unit on implementing transmission projects in the company's 11-state footprint, increasing investments to improve transmission infrastructure and continuing to develop joint venture projects outside the company's service territory.
Nicholas K. Akins, AEP president and chief executive officer said:
A robust transmission system that can efficiently move power across different regions of the country is key to a secure energy future and economic growth for the United States. Much of the investment in the transmission system was made decades ago. We believe that now is the time to re-invest in the system to ensure we can continue providing reliable, efficient transmission service to our customers while we pursue transmission growth opportunities inside and outside of AEP's service territory. This realignment of our transmission business will help us improve the system, advance our leadership in the industry and deliver earnings growth through transmission projects.
Firstenergy Corp. operates as a diversified energy company. The company, through its subsidiaries and affiliates, involves in the generation, transmission and distribution of electricity, as well as energy management and other energy-related services. It serves approximately 6 million customers within 67,000 square miles through 10 utility operating companies in Ohio, Pennsylvania, New Jersey, West Virginia and Maryland.
FirstEnergy Corp. recently announced that its FirstEnergy Solutions subsidiary has signed a long-term agreement to purchase the output from the Maryland Solar Farm, a green energy facility planned for Hagerstown, Md. When the development is completed by Maryland Solar LLC, the facility will be the largest solar facility in Maryland and among the largest on the East Coast.
Under the terms of the agreement, FirstEnergy Solutions will purchase the facility's 20-megawatt output for 20 years. The long-term purchase power agreement demonstrates that Maryland Solar will have a guaranteed source of revenue, a critical milestone for the project to obtain financing. In addition, FirstEnergy Solutions will obtain the Renewable Energy Credits produced by the facility.
PG&E Corp., through its subsidiaries, operates as a public utility company in northern and central California. It engages in electricity and natural gas distribution; electricity generation, procurement, and transmission; and natural gas procurement, transportation, and storage. The company owns and operates electricity generation facilities, transmission and distribution lines, and substations; and an integrated natural gas transportation, storage and distribution system, as well as has underground natural gas storage fields in California.
Outlining expectations for 2012 in conjunction with the release of its third quarter earnings, PG&E Corporation recently announced it is taking additional actions to aggressively step up improvements in its gas and electric operations and customer service.
The company will commit significant additional resources to accelerate currently planned gas and electric system improvement work and initiate new efforts to achieve higher operating performance going forward. Among the actions PG&E will take are completing targeted inspection and maintenance work earlier than originally planned, hiring and training new talent in key areas including gas control, and increasing hands-on support for small and medium-size business customers.
Tony Earley, PG&E Corporation Chairman, CEO and President said:
Fundamentally improving operations and customer service is vital to restoring trust and confidence in PG&E and returning us to the front ranks of the industry in the coming years. This plan of action is the right thing to do for all of our stakeholders, and it's critical to PG&E's long term success.
Use this information as a starting point for your own due diligence and research methods before determining whether or not to buy or sell a security.
Disclosure: I have no positions in any stocks mentioned, but may initiate a long position in PM, EXC, LMT, CTL, AEP, FE, PCG over the next 72 hours.