CPI Corp's (NYSE:CPY) 19% dividend yield may cause investors to take a preliminary look at the company. Hopefully that is as close as investors will get - with the possible exception of those looking for opportunities to short and clever enough not to get caught in a short squeeze. On October 12, 2011 the NYSE notified CPY that it was in danger of being delisted due to a sub-$50 million market cap. The company was given 18 months to correct the problem.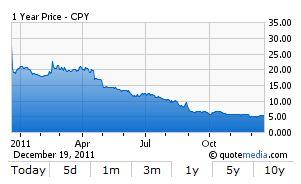 Management appears to be out of options. Cutting the $0.25 per share quarterly dividend would send remaining investors running. However, revenues are shrinking – declining 3% on a year-over-year basis from February 2009 to 2010 and 7% from 2010 to 2011. Consumers are increasingly less willing to spend their discretionary income on the company's photography services.
The company has managed to sustain its dividend thus far by emptying the cash hoard it had built up over 60 years in the business. Cash in February 2007 was $59.2 million. It dropped to 23.7 million in 2008, 18.9 million in 2009, and then fell nearly 72% to $5.4 million in 2011. The company's payout ratio (dividends per share / earnings per share) is a staggering 455%.
To put this in context, many commentators suggest that payout ratios above 50% may be an early warning sign that the company does not see reinvestment opportunities or, if it does, is not giving itself enough cash to pursue those opportunities. CPY realized net operating cash flow of $37.8 million in 2010 but, after dividends were paid, free cash flow was -$32 million. With a current market cap of only $36.7 million and a share price that has fallen 83% over the past year, CPY has a long way to go before it is safe from NYSE delisting.
Management is attempting to right the ship through a number of new initiatives. These include expansion beyond studio photography and reaching out to new customer segments. CPY wants to be customers' full-service professional photographers. In January of this year CPY acquired Bella Pictures, a provider of wedding photography and videography services. Terms of the deal were not disclosed. In 2010 CPY acquired the bankrupt Kiddie Kandids for $2.6 million. The acquisition gave CPY access to an expanded customer base.
Thus far, however, the acquisitions have failed the right the ship. In its Q2 earnings call, CPY's CFO stated,
On the Kiddie Kandids front, we still believe that's a tremendous opportunity for us. I would be lying to say that we were doing as well as we should be.
He saw long-term potential with Bella but went on to say,
Though we have a attractive network and fairly large network of independent professional photographers, it needs to be larger to launch this on a national scale. So we're in the process of building that.
This appears to signal that additional investment will be needed to secure growth. CPY may be hard pressed to accomplish that before being delisted.
The company's best prospect is a significant improvement in the American labor market. If consumers have more discretionary income to spend on professional photography, CPY may be poised for a strong turnaround. In the meantime, however, there is plenty to concern investors. Tread carefully with this stock.
Disclosure: I have no positions in any stocks mentioned, and no plans to initiate any positions within the next 72 hours.