Cablevision (NYSE:CVC), got crushed last week on the news that Tom Rutledge, its highly regarded COO, abruptly resigned. Since spinning off AMC Networks last summer, and Madison Square Garden last year, Cablevision has seemingly custom-tailored itself to be sold to one of the bigger and better capitalized cable companies out there: namely, Comcast and Time Warner.
Cablevision's stock price has fallen from $27 after the June 30th spin date to $13.15 yesterday. Yesterday morning, Citigroup (NYSE:C) added CVC to its top buy list and reiterated its $21 target. But as I will demonstrate below, there is way too much risk in this name to just own it outright. Given the potential volatility I see in the stock, buying a straddle (long calls, long puts) or just owning longer dated call options could be a better trade.
Basics: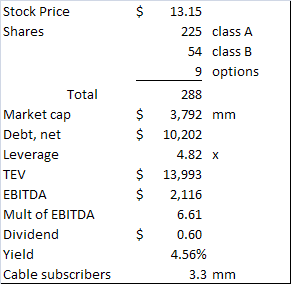 Acquisition Rationale for Cablevision:
Cablevision operates a successful cable franchise mostly in the greater metro New York City area, including nearby Connecticut and New Jersey. CVC does not own any subscribers in Manhattan; Time Warner Cable (TWC) owns those. Therefore, combining CVC's contiguous subs with TWC's subs makes a lot of sense.
However, this has been a rumored transaction for at least a decade now. The Dolan family controls CVC through it ownership of B class shares (10 votes per share), and therefore 70% of the voting rights in the company. To date, they haven't been willing sellers. In fact a couple of times they have seemingly attempted to take it private over the past few years. My opinion is they were simply juicing their stock, as they have not historically had the capital or the ability to lever up CVC any more to privatize it. In reality, Cablevision has always had way too much debt. Today CVC's debt number is approximately $10BB on a little north of $2BB in EBITDA.
The Dolan empire is quite a hodgepodge of media assets, and in the past, buying Cablevision would have entailed a cable company picking up a lot of businesses that they likely wouldn't want or need. Like the New York Knicks for example and Madison Square Garden (NASDAQ:MSG). However, now that these assets have been spun off, and Rainbow Media (NASDAQ:AMCX) also spun out, speculation has again heated up on a sale of Cablevision.
In the past, talks about a combination of TWC and Cablevision have broken down over pricing. Reportedly they have been "far apart" in this regard. Part of the problem I suspect is that CVC typically trades at higher multiples than Comcast and Time Warner because of its take out potential. But then the Dolan family probably still wants a big premium on top of that.
Speaking of the Dolans, Jim Dolan, son of founder Chuck Dolan, is running the show at CVC and is perhaps one of the worst CEOs of a public company anywhere. I have seen him speak, and was literally shocked at how inept he appeared. Perhaps he was having a bad day, I don't know. But the elder Dolan is 85 years old now, and the younger Dolan is 55. To me it's unclear whether the Dolans really want to sell, but I would say the odds are clearly higher now that Cablevision post-spin is a near pure play cable company.
Industry & Valuation
Cable companies typically are traded on an Enterprise Value to EBITDA basis. When the industry was growing in the late 1990s and early 2000s, multiple of 8-10x were common, but as the industry has now matured, both Comcast and TWC trade at around 5x EBITDA. I am not sure what the argument is for a better multiple, but I don't think it will get much worse. While the cable industry is probably going to lose 3-4% of its subscribers in 2012, price increases will offset some of this, and continued penetration into telephony and data services are also helping some.
In Cablevision's case, they were roughly flat on a total revenue basis last quarter, excluding an acquisition last year. They inexplicably bought some cable systems in Montana, Colorado, Wyoming and Utah in late 2010 (the Bresnan acquisition), paying $4500 a sub or 10x EBITDA. That is a big price, and I am not sure why the left their native New York area to lower margin, less dense subs out West.
Longer term, the company had total Revenue Generating Units (RGUs) of 10.2mm units in 2008, and today that number is around 10.7mm. Quite flat up less than 2% per year, and likely won't grow as Verizon launches its FIOS TV service in the area. (RGUs = video plus data plus telephone customers).
Pricing has been better, however, with basic video customers paying $135 in 2008, to $154 today. That is up 4.5% per year on average.
It's not surprising to me that Comcast (NASDAQ:CMCSA) and Time Warner Cable (TWC) trade at 5.0x EBITDA. The industry in my opinion is generally not exciting. Competition from Netflix, Amazon, Apple, as well as the phone carriers AT&T (NYSE:T) and Verizon (NYSE:VZ), will continue to weigh. While I am convinced consumers keep cell phones during recessions, I am also convinced that cutting the cord so to speak spikes during tough times for pay TV. Who wants to shell out over $100 a month for cable TV when you can get TV episodes you want to watch for $1.99? Or Redbox movies for $1?
As far as market share goes, satellite operator DirecTV (DTV) continues to grow. In the third quarter, DTV added 328,000 subscribers, while cable companies in total lost around 550,000 subs. The phone carriers including Verizon's FiOS TV showed an overall gain of 307,000 video adds in the third quarter according to Merrill Lynch research.
In CVC's case, it seems that not only is subscriber growth flat, but also price increases are slowing. Pricing actually fell from the June quarter to the September quarter this year ($155 to $154). Not a big decline, but pricing pressure could really continue to impact margins. Verizon's FiOS service overlaps roughly half of CVC's base of customers, and will keep prices under pressure perhaps. While revenue at Cablevision in Q3 was flat (excluding the Bresnan deal), EBITDA fell by 4.1% year over year.
Take Out Price
I would suggest that take out multiples should probably range from 6.0-7.0x. I would be surprised if TWC paid more than 7.0x EBITDA for Cablevision. I am sure they want 8-10x, but I don't see why anyone would pay it. Rumors have focused on a $30 price tag for CVC, which is around 9x EBITDA, but given the industry today, I doubt that is attainable. Clustered cable systems that already deliver high EBITDA margins, are not really ones that a buyer can pay up for, because there are simply few costs that they can take out.
Also, CVC's Total Enterprise Value at 7.0x would be $16BB, quite a big deal, and for a mature albeit solid cable franchise, seems like a full valuation. Time Warner Cable is a $40BB TEV company, and swallowing CVC for more than $16BB is probably tough. Plus they are currently paying $3BB or 6.0x EBITDA (after cost savings) for Insight Communications, a cable company based in the Midwest.
That said, here I present a case for significant upside in Cablevision, as well as the downside if numbers deteriorate.
Upside Case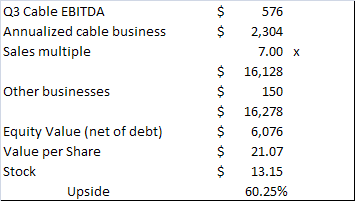 Downside Case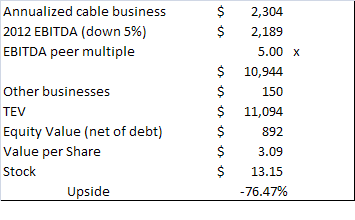 Conclusion
If Cablevision continues to show weakness in EBITDA, that is, it declines 5% next year, then at 5.0x (where the comps trade today), it can easily trade at $3 a share. That is a 76% decline. Any hiccups in the financing markets too could cause problems. Maturities total $2.5BB over the next two years alone, and a seizing up of the debt capital markets could be very problematic.
Because of this debt load, each single multiple of EBITDA change in the valuation impacts the stock by $8 a share. 4.9x leverage today is simply too high for an industry that now trades at 5.0x. One could argue that only a takeout gets you any real upside in the stock. That plus their 60c dividend and some buybacks are supporting the equity, but performance cannot continue to be subpar. Based on history, I doubt that this management team can make smart acquisitions, or that there is really enough organic growth left in the industry or at Cablevision to see much multiple upside.
On a FCF per share basis, the company will generate approximately $1.75 per share, which arguably alone supports a $16-18 stock. But if EBITDA falls 5% next year, that FCF falls rapidly on a magnified basis, to around $1.39 per share.
The downside to owning a straddle here is that, with such a big dividend, there likely will be investors looking to hold the stock for the current 4.6% yield. I think owning volatility in CVC's case makes sense given the huge upside/downside potential. Implied volatility on one year calls is around 45% today, and implied volatility on puts is around 55%. Perhaps not cheap enough given that the stock could be up or down by 60 – 80% over the course of the next 12 months.
If you are a dividend seeker thinking that this is a stable business with decent yield, that trade could work, but be careful, this one likely will move a lot over the next year.


Disclosure: I have no positions in any stocks mentioned, but may initiate a long position in CVC over the next 72 hours.