Bank of America (NYSE:BAC) has been one of the most watched stocks in 2011. Unfortunately most of this attention can be attributed to Bank of America's stock tumbling without supportive resistance points. It is easy to blame Europe for Bank of America's shortcomings, but this is not correct. Europe has caused the broader financial sector to slip due to default and debt fears; but Bank of America's stock began to slide due to weakness prior to the European Union (EU) debt issues become prominent.
Thus far in 2011 Bank of America's share price has tumbled over 60% with no bottom in sight. It is important to note part of this plunge is from the possible EU collapse because any minor or major default will negatively effect American banks with exposure to European debts and bonds.
With that in mind, will Bank of America's share price bounce back in 2012 after the EU problems subside? No, Bank of America's stock will not rebound because Bank of America's stock is not directly tied to the EU situation. However, if several EU members default Bank of America will face negative consequences due to the loss of capital.
First off it is important to look at why Bank of America's stock will continue to plunge regardless of what happens in Europe. In order to do this, I will need to rewind to January. Beginning in January Bank of America's share price moved upwards in line with the broader indexes. After this period the stock began a year long plunge while the indexes moved higher until the third week of July. Furthermore, the Summer plunge occurred due to European and American debt fears. This indicates Bank of America was showing severe weakness prior to the debt and default fears.
click to enlarge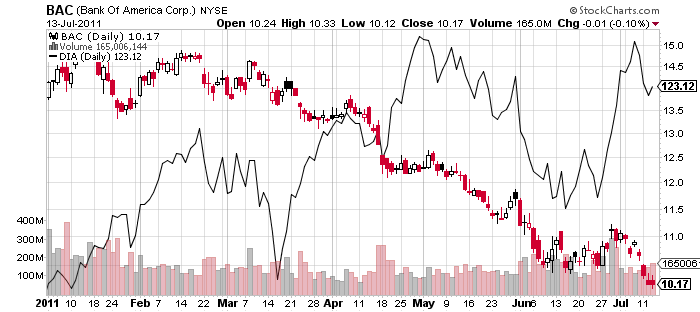 Click to enlarge
Bank of America began to realize severe weakness after the company's January 2011 earnings report was below expectations by 72%. This was followed by a 36% miss during the April 2011 earnings report. These two reports were critical for Bank of America's shareholders because these came at a time when the broader market was surging. Therefore, while the market was flying high Bank of America's share price was sliding.
Part of this weakness can be seen by viewing the decline in net interest income over the past five quarters. It is difficult to discern any clear pattern using other financial indicators because Bank of America's finances have a tendency to vary wildly from quarter to quarter. Nevertheless, the most stable indicator for Bank of America is net interest income. The decline in net interest income indicates Bank of America's liabilities and obligations are increasing faster than the bank's revenue from assets; which is a trend that will lead to bankruptcy in the long term.
| Quarter | Net Interest Income |
| --- | --- |
| Q3 2011 | $10.49B |
| Q2 2011 | $11.24B |
| Q1 2011 | $12.18B |
| Q4 2010 | $12.44B |
| Q3 2010 | $12.43B |
This trend should continue for Bank of America and the company's stock will react negatively through 2012. It is too soon to declare Bank of America the next Lehman Brothers (OTC:LEHMQ) but both companies share an eerily similar chart. The first chart is Bank of America's chart for 2011 and the second is Lehman's chart from June 2007 through July 2008.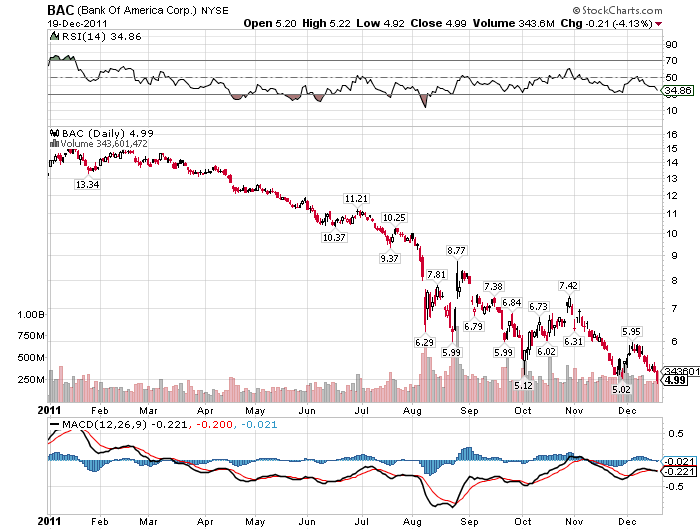 Click to enlarge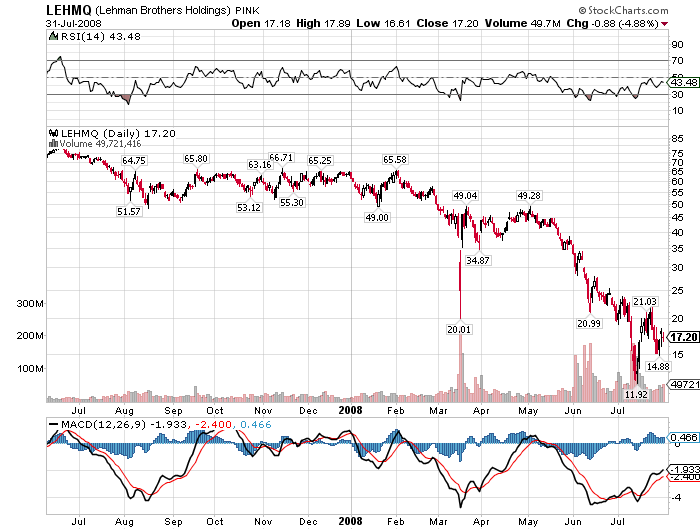 Click to enlarge
This comparison is important because at the time Lehman Brothers was seen as a giant that could not go bankrupt, but billions of dollars of leveraging in the housing market and several scandals later the company filed for bankruptcy. Therefore it would be irresponsible to believe Bank of America can not go bankrupt. It is also important to note that a company's chart is not a perfect indicator of a bankruptcy possibility; but as the share price continues to plunge the likelihood of bankruptcy is imminent.
Bank of America may not be exposed to Europe as mush as JP Morgan (NYSE:JPM) and Citigroup (NYSE:C), but the bank will continue to struggle throughout 2012. After Bank of America's share price ends 2011 between 4.85 and 5.20, we will see the share price slide throughout 2012; barring any unexpected surprises. Unfortunately for Bank of America shareholders the stock will need significant economic improvements before the share price finds a steady resistance point.
It is important to note new regulations will help Bank of America steer clear of bankruptcy but that does not mean the stock will rebound in 2012; unless, of course, a miraculous solution comes to fruition in Europe and America's economy rapidly improves. If this does not occur Bank of America's stock may be flirting with the 3.00-3.50 level throughout the second half of 2012.
Disclosure: I have no positions in any stocks mentioned, and no plans to initiate any positions within the next 72 hours.