By Todd Bunton
The market just can't seem to catch a break these days as macroeconomic concerns have jolted stocks since late July.
First, it was fears of a recession hitting the United States that sank the stock market. When the economic picture steadily improved throughout the fall, the markets were held back by the Greek debt crisis. And just when EU leaders agreed on a bailout for Greece, bonds rates spiked in Italy and Spain, once again sending stocks lower.
And now there are concerns that China is slowing down and will hold back the global economy in 2012.
But with all of the negativity and pessimism pervading Wall Street, the S&P has now entered 'oversold' territory and may be signaling a buying opportunity: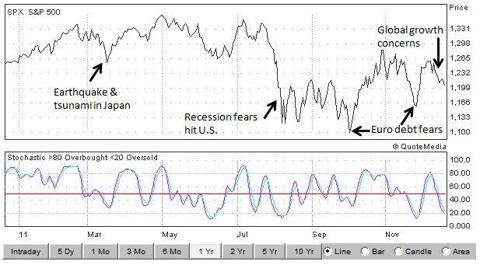 U.S. Still Looks Attractive
Even with all that has been thrown at the market this year, the S&P has lost just 2% when you factor in dividends. While the risks of an economic slowdown in Europe or China spreading here to the U.S. next year are real, the odds right now are still stacked in favor of continued economic growth in the U.S., and that presents a bullish case for stocks.
Why? Because even 1-2% GDP growth next year is enough to generate healthy earnings growth. And valuations look pretty darn attractive with the S&P trading at just 11.4x 2012 'earnings'. Not to mention the yield on the S&P is 2.3%, about 50 basis points more than the 10-year Treasury note.
If fears over Europe and China subside, the S&P could be headed for some strong gains in 2012. Of course, not all stocks will be winners. Look for those underappreciated stocks that got beaten down by a nervous Mr. Market despite strong quarterly results. These could see the most rapid gains.
Here are 4 stocks to consider:
CNH Global (NYSE:CNH)
CNH Global makes agricultural and construction equipment. It was formed in 1999 by the merger of New Holland and Case Corporation.
The company has delivered 8 consecutive positive earnings surprises, including a big 38% beat in late October that was essentially unrecognized by the markets as investors focused on the European debt crisis. But earnings estimates soared over the following days for both 2011 and 2012, sending the stock to a Zacks #1 Rank (Strong Buy).
This has led to some very attractive valuations for CNH. Shares trade at just 8.5x 12-month forward earnings, a significant discount to its historical median of 16.2x. Based on a long-term consensus EPS growth rate of 14.5%, its PEG ratio is only 0.6.
Take a look at its Price & Consensus chart, which plots both the trend in consensus earnings estimates by year and the stock price. There is a clear divergence between the two, where consensus estimates are soaring but the stock price has fallen: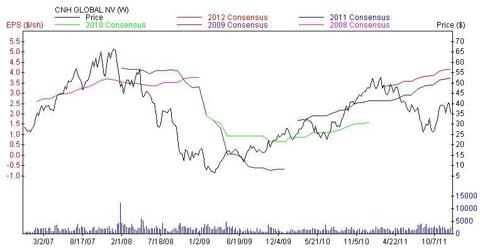 Goodyear Tire & Rubber Company (NYSE:GT)
Goodyear is a leading tire manufacturer and generates approximately 57% of revenue from outside North America. The company has seen strong top-line growth across the globe this year, but macroeconomic concerns have weighed on the stock.
The company has posted a string of huge positive earnings surprises, including an outstanding 188% EPS beat in Q3. Earnings estimates have been surging for both 2011 and 2012. It is a Zacks #1 Rank (Strong Buy) stock.
Unless the global economy takes a big dive next year, Goodyear looks very cheap. Shares trade at just 5.3x 12-month forward earnings, well below its 10-year median of 12.6x.
Check out the split between consensus estimates and price over the last few months: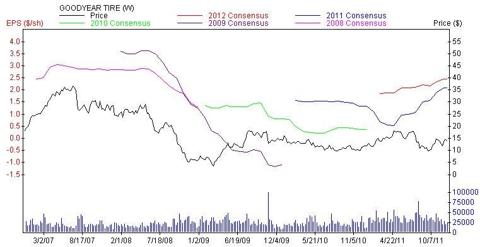 Calumet Specialty Products Partners (NASDAQ:CLMT)
Calumet Specialty Products refines and processes high-quality specialty hydrocarbon products. It processes crude oil into customized lubricating oils, solvents, and waxes used in consumer, industrial, and automotive products. Calumet also produces fuel products including gasoline, diesel fuel and jet fuel.
The company recently reported a 125% positive earnings surprise for the third quarter of 2011, prompting analysts to revise their estimates significantly higher for both 2011 and 2012. It is a Zacks #1 Rank (Strong Buy) stock.
Based on consensus estimates, analysts expect 39% earnings per unit growth this year and 135% growth next year. Despite this, shares trade at only 7.6x 2012 EPS.
You can see in the Price & Consensus chart that the huge Q3 'beat and raise' went virtually unrewarded: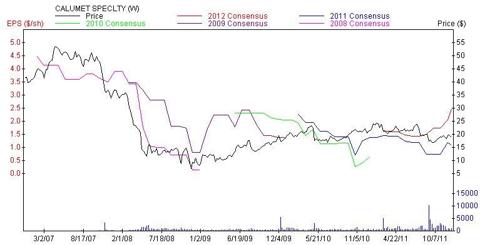 Textainer Group Holdings (NYSE:TGH)
Textainer Group leases marine cargo containers, renting out containers to international shipping lines. It is the largest lessor of intermodal containers based on fleet size.
While shipping is directly tied to global economic activity, most of Textainer's lease agreements are long-term, usually for 3-5 years. And it is the main supplier of containers to the U.S. military. So these factors help to smooth out volatility in revenue and earnings.
Take a look at the company's Price & Consensus chart. Consensus estimates were surprisingly stable during the Great Recession (2008 & 2009), and have been soaring lately (2011 & 2012) despite a falling share price. It is a Zacks #1 Rank (Strong Buy) stock.
This split between consensus estimates and share price might be presenting a wonderful buying opportunity. Valuation is very attractive, with shares trading at just 7.0x 12-month forward earnings, well below the industry average of 13.1x. Its long-term EPS growth rate of 12% translates to a PEG ratio of only 0.6.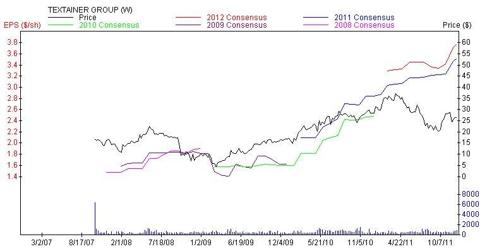 The Bottom Line
If Europe and China manage to stop grabbing headlines and investors start focusing on the U.S. again, the market could see a nice run up. And these 4 stocks are some of the best-positioned for rapid gains if that happens.
Todd Bunton is the Growth & Income Stock Strategist for Zacks.com and Co-Editor with Steve Reitmeister of the Reitmeister Value Investor that snaps up discounted value stocks and sells them after the market realizes their true worth for long-term gains.

CALUMET SPECIALTY (CLMT): Free Stock Analysis Report

CNH GLOBAL NV (CNH): Free Stock Analysis Report

GOODYEAR TIRE (GT): Free Stock Analysis Report

TEXTAINER GROUP (TGH): Free Stock Analysis Report