Today AstraZeneca (NYSE:AZN) and Targacept (TRGT) announced the results from their second of four Phase 3 trials for TC-5214, a depression drug. The results failed to meet the primary endpoint based on change in the Montgomery-Asberg Depression Rating Scale (MADRS) total score after eight weeks of adjunct treatment with TC-5214 as compared to placebo. This is the second failed Phase 3 trial for TC-5214. On November 8th the company announced the failure of the first trial and shares were cut in half. There are two more trials ongoing with results expected in the first half of 2012; the ongoing trials utilize a fixed dosing regimen rather than the variable doses used in the first two.
Targacept and AstraZeneca have a research agreement wherein AstraZeneca is generally responsible for the funding and management of clinical trials and commercialization. AstraZeneca has announced it is continuing the remaining trials, but will review their regulatory filing targets once all data is available. Previously it expected to file a New Drug Application in the second half of 2012. Additionally, they are writing down the value of their TC-5214 assets by 50% to $96.5 million "based on the lower probability of success for the remaining TC-5214 studies."
Based on two failed trials it is increasingly unlikely that TC-5214 will ever see an FDA approval. However, Targacept does have other drugs coming down the pipeline.
click to enlarge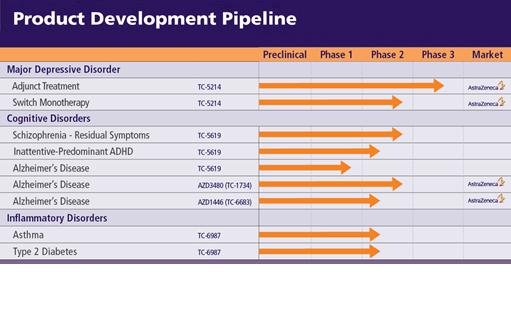 Click to enlarge
TC-5619
TC-5619 is a Targacept developed molecule meant to interact with the alpha7 neuronal nicotine receptor. It is currently being tested for moderating symptoms related to schizophrenia, ADHD and Alzheimers disease. The drug has had mixed results, meeting its primary endpoints in a Phase 2 trial for schizophrenia, but not ADHD. Interestingly, the drug seems to have much more of an impact in patients who smoke. In May Astrazeneca decided not to exercise its option to purchase TC-5619 and in December Targacept initiated a Phase 2b trial for schizophrenia and a second Phase 2 ADHD trial.
ADZ3480
ADZ3480 acts on alpha4beta2 neuronal nicotine receptors and has been tested in six different Phase 2 trials across numerous memory related ailments. The drug showed positive results among adult ADHD patients and the company is currently conducting non-clinical studies to determine if the drug is suitable for a Phase2b study.
Additionally, in October Targacept began a second Phase 2b trial studying ADZ3480 in Alzheimer's patients compared to donepezil over a 12 month period.
ADZ1446
Results of a Phase 2 trial from October, 2010 for ADZ1446 in patients with adult ADHD did not meet primary endpoints, but did show improvements in cognition. Since then, AstraZeneca has conducted several studies of the compound in Alzheimer's patients with results upcoming. AstraZeneca is solely responsible for the development and commercialization of the drug.
TC-6987
In February Targacept initiated Phase 2 trials for the treatment of asthma and type-2 diabetes. Targeting the same alpha7 neuronal nicotine receptors as TC-5619, the drug is believed to block the production of cytokines, some of which can contribute to inflammation.
The likely loss of TC-5214 is a major blow to Targacept and the chance of profitability in the near future. However, the company does have a deep pipeline based on its research with neuronal nicotine receptors and the research partnership with AstraZeneca should provide much of the support needed for the company to carry out additional trials. It's a high risk play with a timeline likely out a few years, but, especially if the stock gets further beaten down, now might provide an attractive entry point depending upon how their pipeline drugs pan out.
Disclosure: I have no positions in any stocks mentioned, and no plans to initiate any positions within the next 72 hours.
Additional disclosure: I do hold positions in other biotechnology and pharmaceutical companies, but do not believe they would be materially impacted by the development and/or commercialization of any drugs in Targacept's pipeline.