This is an introduction into a series of notes which explore several areas of concern with American Tower Corporation (NYSE:AMT), including AMT's disclosure, accounting, guidance and governance policies.
Introduction
If the future of AMT is as bright as the current management portrays, why are they selling such substantial amounts of their holdings?
The answer may lie in the fact that the company is subject of an undisclosed Formal SEC Investigation. The investigation apparently involves AMT's tax accounting and as well as the sufficiency of their disclosure surrounding the competitive landscape.
The SEC seems to agree that AMT may be painting the truth in shades of grey, having opened a formal investigation in June. AMT has chosen to not clearly disclose this, and certainly not illuminated the potential serious nature of this investigation. Further, if the SEC finds areas of questionable accounting involving taxation, it would be nearly certain to refer the matter to the IRS for further investigation and enforcement. Nevertheless AMT has chosen to punt the whole topic with the following disclosure buried in their most recent filing:
On June 2, 2011, we received a subpoena from the SEC requesting certain documents from 2007 through the date of the subpoena, including in particular documents related to our tax accounting and reporting......we cannot at this time predict the scope or the outcome of this investigation. We understand that our independent registered public accounting firm and one of our consultants have also received subpoenas primarily related to our tax accounting and reporting during this period and our investigation into this complaint.
What ATC does not say is that the fact the subpoena was issued by the SEC indicates the existence of a formal SEC investigation. The company is not required to disclose the investigation in and of itself, instead they are only required to disclose it once they deem it "material." This of course introduces a qualitative measure to the disclosure requirement. Management has chosen the words "we cannot predict the scope or outcome of this investigation" which relives them of any further disclosure requirement. Nevertheless judging by the aggressive selling since the date of the subpoena, including the CFO selling 100% of his holdings, it certainly makes me wonder.

Source: EDGAR
| | |
| --- | --- |
| AMT's entire business is completely reliant upon these: | But the good folks over at Bell Labs have continued to innovate and came up with these: |
| | LightRadio is a flexible architecture that distributes intelligence throughout the network so that it can dynamically expand to meet growing demands. This is accomplished by creating a new architecture where the base station, typically located at the base of each cell tower, is broken into its component elements and distributed through the network or 'carrier cloud.' Additionally the various cell tower antennas are combined and shrunk into a single powerful, Bell Labs-pioneered multi frequency, multi standard (2G, 3G, LTE) device that can be mounted on poles, sides of buildings or anywhere else there is power and a broadband connection. |
*photos courtesy of Alcatel-Lucent
This threat is real and it is here right now. Take a look for yourself.
Perhaps the insiders selling the majority of their holdings so quickly could indicate that they understand implications of consolidation among their customers; that less gear is going to be placed in their towers. Whether Lucent's (ALU) Lite Radio is the particular solution or not, the reality is that the amount of equipment that will be tower based in newly deployed networks is decreasing.
AMT's management at every opportunity speaks about more equipment being deployed as a result of ongoing 4-g deployments and increased spectrum availability. The trouble is that the AMT's value is a function of how many dollars of revenue it can derive from its towers, this involves pricing. According to the company's financial results the amount of dollars they are getting from each tower has been declining for some time.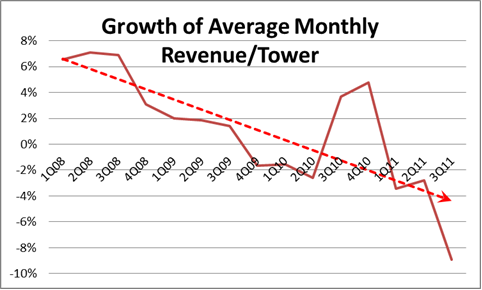 Source: Company Filings
In addition to technological innovations decreasing the value of AMT's tower space, the substantial industry consolidation among wireless carriers globally makes much of the existing assets redundant. This is apparent from the margin trends at AMT: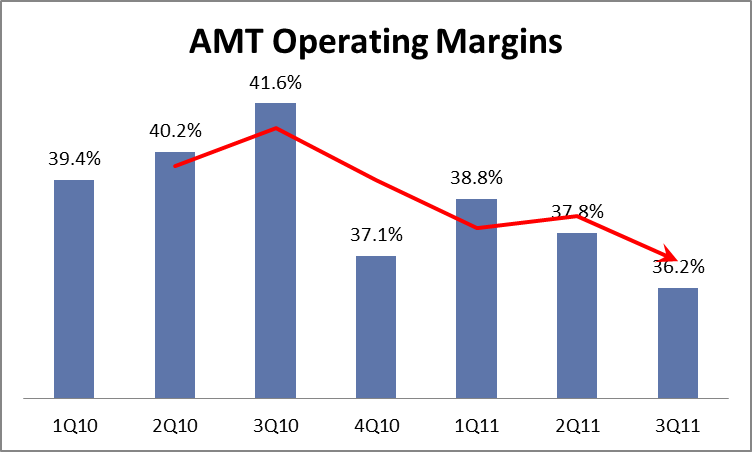 Click to enlarge
Source: Company Filings
Management goes to great lengths to espouse the virtue of the "Master Agreements" they are entering into with key customers. Judging from the margins it does not look like AMT holds the bargaining power when it comes to negotiating these new contracts. Management defends the margin erosion by pointing to higher amounts of pass-through income and expense. This may be true, but it does beg the question of why the company entered into the pass-through contracts in the first place? More to come on these issues in the next part of the series.
SEC Investigation Detail
The company received a comment letter on April 14 2011 regarding their year end 2010 filings which is reproduced below. In the letter the SEC's Corporation Finance division raised a few ares of concern to which the company responded.
The Corporation Finance division SEC followed up on May 17 with a message that resonates of a warning. On June 2, the SEC served AMT with a subpoena for information. A subpoena can only be issued in the case of a formal investigation, most likely the result of the Corporate Finance division referral of the case to the Enforcement Division. These details would be nice to know, but until the outcome crosses the "Materiality Threshold" as interpreted by AMT's lawyers, it is unlikely to be disclosed by the company.
Catalysts
Delay in planned conversion to REIT would undermine a key tenant of bull case.
Announcement of Enforcement Action by SEC.
Removal of regulatory hurdles to ATT/T-Mobile merger.
Announcement of any further consolidation among mobile carrier operators globally.
New technologies enabling less tower-dependent networks. Lucent is beginning commercial deployment of Light Radio network infrastructure beginning in 2012...(that's 2 weeks away)
Next in this series on AMT:
Debt and Accounting Issues - What AMT's CDS spread is saying
REIT Conversion... Why?
Perverse Incentives... CEO Compensation model
International Replication of SG&A, overpaying for assets and more...
Below are copies of the SEC correspondence courtesy of EDGAR.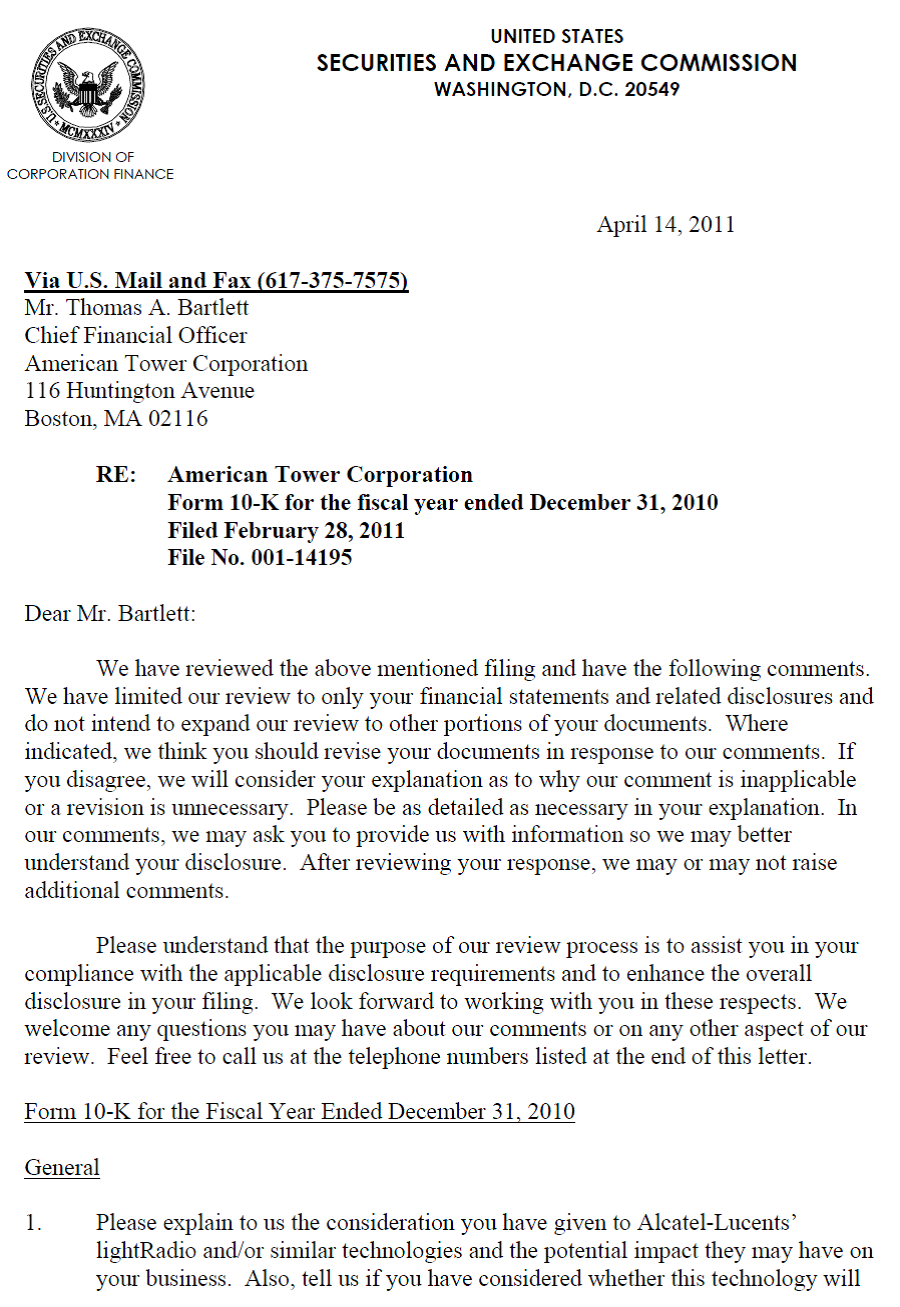 Click to enlarge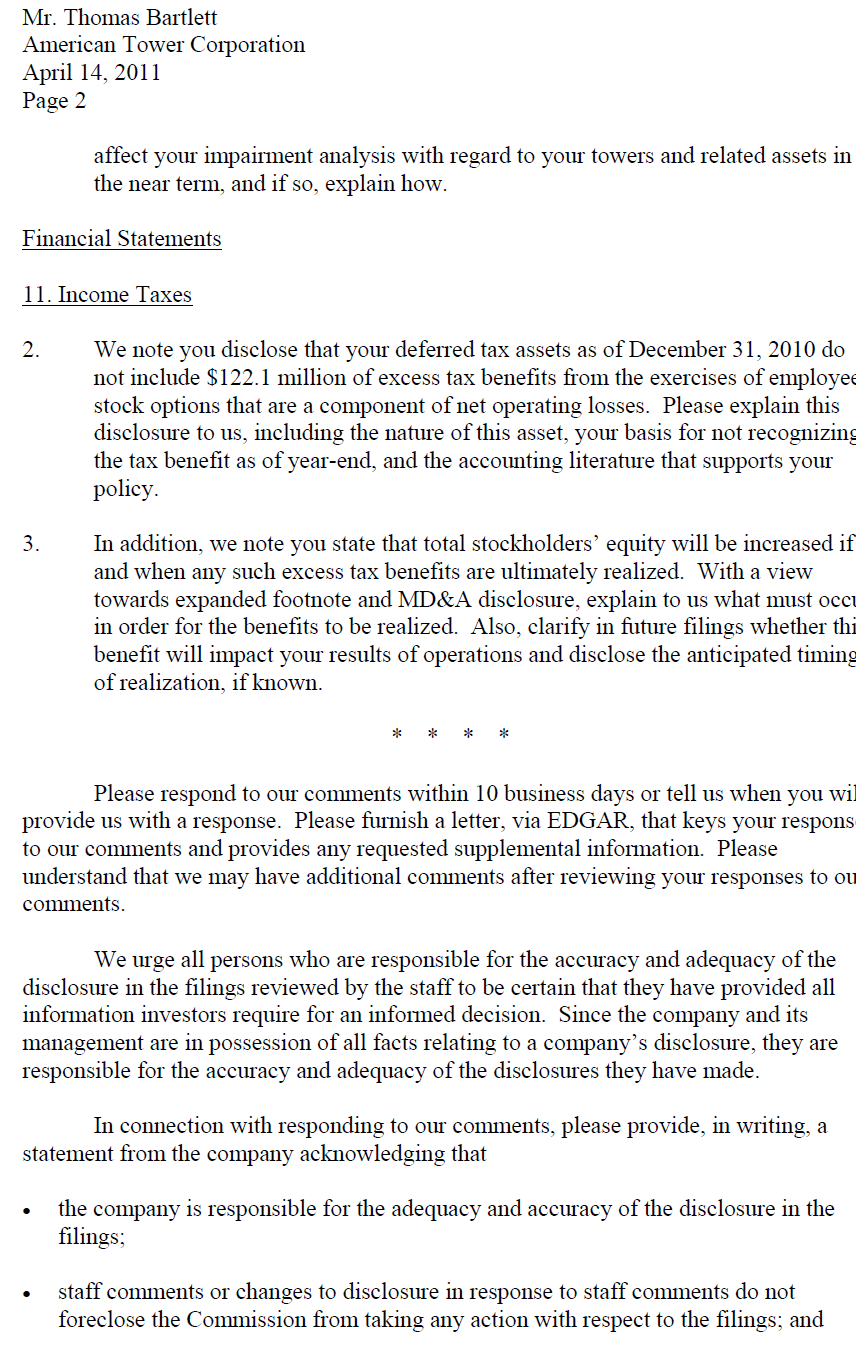 Click to enlarge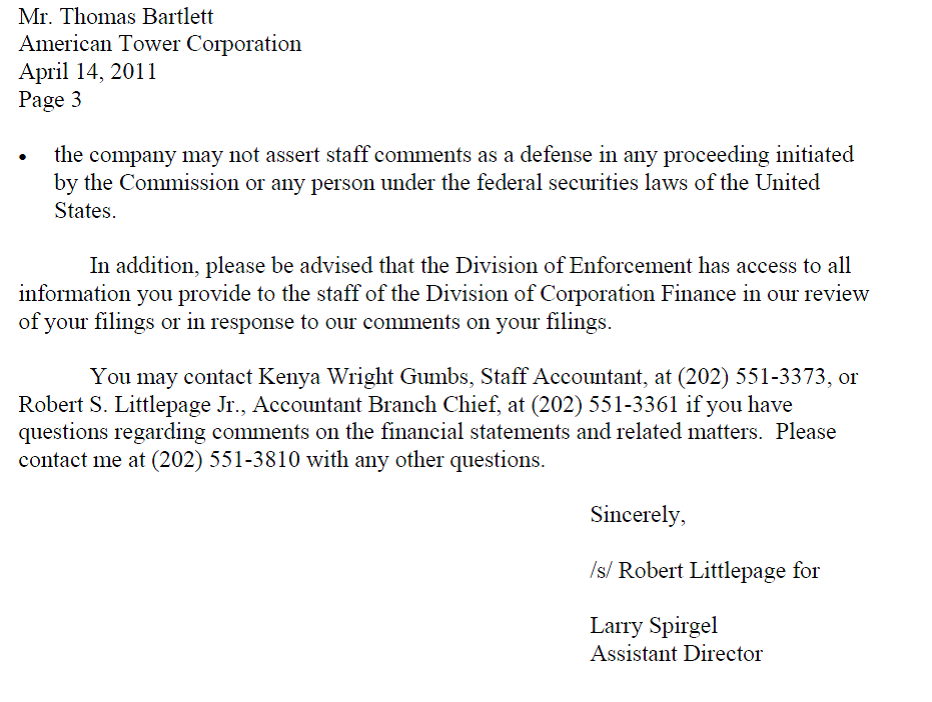 Click to enlarge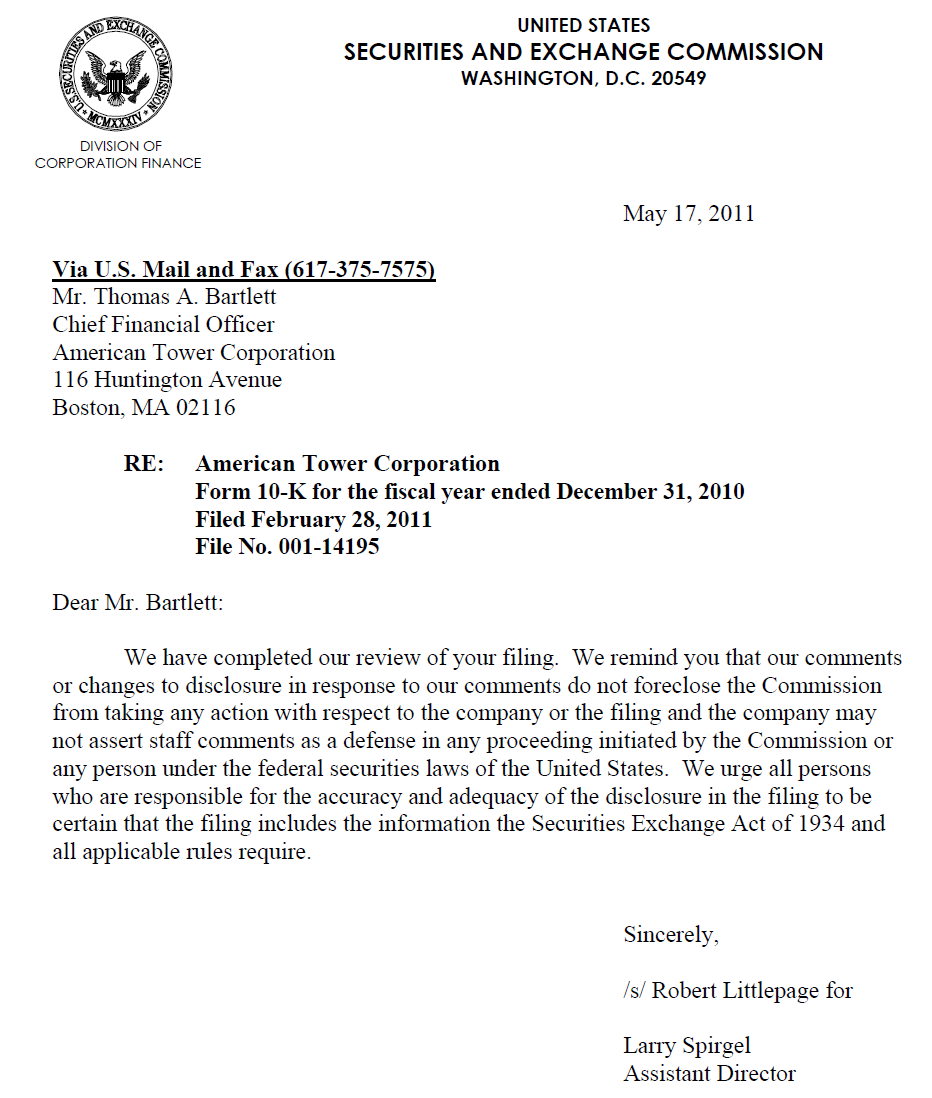 Click to enlargeDisclosure: I am short AMT, and have net negative delta options positions in AMT.