Darden (NYSE:DRI) hit a speed bump this quarter after gaining attention over the last year with some notable dividend increases. Despite a solid performance by its specialty franchises (notably Red Lobster and Longhorn Steakhouse) in a different market, the subpar performance of Olive Garden (its dominant franchise) overshadowed the other positives.
According to a recent analysis from Zacks Equity Research, the combined same-store sales for DRI's three core brands rose 1.8%, which compares favorably to the industry Knapp-Trade benchmark of 0.6% for U.S. same-restaurant sales over the same period. According to the most recent earnings call, Olive Garden which makes up about 40% of Darden's revenue, was hit by raw material costs (e.g. 20% increase in seafood costs that make up 31% of their total food costs) that could not be passed along to the consumer. This led to a 2.9% drop in same-restaurant sales at Olive Garden.
There have been several analyst downgrades over the past week based on concerns that the repositioning of Olive Garden is a secular problem. While Argus analyst John Staszak lowered DRI from Buy to Hold, Starmine rated analyst Andy Barish wrote in a note that a turnaround at Olive Garden is manageable but will take several quarters.
Further on the positive side, the forward looking PE multiple of 10.5 for DRI is cheap for a stock that has returned about 16% a year over its 17-year history as a public stock. It is a significant holding in the portfolio of notable investor Ray Delio. Additionally, in a recent note from Kohlberg Kravis Roberts'es Henry McVey entitled - Brave New World : The Yearning for Yield across Asset Classes, DRI is one of 26 stocks in the S&P 500 that is short-listed as having the right mix of yield and growth characteristics that will enable it to outperform for some time to come. McVey's 'Brave New World' stock picks outperformed the S&P 500 by over 7 percent since he introduced this hypothesis in 2004.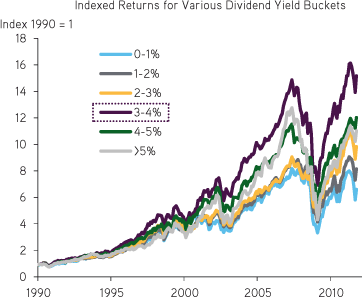 DRI's almost 4% dividend provides downside support in the high 30's or low 40's with potential, and the chart above referenced in McVey's report (but originally from S&P FactSet) suggests that Darden's dividend is in a growth & income sweet spot. A Barron's magazine article entitled Darden Deserves a Pardon makes the case that Darden's diversification across multiple franchises along with management efforts to address the challenges in the Olive Garden brand makes it likely that the stock will offer tasty returns going forward.
All in all, there are a number of data points indicating that while Darden's current stock price might reflect immediate realities, it might be an opportune time for long-term investors to take a closer look at the stock.
Disclosure: I am long DRI.