This past week, the CRB commodity index fell through its 200-week moving average line (purple) and closed on Friday just a fraction below its 500-week line (orange). The 21-week line crossed under the 34-week line in August. Friday's close was less than 3 points above the Oct low: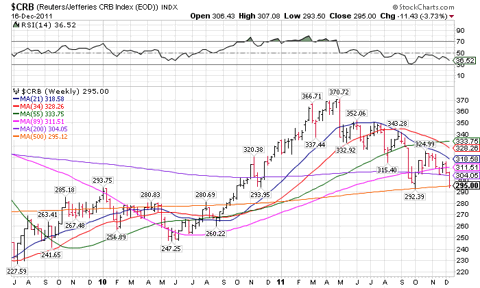 Click to enlarge
Below is CRB's 3-year weekly chart with a parallel trendchannel (green) drawn from the Feb 2009 low: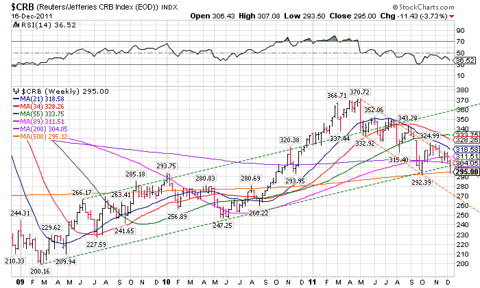 Click to enlarge
CRB has dropped out of the green trendchannel, and should now fall towards the bottom of the more recent parallel trendchannel (orange), currently running through 270. Upside potential is limited by multiple lines of resistance:
Green trendline at just above 300
200-week line (purple) at 304
Top of the orange trendchannel at 307
89-week line (pink) at 311
The first weekly chart for CRB overlaid with silver shows that these two peaked together in April/May and are now nearly perfectly aligned since silver fell in September: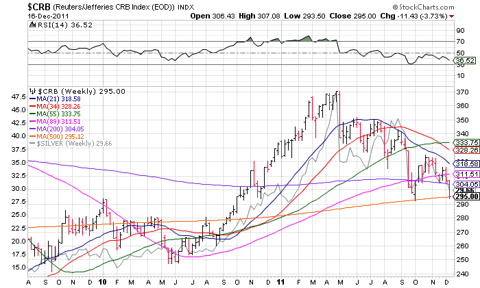 Click to enlarge
Of note is that when overlaid in this aspect ratio, silver has interacted with each of CRB's weekly moving average lines shown. Most recently, silver was stopped out at CRB's 89-week line (pink).
Next, gold is overlaid. Gold peaked after CRB and silver but is now trading in positive correlation with both, all of which are trending down: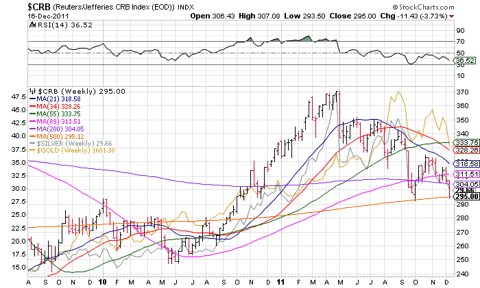 Click to enlarge
Gold closed below CRB's 55-week line (green), the same line that both gold and silver used in June as a jumping point to climb higher.
Next, crude oil is overlaid. Crude oil peaked with CRB and silver in April/May. It rallied (with equities) in the current up-leg and had a much stronger rise than CRB or the metals. As crude oil was making a higher high in November vs October, gold made a lower high. Both are now falling in positive correlation: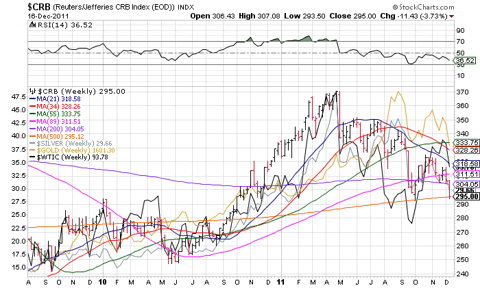 Click to enlarge
In the last chart, USD is overlaid. The dollar bottomed in Apr/May as CRB, silver, and crude oil peaked. It has since been gaining momentum and is the only one shown that is trending up: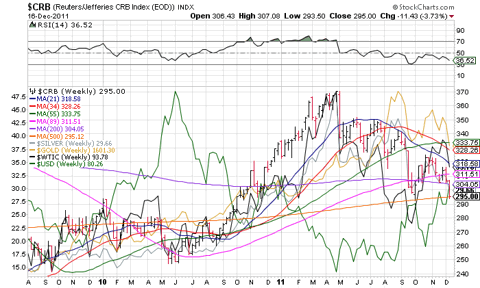 Click to enlarge
The current trend should continue with USD moving up as CRB, silver, gold, and crude oil (and equities) continue to fall.
Disclosure: I am long TZA.