The tech sector has had a volatile second half of the year along with the rest of the market. As we look forward to some sort of rebound in 2012 in some of the hardest hit areas of technology, here are two software makers that have sold off significantly over the summer, have low valuations and appear to be building technical support.
CA Technologies (NASDAQ:CA) – "CA Technologies, together with its subsidiaries, designs, develops, markets, delivers, licenses, and supports information technology (IT) management software products that operate on a range of hardware platforms and operating systems. It offers enterprise IT management software for organizations that addresses components of the computing environment, including people, information, processes, systems, networks, applications, and databases." (Business description from Yahoo Finance)
4 reasons why CA is a solid long term buy:
1. The stock has long term technical support in the $18 to $19 price level.
click to enlarge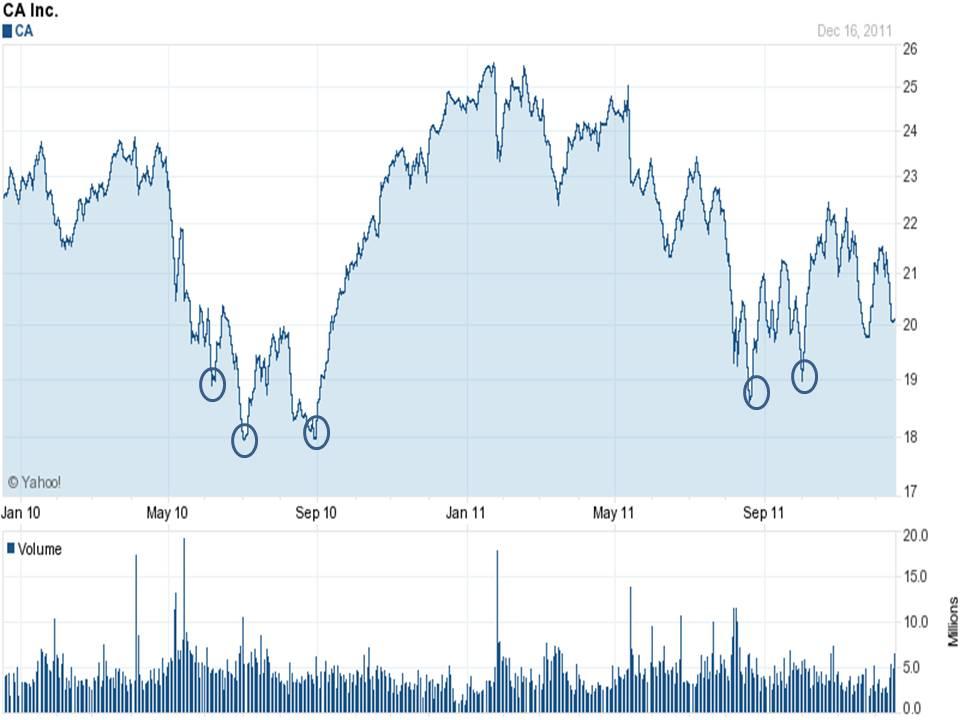 2. CA Technologies sells for a forward PE of just 8.5 which is 45% discount to its five year average.
3. It has a solid balance sheet with $2 a share in net cash per share, sells at under 7 times operating cash flow, and provides a dividend of 1%.
4. CA is under analysts' price targets. The median analysts' price target is $24.50.
BMC Software (NASDAQ:BMC) – "BMC Software, Inc. develops software that provides system and service management solutions for enterprises in the United States and internationally. The company operates in two segments, Enterprise Service Management and Mainframe Service Management." (Business description from Yahoo Finance)
4 reasons BMC is a long term bargain at $33:
1. After falling 40% since its highs this summer, BMC is selling at the very bottom of its P/S, P/E, P/B and P/CF.
2. The stock has a forward PE of under 9.5 which is a 40% discount to its five year average.
3. The stock is at a 52 week low, JP Morgan just upgraded it and it appears to be building a technical base here (See Chart).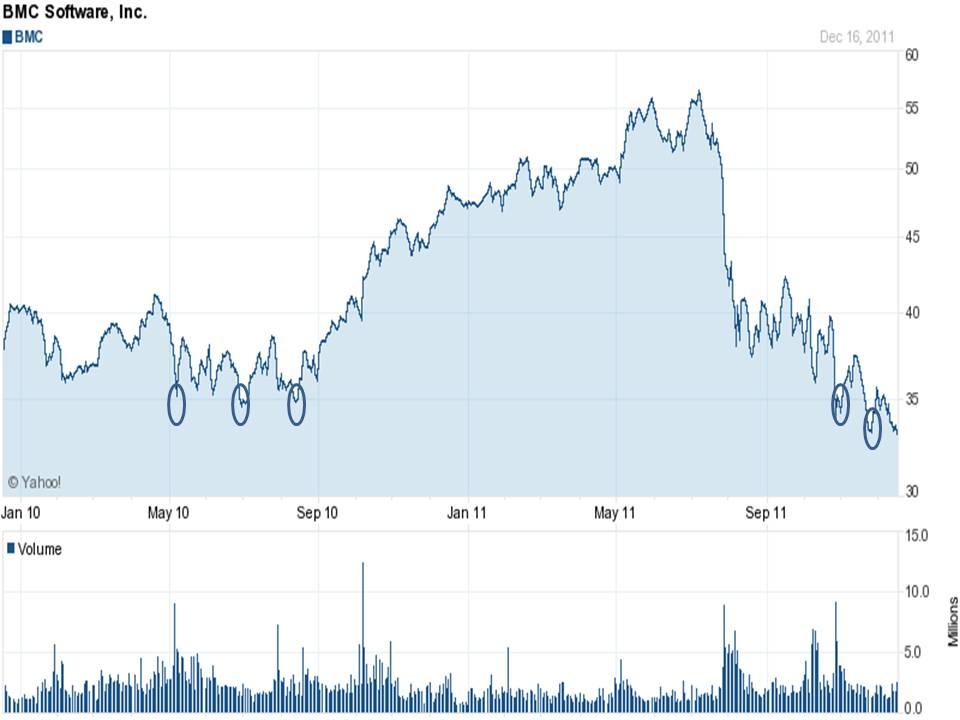 4. The median analysts' price target on BMC is $44 and Credit Suisse is at $47.50 on BMC. Given the concerns with the company's sales force, broad client portfolio and low valuation; it would not surprise me if the company became an acquisition target.
Disclosure: I have no positions in any stocks mentioned, but may initiate a long position in CA over the next 72 hours.