A number of analysts tell us that the weak housing market has been the main impediment to stronger growth in the broader economy. One recent study advises simply that Housing Is The Business Cycle. Unfortunately, that relationship has only brought trouble in recent years, courtesy of a housing market that fell off a cliff and remained flat on its back.
But thinking about residential real estate in something other than a deeply negative light is topical again this morning after reading today's update on housing starts and newly issued building permits for November. Both series posted handsome gains on the month. Yes, we've been here before only to see the apparent rebound sputter out. But the latest rise is accompanied by something else we haven't seen in a while: A rising trend over recent months. Could this be the long-awaited turning point for housing?
No one really knows, but what is clear is that November was a good month for housing activity and that's a start. Housing starts jumped 9.3% last month on an annualized basis as new building permits rose a respectable 5.7%. The bigger news is that both series have been drifting higher since the spring, as the chart below shows.
Click to enlarge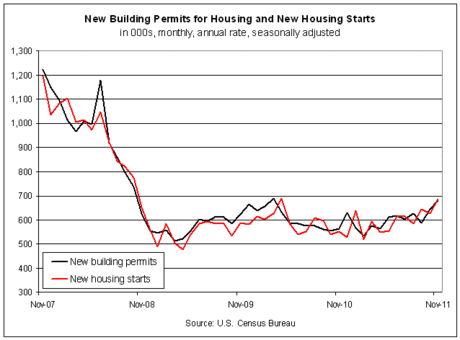 There's a case for arguing that the housing market has finally bottomed out, although it's still a leap of faith for thinking that the end of contraction has now given way to sustainable growth. Still, the thought is a bit less preposterous after reviewing today's numbers.
"It's a solid report," Brian Jones, a senior U.S. economist at Societe Generale, tells Bloomberg News. "For months we've been flagging the strength in multifamily construction, but now we're starting to get signs that single-family is pulling itself off the canvas."
Nonetheless, it's important to maintain perspective, which AP provides:
The Commerce Department says builders broke ground on a seasonally adjusted annual rate of 685,000 homes last month, a 9.3% jump from October. It's the highest level since April 2010. Still, the rate is far below the 1.2 million homes that economists say would be built each year in a healthy housing market.
The question, of course, is whether we are finally on the road to climbing out of the hole? The best we can say at the moment is that the trend is at its most encouraging in roughly two years. To see why, take a look at 12-month rolling percentage changes for housing starts and permit data. By reviewing the numbers through this filter, it's easier to see how the cycle appears to be reviving for a second time since the recession ended:
Click to enlarge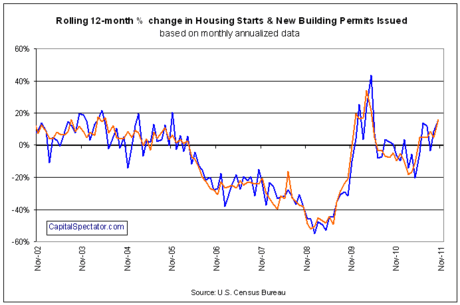 It's premature to aruge that we're now on a sustainable path to growth. But it's also true that housing starts and permits have posted their best run in recent months since late-2009/early 2010. The earlier revival went nowhere. Will the second attempt at resurrection fare any better?
Joseph LaVorgna, Deutsche Bank's chief U.S. economist, is leaning toward that view. As he advises in a note to clients today, via CNNMoney:
"There has been a noticeable uptrend in several key housing metrics in the back half of this year, so even though we are downplaying the November data to some degree, it does appear that residential construction is finally beginning to rise from its post-recession lows."