Caremark Corporation (CVS), is a very intriguing stock right now that investors should take note of. Let's take a look at three elements that make it worth the investor's time to look at the stock-- 2012 bullish projections; a solid and consistent dividend growth; and a formation that shouts continued value in 2012.
CVS Caremark Corporation operates as a pharmacy services company in the United States. The company's Pharmacy Services segment provides a range of pharmacy benefit management services, including mail order pharmacy services, specialty pharmacy services, plan design and administration, formulary management, and claims processing; and drug benefits to eligible beneficiaries under the Federal Government's Medicare Part D program. This segment primarily serves employers, insurance companies, unions, government employee groups, managed care organizations and other sponsors of health benefit plans, and individuals.
Bullish Growth Projections for 2012
CVS continues to be a strong candidate for the long term investor. Even in a suppressed economy, its 2012 growth projections steadily move upward.
Projected Financial Increases for 2012
Earnings per share from continuing operations should jump from $3.15 to $3.25, an increase of 13% to 16.5%
The retail segment's operating profit is expected to increase from 7% to 9%
The pharmacy services segment's operating profit should increase from 11% to 15%
Free cash flow in 2012 should come in between $4.3 billion to $4.6 billion, up from the $4.0 billion to $4.2 billion in free cash flow expected to be generated in 2011
Ever Growing Dividends
CVS approved an increase in its quarterly dividend of approximately 30%, to $0.1625 (16.25 cents) per share on the common stock of the corporation, payable February 2, 2012. This means it has a 30% rate increase over the previous year. We go to 65 cents per share in 2012 from 50 cents in 2011. By 2015, the company is looking to have a target ratio of approximately 25% to 30%. This is the ninth consecutive year of dividend increases, and this substantial increase reflects our solid financial performance
Ascending Triangle Screams Increase in Value
Ascending Triangles are continuation patterns. CVS has a well defined long term pattern. Peaks top out near the same price forming a horizontal line and prices continue to make higher valleys. The potential move of the stock can be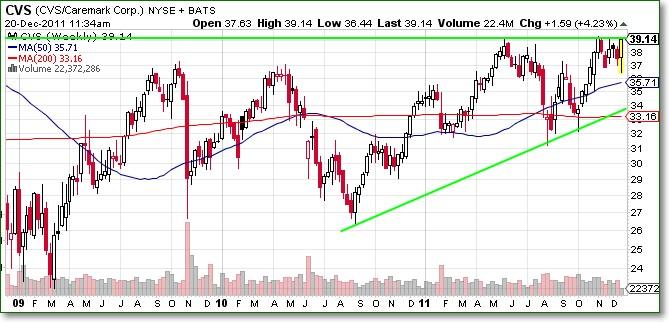 calculated by subtracting the price of their stock at the horizontal line with the price of the lowest valley. In the case of CVS, we subtract 39 from 31 and come up with a possible long term move of 9 points. Isn't it interesting how presently the stock is trading at 39.44 and Analysts projected high is around 50. It is amazing how accurate these projections can be.
As a company, CVS is ready for your money.
Interested in Option Play with CVS?
If CVS remains consistent, it is possible to see it surpass 45 by summer. Sometimes the Ascending Triangle patterns have pullbacks before the stock continues up. For the investor who is looking to invest in straight options, look at August 2012 43's. As the stock moves up there will be a good opportunity to resell at a higher value or exercise your option if the stock rises beyond that point before August if you wish to own the stock.