I do consider it likely that we've seen the bottom in gold after this recent sell-off; the anti-gold bugs were out in full force, cheering and celebrating that gold -- a symbol of economic freedom -- was declining. When the bears come out and taunt, it's a sign of extreme sentiment and that a bottom may be reached.
Although personally, I like to see technicals being very supportive if I am going to add a sizable piece to my current position (which is already quite large for me, on a relative basis). And in terms of technicals, the first order of business is to get above the 200 daily EMA, which is currently at $1620. The market needs to close above this level, and establish it as support -- meaning if it breaks above the bears come in, the bulls must step in and put the floor at $1620. Once we see this level being defended, we have our cue for the next leg up. And of course, the best time to buy is after a sell-off, when bullish sentiment is gone, the market is still nervous, and the ability to go much higher has already been established.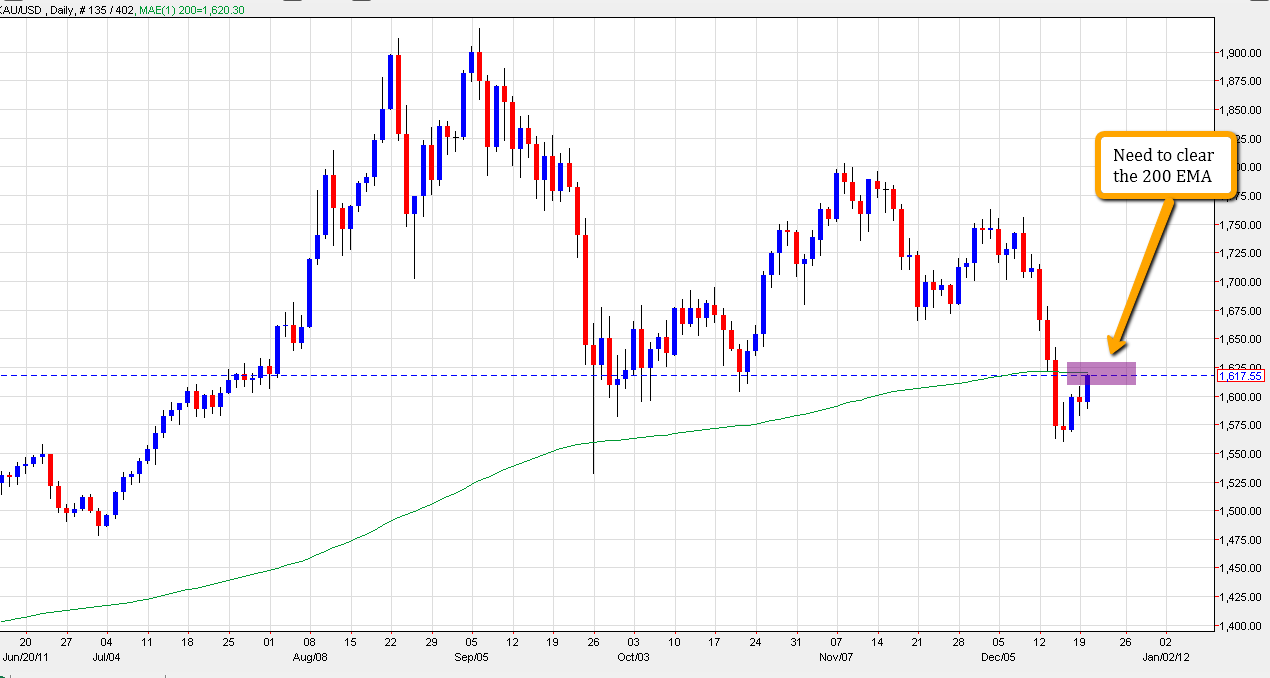 Fundamentally, the story is the same as it has been for years: the US economy is a train wreck on the path towards hyperinflation and the government or the population at large shows no interest in fixing it, and the imperial agenda is alive and well. Hyperinflation is a by-product of such broken governance systems; the only hope could be presidential candidate Ron Paul, who actually seems to have a shot this time around, if polls are to be believed. Of course, even in the event of a Ron Paul presidency, it may be too little too late for the dollar -- not to mention that the crisis is global, so a move higher in gold is pretty much baked in. In my opinion, it is only whether we are going to see a top at something like $3,400 -- still more than double current prices -- or whether it is going to be truly outrageous, and yield a top in excess of $10,000.
Disclosure: I have no positions in any stocks mentioned, and no plans to initiate any positions within the next 72 hours.