I wrote an article that indicated I thought Jefferies Group (JEF) was being unfairly punished and provided an options play to take advantage of the undervaluation in November. Jefferies came through today with a stronger-than-expected earnings report to validate that view and that has boosted the stock. This should also allay some of the concerns about the company and move the stock forward.
See the Full JEF Earnings Call Transcript
Key data points from the earnings report
It had earnings of 17 cents a share, significantly higher than the consensus of 14 cents a share.
Despite the challenges of the second half of the year, Jefferies still earned slightly more in FY2011 than FY2010
It significantly reduced its balance sheet, value at risk and exposure to Europe in the quarter.
It received a clean bill of health from CFTC on keeping customer accounts segregated properly.
"Jefferies Group, Inc., together with its subsidiaries, operates as a securities and investment banking company in the Americas, Europe, and Asia. It operates in two segments, Capital Markets and Asset Management." (Business description from Yahoo Finance).
(Click chart to expand)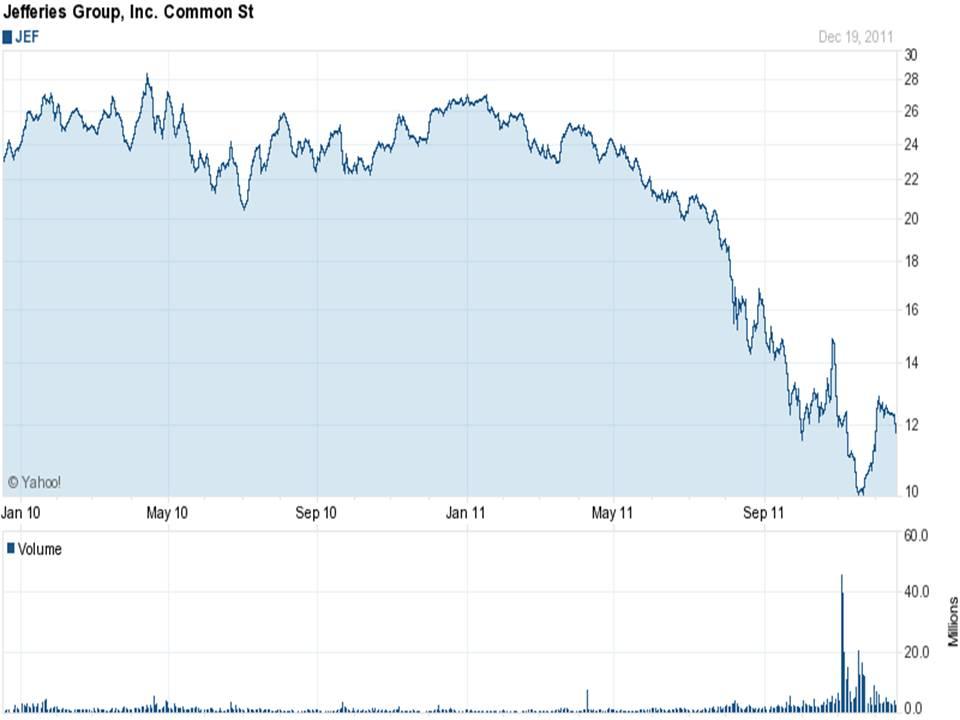 Click to enlarge
5 reasons JEF is a solid value at $13 a share:
It is selling at the bottom of its five-year valuation range based on P/E, P/S, P/B and P/CF.
Today's report should mark the bottom for Jefferies. After a significant sell-off, the upside if it just recovers 50% of its sell-off this year is significant (See Chart).
Insiders never lost faith in the business and made significant buys in November.
The earnings report should considerably lessen concern about Jefferies' balance sheet and it provides a decent dividend yield of 2.4%.
JEF has a forward PE of just over 10, which is an over 50% discount to its five-year average.
Disclosure: I am long JEF.