The Christmas season is here and every company in the world is fighting for as many shopper's dollars as they can get. One that has emerged as a trendy and hot Christmas gift this year is practically anything from Lululemon (LULU). This athletic apparel company has caught fire with those involved with yoga in a big way. However, LULU is not just engaged in the selling of yoga products. They are also very much involved in other fashion accessories as well. Since the company opened its first store in the United States in 2003 it has been aggressively growing its business. The revenue growth from $40.7 million in 2004 to $711.7 in 2010 has been respectable without question. That being said, there are plenty of reasons to be concerned about the continued growth prospects of Lululemon.
Anyone who has kept up with my articles published on this site understands that I am not a believer in Lululemon stock. I first recommended that investors short the stock on November 21st when it traded at just above $49 a share. About a month later this stock trades at around $45 a share (As of the close on December 19th, 2011). That is a bit of a drop, but not enough to declare outright that this was some outstanding stock recommendation. In fact, the stock has still not reached levels that I recommended for covering ($38-$40). Therefore, a month after my first recommendation on Lululemon, I have decided to take another look at this investment.
Lululemon must slow down
One of the biggest challenges facing Lululemon is a challenge that would face any business of its size. That is the burden of trying to maintain a respectable growth rate. The 61% per year average that the company enjoyed from 2004 to 2011 is simply not going to happen anymore. It was a great run during the time, but all good things like this do slow down. The sheer number of stores, staff, and resources that LULU has requires the stock to slow down. The company itself makes note of this and often states that slowing growth could be a major risk to the stock price.
Third Party Suppliers Are A Major Risk To Increasing Profits
There are a whole multitude of potential risks listed in the company's latest 10-K that are worth noting. Among these is an interesting bit that states that the company is concerned about potential risks stemming from its third party suppliers. The problem is that Lululemon, like many other apparel companies, purchases its materials from third party suppliers that have to be relied upon. In fiscal 2010 the company purchased 69% of its materials from its top 5 materials contributors. Some of these contributors, such as the supplier of Luon fabric to the company are not seen as stable. A single company provides the Luon fabric to the Taiwanese manufacturer. If that company were to die off or stop supplying to Lululemon there could be major disruption in certain products.
No Intellectual Property Rights
Lululemon faces the very real challenge that products similar to their own could be marketed at major discounts to the prices that they offer. Competitors are likely to or already have created products in the active workout area that are much less expensive to consumers. In the current economy situation customers may pass up the brand name appeal in favor of affordability.
Lululemon does not hold the intellectual property rights to almost any of its products. It is therefore very easy for other more established apparel companies to jump into LULU's market if they feel it will be highly profitable to do so. A stealing away of profits is the last thing that Lululemon needs at a time like this.
Lululemon Is Already Overpriced
There is no doubt that the momentum has been on Lululemon's side for a long time. This is particularly true since the huge market dive in 2009 when LULU traded at $2.24 split adjusted at one point. However, granting the company a 30.5 forward PE ratio is probably a little too optimistic, particularly considering all of the growth concerns that the company has.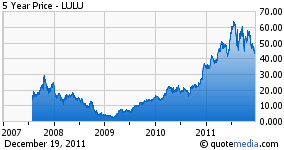 I am firmly of the opinion that LULU is still a stock worth shorting. While those who shorted at $49 would still be wise to cover in the $38-$40 range to play it safe, those who are just now shorting at $45 probably need to try for $35 before they cover. It may take quite a while for the market to realize this price, but it is still a nice gain for those who are not quite buying the momentum to the moon story of Lululemon.
Even if you do not believe me, why not just take a look at the insider transactions over the last six months here.
Disclosure: I have no positions in any stocks mentioned, and no plans to initiate any positions within the next 72 hours.