I bet you cannot name the world's second-largest spirits maker, with annual revenues of about $10 billion and 18,000 employees. These people bring us the following premium liquor brands (from their website):
The company's leading spirits and wines include such prestigious brands as ABSOLUT® Vodka, Chivas Regal® Scotch Whisky, The Glenlivet® Single Malt Scotch Whisky, Jameson® Irish Whiskey, Malibu® flavored rum, Kahlúa® Liqueur, Beefeater® Gin, Plymouth™ Gin, Seagram's Extra Dry Gin®, Martell® Cognac, Hiram Walker® Liqueurs, Pernod®, Ricard® and Avión™ Tequila (through a joint venture with Tequila Avión); such superior wines as Jacob's Creek® and Brancott Estate®; and such exquisite champagnes and sparkling wines as Perrier-Jouët® Champagne, G.H. Mumm™ Champagne and Mumm Napa® sparkling wines.
And those are only the ones here sold in the US with additional premium brands being sold in Europe and Asia. The answer is -- drum roll, please -- Pernod-Ricard, a French company headquartered in Paris.
Pernod-Ricard (OTCPK:PDRDY) trades on the US pink sheets as a non-sponsored ADR. The US ADR has a 5:1 ratio where 5 shares of the ADR equals 1 share of RI.PI. Share prices in Paris are currently trading at 67.62 Euro and the ADR is trading at $17.41. Pernod-Ricard has a market capitalization of $24 billion and is one of the components of the Paris CAC 40 along with the Euronext 100 and the DJ EuroStoxx exchange indexes. For the purpose of this article, the Euro exchange rate will be calculated at 1.35 Euro = $1.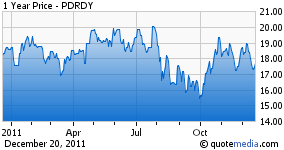 Over the past ten years, Pernod-Ricard has put together a collection of the #1 or #2 top selling brands in each of its liquor categories, known as their "Top 14" brands and most are listed above. While behind UK-based spirits leader Diageo (NYSE:DEO), Pernod-Ricard brands have a very strong loyalty factor. As with all spirit makers, revenues and earnings growth will come from Asia and South America as consumerism continues to expand, and premium brands gain a wider audience.
However, the direct result of these acquisitions is a high leverage that may hamper further acquisitions in 2012 and 2013. Net debt was reported at $13.5 bil as of Fiscal year end June 2010, $12.1 bil as of June 2011 and is expected to fall to just under $10 bil by June 2013. The deleveraging process and dividend payments will consume the majority of the $1.6 bil in annual operating cash flow. The upside of the deleveraging process is the decline in interest expense which should improve earnings over time.
Management forecasts there would be no substantial acquisitions on the horizon with deleveraging as their priority. On the other hand, it should be interesting what management might do if the newly independent Jim Beam (NYSE:BEAM), with a current market cap of $7 billion, becomes an acquisition target of others.
The sprits business is a mature market in the developed countries and a growing market in emerging countries. The potential recession in Europe may reduce projected regional revenue growth from 2.5% to 1.5%, while the Americas expand by 4.5% to 5.9% and Asia/ Rest of the World grows by 11% to 12%. Overall, revenue growth for FY 2012 should be around 6.5%, in line with long-term expectations. With stable margins, EBITDA should also grow by about 7% annually.
Pernod-Ricard has a high exposure to emerging markets. 2012 EBITDA mix by region is anticipated to be Europe 35%, Americas 29%, Asia/ROW 38%. As a percentage of EBITDA, emerging markets contribution is expected to expand to 42% by 2014 at the expense of Europe and the Americas. China currently represents about 10% of revenues.
Earnings per ADR for FY 2011 were $1.10. Estimates are for Pernod-Ricard to earn $1.22 per ADR in FY 2012 and $1.37 per ADR in FY 2013. At its current price of $17.50 (52 wk range $15.42 to $20.35), the ADR trades at a forward 2012 PE of 14, in line with peer DEO and substantially below overpriced BEAM with a forward PE of 21.
Like many other European firms, Pernod-Ricard pays a dividend semi-annually. The current annual dividend per ADR is $0.39 generating a 2.2% current yield. The dividend is expected to increase to $0.41 next year and should increase by about 7.0% a year thereafter. However, investors should realize there is a 25% withholding tax levied by the French government that can be offset as "Foreign Taxes Paid" on personal tax filings. It is important to note that the withholding tax is not offset in IRA accounts, and it should be preferable to hold Pernod-Ricard outside tax advantaged accounts.
Pernod-Ricard is well like by European brokers and analysts. Moody's and Standard and Poor's recently upgraded their credit rating to "Investment Grade." According to mffais.com, institutions own about 25% of shares outstanding and increased their holdings by about 20% during the 3rd quarter. Out of the 30 broker firms that follow the stock, 14 have it rated as "Strong Buy," 4 rate it "Buy," 9 rate it "Neutral" and 2 rate it "Sell." The consensus price target for the ADR is $23.50, or about 30% above its current price.
Those who like the stock focus on the number one or two brands in most of Pernod-Ricard's markets, the advantages of critical mass as the second largest global spirits maker, and their leading position in the fast-growing markets of Asia, China, India, Brazil and Mexico. Similar to other premium branding companies, Pernod-Ricard is the most leveraged liquor company to an expanding luxury market in emerging markets.
Those who are sour on the stock focus on the potential of a worldwide economic slowdown creating a migration to cheaper brands, alcohol is highly taxed and a current favorite for even higher taxes in the future which may reduce demand, and their leveraged balance sheet added to a history of potentially overpaying for acquisitions.
More information can be found on the company website. The latest corporate investor presentation is offered here (pdf); the latest presentation focused on the Americas is here (pdf).
Tipping the scale may be the continuing interest of Mr. Albert Frere, the Belgium billionaire, through the investment holding company Groupe Bruxelles Lambert (OTCPK:GBLBF). In 2010, GBL increased its holdings of Pernod-Ricard from 9.2% to 9.9% at prices around today's valuation. Unlike Warren Buffett, who is known as a passive investor, Frere is known as an active investor working with management to offer strategic direction.
One potential headwind may be the perceived negative implications of the acquisition of BEAM by a competitor. As the stock mainly trades on the European exchanges, investors with the ability to purchase in foreign markets will experience substantially better liquidity.
For investors seeking exposure to the growing consumerism of premium brands in emerging markets should review Pernod-Ricard. When investors believe the time is right to wade back into euro stocks, Pernod-Ricard should be on the list.
As always, investors should conduct their own due diligence, should develop their own understanding of these potential opportunities, and should determine how it may fit their current financial situation.
Disclosure: I am long GBLBF.PK.