Dividend stocks have become all the rage over the last few years because of the rising levels of uncertainty in the markets, both domestic and abroad. They provide stability and assured payments even when the stock's underlying price may be dropping. Luckily, some of these dividends are so well established that even a massive drop in price will not damage its dividend payments, while presenting an even more enticing yield at the same time. This once mundane investing technique has become vogue to the point that investors boast about yields they've been able to lock in over the last few years.
Every one of the Dow's 30 components pay a dividend and since these companies are chosen based on their size, stability, and representation of a particular sector as a whole, the Dow is a very good place for investors to begin their dividend hunt. The beauty of it is that these huge companies have strangleholds on their given markets. It would be tough to imagine a world without Coca-Cola (NYSE:KO), McDonald's (NYSE:MCD), Wal-Mart (NYSE:WMT), or IBM. So part of their high stock prices is the fact that you're buying into a company that will be here 20, 50, perhaps 100 years from now. Even better their dividends are long-standing and ever growing.
There are a number of factors to look into when choosing a dividend investment. The first should be the underlying company's strength in its sector. As stated, the Industrial Average sort of takes care of that. Next, a company's dividend history should be examined, particularly the history of raising it annually and by how much. And of course yield is extremely important, which in turn makes timing equally as important since the lower the current stock price, the higher the yield. One last factor that one could consider is when the next dividend raise is to be expected. McDonald's (MCD) has been on an unprecedented run this year, and its latest 13% jolt can be attributed to the announcement of its most recent dividend, declared in September. The people investing in McDonald's are either looking for growth or yield, or both, and in declaring a 31.5% increase in the yield both have been pleased.
The following is a chart of the Dow dividend stocks that you can be sure will increase each year for some time to come. They are in alphabetical order, by their tickers, but some can certainly be more favored than others. For instance, McDonald's cannot really be preached enough. Even the Wall Street Journal hopped on the dividend craze Monday and mentioned only McDonald's and Johnson & Johnson (NYSE:JNJ). The yield on McDonald's is below the often-required 3%, but the price appreciation makes up for this nicely.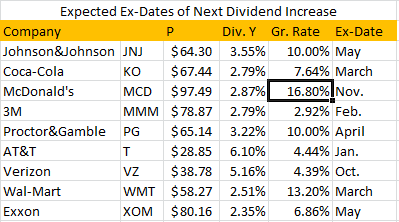 You will also see that Proctor & Gamble (PG), which makes products that people do not really care about, but cannot live without, is sitting above the 3% mark while having a nice growth rate. The other two standouts are AT&T (NYSE:T) and Verizon (NYSE:VZ). The two telecoms on the Dow each pay out very nicely and have long histories of dividend increases. But you will also notice that their growth rates are not as high as the others and this of course is because of their large yields. AT&T actually just increased its dividend from $0.43 to $0.44 per quarter, and its ex-date is right after New Year's.
There are plenty of other good yields to be had on the Dow that are not as reliable as the companies listed above. One is GE (NYSE:GE), which was forced to reduce dividend payouts during the recession. In 2009 it was dropped from $0.31 to $0.10 quarterly, but since then it has risen to $0.15, albeit with a lack of consistency ($0.12 for a quarter, $0.14 for two, and $0.15 for two so far). Regardless, the stagnant share price has brought the yield up to 4%. Of course, if you were going to give GE a second look you should be confident that the price will recover at some point, which could take some time.
Another company with a lack of consistency in its dividend raises is Chevron (NYSE:CVX), which has a yield sitting at 3.21% and has a 5-year growth rate above 10%. This puts it at almost a full percentage over Exxon (NYSE:XOM) with a much better growth rate. Chevron's most recent increase was to $0.81, after two quarters at $0.78. This makes it difficult to predict when the next increase would come about, but based on the past it would be during the second quarter of next year.
Intel (NASDAQ:INTC) also has a very impressive yield right now (3.62%) especially for a tech stock. During 2008 and 2009 it was forced to freeze the dividend for 7 quarters but has since embraced increases. The most recent was by 16.6% and came only two quarters after the last increase.
Lastly, the two big pharma companies deserve a look as well. Their yields are both better than Johnson & Johnson's, but neither has the strength in its dividend history that Johnson & Johnson boasts. Merck (NYSE:MRK) is yielding 4.63% based on its newly announced payout of $0.42/quarter. This 10% increase came after years of not increasing the yield. Pfizer (NYSE:PFE) on the other hand was forced to cut its dividend in half in 2009. Since then it has been raising it by 12.5% each year and the current yield is 3.8%. The next increase should be coming this quarter and is likely going to be between $0.22 and $0.23, which would bring the yield over 4% if it were purchased now.
As you can see, there are plenty of good yields on the Dow, even though most of these companies could be categorized as boring and unattractive to investors. In turbulent times their size and stability should be thought of as a positive attribute and make for a strong backbone in any portfolio.