By Mark Bern, CPA CFA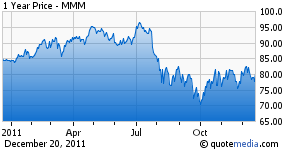 3M (NYSE:MMM) is a diversified manufacturer and technology company that operates six segments: Consumer and Office; Display and Graphics; Electro and Communications; Healthcare; Industrial and Transportation; and Safety, Security and Protection. The company has operations in more than 65 countries and derives over 60% of revenue from outside the U.S.
3M has increased its dividend for 53 consecutive years. Dividends have increase at an average of about 4% per year over the past five years. The most recent increase was 5% in February of 2011. The payout ratio is a very manageable 36%.
The company has a long history of growth through innovation and management is committed to continue to cultivate that culture. The company is also well known for its cost efficiencies and ability to bring new products to market successfully. Now the company is applying that successful formula to growing economies overseas.
At the current price of $80.31 (as of the market close on December 20, 2011) the $2.20 annual dividend yields 2.8%. The current price-to-earnings ratio (P/E) of 13.7 is at a discount to the historical average P/E for the company of 15.
The company's debt to capital ratio of 21% is low for the industrial sector. Return on capital is running at about 21% while the net profit margin is 15%. With its global reach and diversification of product and service offerings, 3M is well positioned to gain from global growth no matter where it occurs.
I expect both sales and earnings to increase over the next five years at an average rate of 8% to 10% annually. I also expect that the dividend increases will keep pace with earnings increases. On top of that, I expect that the price could reach $150 per share by 2016 which would produce an average annual total return of close to 20% over that period.
This is a company for investors who like consistency in management with a long-term view. The stock is trading well below its July high over $98 per share. The stock got ahead of itself in July, but looks more like a bargain today.
Disclosure: I am long MMM.