Another day, another disappointment from the high-tech land. After the market closed, software giant Oracle (ORCL) reported disappointing results, sending its stock lower in the after hours trading. Oracle's adjusted earnings of 54 cents a share was three cents a share, 3 cents below the FactSet Research consensus estimate. Sales reached $8.79 billion, up from $8.58 billion a year ago, below the $9.23 billion analysts expected.
Oracle's disappointing results come after a string of similar disappointments by other leading technology companies. Two weeks ago, Texas Instruments (TXN) lowered their guidance. The chipmaker announced that it now expects sales in the range of $3.19 billion to $3.33 billion, compared with a previous range of $3.26 billion to $3.54 billion; and earnings in the range of 21 cents to 25 cents a share, compared with a prior range of 28 cents to 36 cents a share.
One week ago, Intel (INTC) lowered its quarterly revenue expectations, followed by Xilinx (XLNX) and Red Hat (RHT) yesterday. What are these earnings disappointments mean for investors? Should they stay with high-tech or head for the exits?
As we discussed in a previous piece, some of these problems are confined to individual companies. Others may be more widespread. But they should put into perspective. These earnings disappointments come at a time markets have been in a prolonged correction over a substantial slow-down in Europe, the epicenter of sovereign debt crisis. This means that markets may have already discounted these disappointments, as evidenced by the nice comeback of Texas Instruments, Intel, and Xilinx after an initial correction.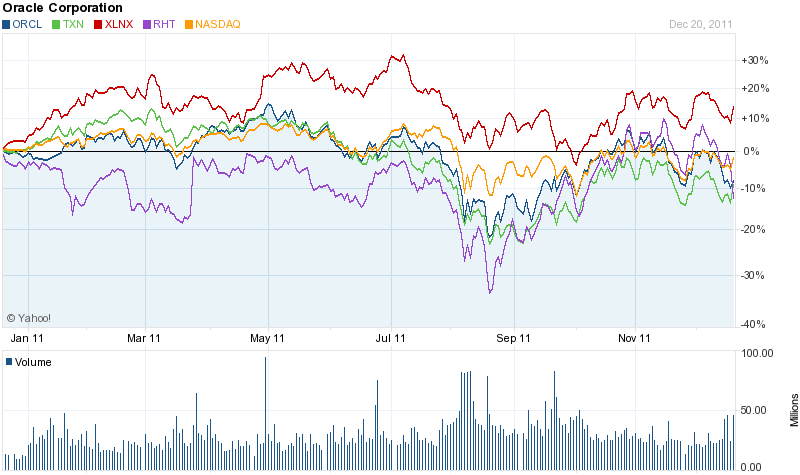 Click to enlarge
Disclosure: I am long INTC.