My dividend strategy is based upon the concept of investing in winning business models. This has led me to CVR Partners, LP (NYSE:UAN). CVR Partners pays an annual 10% dividend. The best aspect is the company's business model. CVR Partners owns and operates a nitrogen fertilizer business. The business is based in Coffeyville, Kansas. CVR Partners has production capacity for 1,225 tons per day of ammonia, and production capacity for 2,025 tons per day of urea ammonium nitrate . The world needs ammonia and UAN in order to increase crop yield. My investment thesis assumes the 10% dividend yield will grow as the world increasingly needs CVR Partners' products.
CVR Partners Background
CVR Energy, Inc. (NYSE:CVI) formed CVR Partners. CVR Partners uses petroleum coke as a key raw material feedstock. CVR Partners is strategically located in Coffeyville, Kansas. This is where CVR Energy has a refinery adjacent to CVR Partners' production facility. This permits CVR Partners to be the only manufacturer to use petroleum coke within the nitrogen fertilizer production process. The competitors use natural gas.
CVR Partners Stock Valuation
As with any commodity product, CVR Partners' valuation is based upon the commodity price and company production. Per page 12 of the November 16th investor presentation, the reader can note how valuable the fertilizer products are and will be in the future.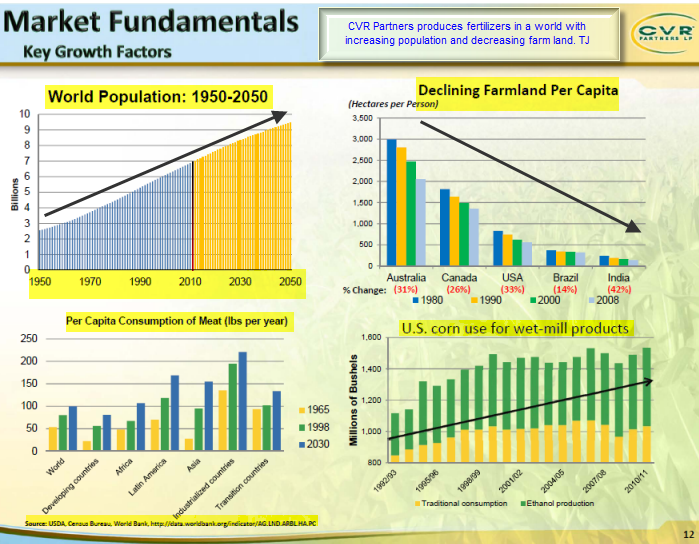 Short Term Risk
For the week of December 19th, there is newsworthy risk to holding CVR Partners and fertilizer stocks in general. Per boots on the ground, fertilizer prices are heading south. The market analysts said, "While retail charges remain frozen like a fly in amber, fertilizer costs on international markets plunged again this week, with panic not seen since the collapse of prices in 2008-2009..... ". I prefer to hold puts on holdings and sell covered calls on stocks when this kind of turbulence is occurring. For risk averse investors, CVR Partners' share holders may want to consider a UAN Feb 2012 20.000 put. Everyone's risk tolerance is different. There is a way to hedge CVR Partners if one feels exposed to downside pressure.
Ammonia prices dropped significantly. UAN prices haven't had as drastic avchange. UAN prices did drop down $5 to $290. Urea prices dropped on international markets.
Growth Potential
CVR Partners is expanding its production capacity. The expansion should be done and fully operational by the 3rd quarter of 2012. This will increase the urea ammonium nitrate output by 50%, or 400,000 tons per year. This has been in the process since earlier this year. The latest update was provided during a November 16th investor presentation.
Competitors
Terra Nitrogen Company, L.P. (NYSE:TNH)
Terra Nitrogen Company's business model is to produce and sell nitrogen fertilizer products for agricultural and industrial applications. Terra Nitrogen primarily sells anhydrous ammonia and urea ammonium nitrate solutions to clients. The majority of the profits are distributed to shareholders. CF Industries Holdings, Inc. (NYSE:CF) and its affiliates owned 75.3% of Terra Nitrogen outstanding units as of September 30th, 2011.
Options are not available on Terra Nitrogen. I prefer to contain downside pressure on a company with a tight float. Since options are not available, I have to pass on owning this high return performer.
I consider CF Industries the leading blue chip fertilizer company. The company is one of the largest global manufacturers and distributors of nitrogen and phosphate fertilizer products. CF Industries has two business segments. The segments include 1) the nitrogen segment, and 2) the phosphate segment.
Rentech Nitrogen Partners, L.P. (NYSE:RNF)
Rentech Nitrogen Partners produce primarily anhydrous ammonia and urea ammonium nitrate solution . The facility is located in the center of the mid corn belt, which is the largest market in the United States for direct application of nitrogen fertilizer products. Rentech, Inc. (NYSEMKT:RTK) owned Rentech Nitrogen Partners until a recent Rentech Nitrogen Partners initial public offering. Rentech is developing and licensing clean energy technologies for ultra clean synthetic fuels, chemicals and power production.
Action
Fertilizer prices will swing back and forth just like any other commodity. In the long run, fertilizer products are necessary in order to increase crop output on a decreasing global farm acreage. I own CVR Partners' shares with appropriate hedging in place. The dividend will be strong for future years. The demand for the product is a long term need. I recommend investors on the sidelines wait to see if the stock continues to trend lower following its 50 day moving average. Current investors may want to consider selling covered calls or buy protective puts.
Disclosure: I am long UAN, CF. I am short covered calls. I am long protective puts. I have no plan to change this strategy in the near term. I will add CF Industries stock on prolonged stock weakness.