Note: This is the second in the series of our "Top Dividend Stocks for 2012." Over the course of the next several weeks, we will be providing a detailed analysis for each our top picks for 2012. For the first article in this series, see here.
General Macro View
Parsimony believes that 2012 will be riddled with volatility and uncertainty for equity market investors. Interest rates will remain low due to over indebted balance sheets. Equity market investors should seek equities with stable earnings (and dividends) that will hold up in an uncertain and weak economic environment.
Lakshman Achuthan, the co-founder of ECRI (video) was on Bloomberg on Friday updating viewers on his recession call. The ECRI continues to call for a recession in the first half of 2012. Due to the strong track record of the ECRI, we think that investors should remain defensive in 2012.
click to enlarge images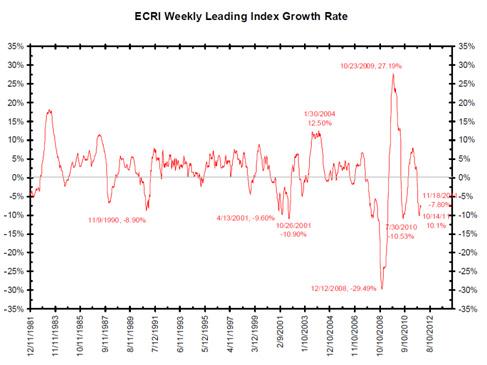 Company Overview: Altria Group, Inc. (NYSE:MO)
Altria engages in the manufacture and sale of cigarettes, smokeless products, and wine in the United States and internationally. It offers cigarettes under the Marlboro, Virginia Slims, Parliament, Benson & Hedges, Basic, and L&M brands; smokeless tobacco products under the Copenhagen, Skoal, Red Seal, Husky brands, and Marlboro snus brands; and machine-made large cigars and pipe tobacco.
The company also produces and sells blended table wines under the Chateau Ste. Michelle and Columbia Crest names; and distributes Antinori and Villa Maria Estate wines and Champagne Nicolas Feuillatte in the United States. In addition, it maintains a portfolio of leveraged and direct finance leases in rail and surface transport, aircraft, electric power, real estate, and manufacturing.
The company sells its tobacco products to wholesalers, including distributors; large retail organizations, such as chain stores; and the armed services. Altria Group, Inc. markets its wine products to restaurants, wholesale clubs, supermarkets, wine shops, and mass merchandisers. The company was founded in 1919 and is headquartered in Richmond, Virginia.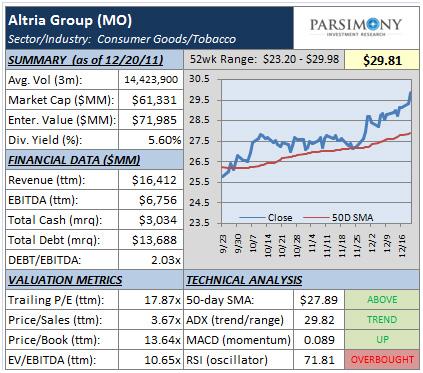 Investment Thesis
Our investment thesis for MO is simple...smokers are going to keep smoking in 2012. While we don't advocate smoking, the tobacco business is a very stable industry and tobacco companies like Altria will continue to generate a steady stream of dividends for income investors.
As shown in the table below, Altria has had stable revenue and EBITDA growth throughout the recession and the company has incredible EBITDA margins (40%). In addition, MO has maintained a very conservative leverage profile and a healthy payout ratio.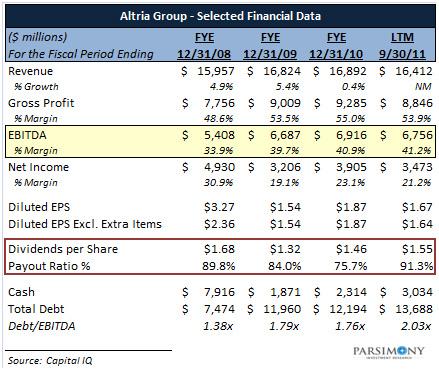 Comparable Company Analysis
MO is currently trading at slight premium to its tobacco industry peers (LO, PM, and RAI). However, MO has an above average dividend yield.

Technical Take
The stock has been trading in an upward range the past few months and we believe that this trend will continue for MO as investors continue to seek good risk-adjusted yield in a low interest rate environment. That said, the stock should get downward support around the $28 area, and we think that investors should consider buying MO on any dips.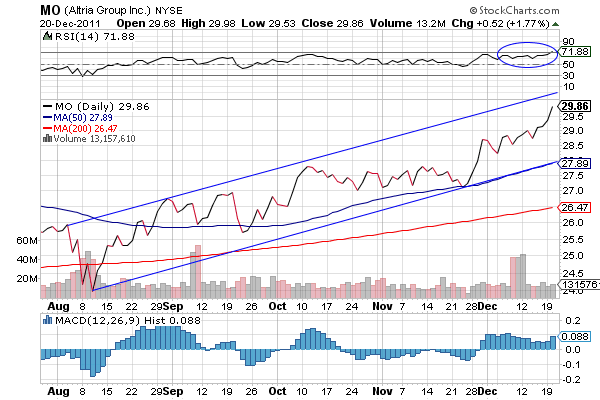 Risks to Consider
Margin pressure from increased competitive spending within the US cigarette industry following the $0.62/pack federal excise tax increase.
State excise tax increases in light of a weakening economic environment and growing state budget pressures.
Potential impact of FDA regulation of tobacco.
The adverse impact of indoor smoking bans.
Any large-scale unforeseen adverse tobacco litigation development.