General Motors (NYSE:GM) is one of America's top three automobile producers, a corporation in business for over a century. However, on paper GM is only a year-old company, one that has had a steady decline from its market peak at $39.48 per share. The former GM was plagued by the rising costs of its long term commitments to unions, an overly broad product line and the rising costs of its materials. These problems led to bankruptcy protection and federal bailout money. During the restructuring, new contracts with unions and suppliers, cost cutting and trimmed product lines helped bring the company back to profitability.
Post-bailout, GM has managed to post profits for nearly two years. GM was initially under the watch of federal regulators but is now in the hands of CEO Daniel Akerson. Akerson was recruited in 2009 to lead GM out of bankruptcy protection. Akerson has both positive and negative things to say about GM. He claims that there is "a resistance to change" among the "lumbering bureaucracy". On the flip side, he says the company is recruiting "good people".
The U.S. automobile industry as a whole has been making great strides to regain its competitive edge. U.S. market share is increasing at the expense of Japanese automakers Toyota (NYSE:TM) and Nissan (OTCPK:NSANF). The U.S. has regained 2% of the market share from its foreign-based competitors. U.S.-made automobiles now claim a total of 47% of the domestic market. Toyota and Nissan are barely holding onto 19% together. This year GM posted net profits of $7.1 billion in the first three quarters but had a decline in the third quarter due to its European arm, Opel. Toyota just slashed its yearly profit forecast by over 50% due to problems linked to the natural disasters in Asia. Toyota now expects to make $2.8 billion, placing it in the #2 spot behind GM.
In current news, GM struggled to get is Cruze plant back online following a shutdown brought on by supply chain woes. Also, GM is under investigation concerning fires in the battery packs of the hybrid Volt model. This problem also hurts the rest of the car industry, especially Nissan, whose Leaf model runs on battery power only. Internationally, GM is being hurt by its European arm, Opel. Opel is expected to post a net operating loss of over $1 billion in the next year due to weak sales. This is after projecting break even in 2011. CEO Akerson expects Opel to show profitability by 2016. Furthermore, GM's presence in China, India and Russia earned much less compared to a year ago.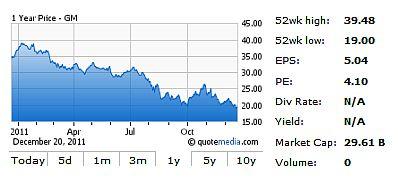 Restructuring was good for GM. Its current debt to equity ratio is low at 29%, or just over $10 billion. GM is currently trading about 5x earnings and has a substantial amount of institutional investment. Technicals support a possible base forming. GM, currently trading around $19, is at a previous but untested support level. Volume is weak (8.9 million shares average daily volume) compared to Ford (NYSE:F) at 49.9 million. Technical indicators show GM as oversold, but without a strong catalyst, investors will be shy about dedicating dollars to GM.
GM has a lot of things going for it. Fundamentals are improved following restructuring. GM is able to make money now but will need to do so on a quarter to quarter basis. Technicals are showing support at current levels but there just isn't enough historical data. Current charts only go back thirteen months following its emergence from bankruptcy protection. CEO Daniel Akerson is also making strides to ensure that GM stays current with market needs. However, there are headwinds for GM to battle. Its European arm is not keeping up with the domestic improvements, there are still supply chain hurdles, alternate fuel vehicles are proving costly to develop and investor confidence just isn't there. GM is a cautious buy. It will need to stay on track and prove it is a viable company on into the future.
Disclosure: I have no positions in any stocks mentioned, and no plans to initiate any positions within the next 72 hours.