The drug stocks have been on fire lately!
Pfizer (NYSE:PFE) has gone from $16.63 per share to $21.22 since early August.
Bristol-Myers Squibb (NYSE:BMY) has gone from $25.69 to $34.36 during that same time period.
Eli Lilly has also made a similar move of $33.75 to $40.95 since August. Are the drugs stocks shaping up to be leading stocks in 2012?
The first fact that I would point out is that dividend paying stocks have been very popular since the real problems in Europe started to show up, in early August of this year. In an article that I wrote at that time, I pointed out that the 30-month old bull market that we had enjoyed since early 2009 came to an abrupt end, right around that same period of time.
It is important to note that many dividend payers have been soaring since early August, not just the drug stocks. Just check out the charts of Kinder Morgan (NYSE:KMP), Oneok Partners (NYSE:OKS), and McDonald's (NYSE:MCD) to just name a few. Investors currently have a ravenous appetite for dividends, and dividend payers are outperforming the market by a wide margin.
Consider that Pfizer (PFE) currently sports a dividend of 4.1%, Bristol-Myers 4.0%, and Lilly (NYSE:LLY) 4.8%, is this enough reason to go chasing these stocks? Before you join the crowd in gobbling up these stocks for their juicy dividends, let me point a few things out to you:
(Click charts to expand)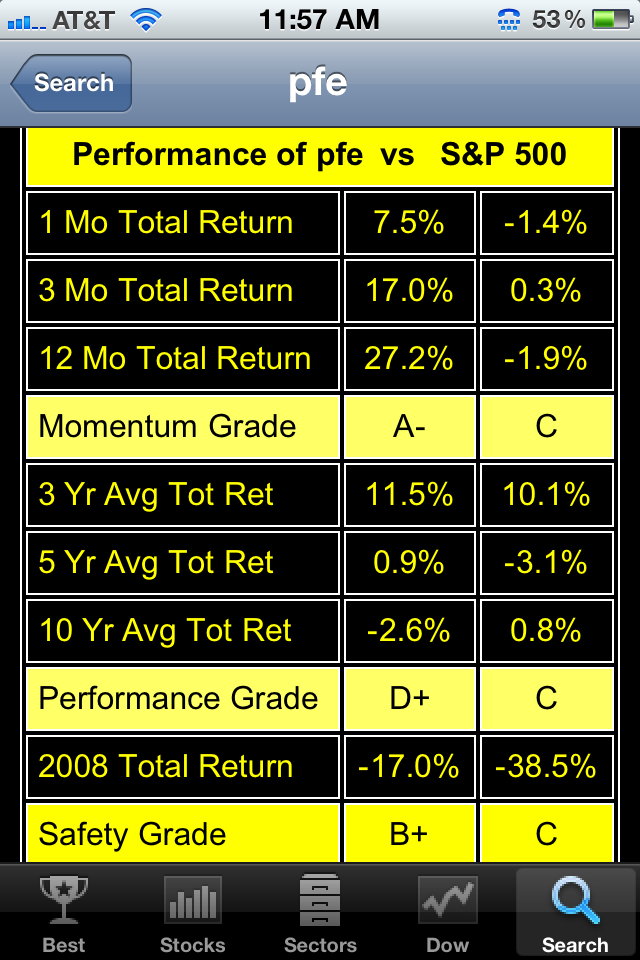 Data from Best Stocks Now App
Pfizer has delivered an average total return of -2.6% per year over the last ten years. Over the last three years, the stock has performed right alongside S & P 500 (NYSEARCA:SPY), but I will admit that the last twelve months has been good for investors in Pfizer, with a fat 27.2% total return. This 12-month return is a testament to the fact that investors currently have a strong appetite for dividend payers.
I lose my enthusiasm for the stock however, when I see analysts' estimates for growth of just 3.3% per year over the next five years. I like some growth along with my dividends. I wrote a Seeking Alpha article with several examples of what I mean by this recently.
Now let's take a look at Bristol-Myers Squibb: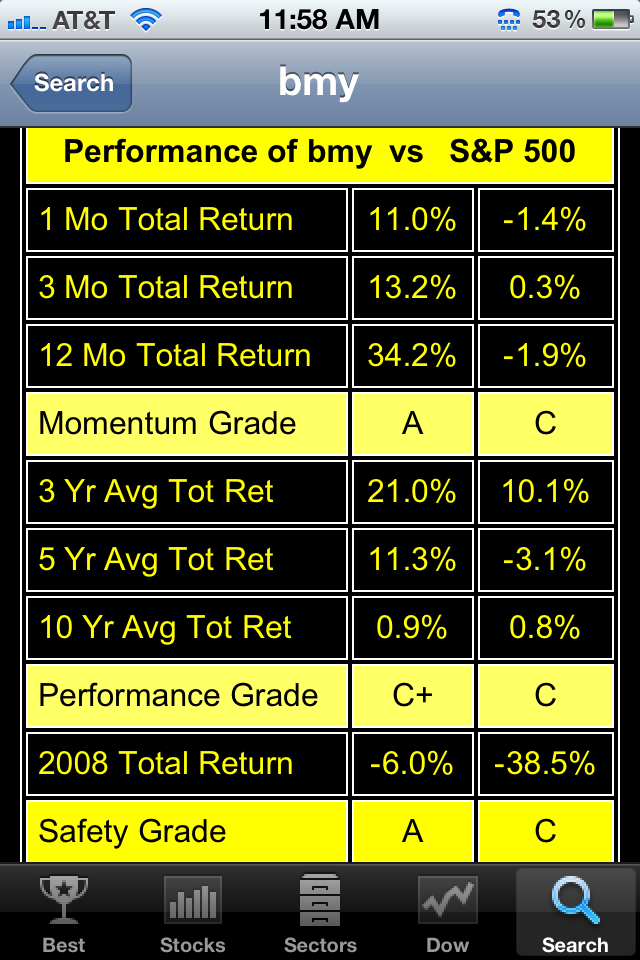 Date from Best Stocks Now App
Bristol-Myers Squibb has delivered superior returns to Pfizer's over the years. The company has been growing its earnings by 20% per year over the last 5 years, while Pfizer's earnings have been growing by a paltry 1% per year!
There is a direct correlation between stock price appreciation and earnings growth, just look at the example of Bristol-Myers vs. Pfizer. The consensus five-year growth rate estimate for Bristol-Myers is currently no-growth by the army of analysts who cover that stock. It is hard to get too optimistic about some growth along with those earnings out of BMY in the years to come.
Let's take a peek at Lilly's returns over the years: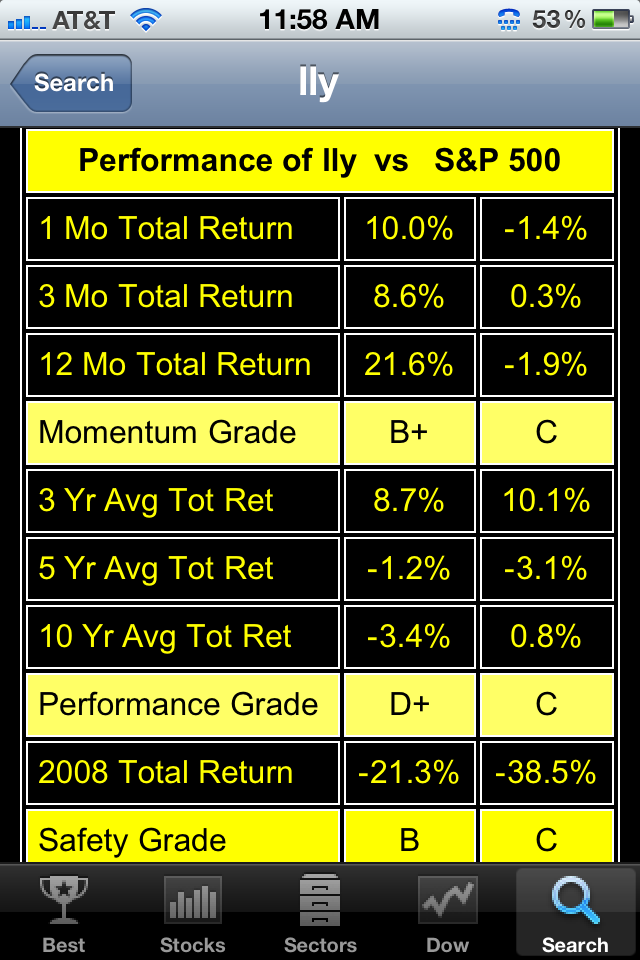 Data from Best Stocks Now App
Lilly is right down there with Pfizer when it comes to performance over the years. I will readily admit that it has a good run over the last twelve months, but with negative growth projected over the next five years, I think I will pass.
Now, the article is titled, "My Favorite Drug Stock," but we have not found it yet amongst these large, dividend paying big-pharma stocks.
Instead, I like the leading diabetes drug stock, Novo-Nordisk (NYSE:NVO), which has its headquarters in Denmark. NVO is a $64 billion dollar company that has been growing by 26% per year over the last five years. America and the world continue to grow in more ways than one. Just take a look at some footage of folks from the sixties and seventies. There was a lot less of us back then.
Blame fast food, microwave ovens, convenience stores, processed foods, or whatever you will, people's waistlines have expanded by a large margin over the last several decades and diabetes is almost an epidemic. I do still like fast food stocks like McDonald's, Yum! Brands (NYSE:YUM), and Domino's Pizza (NYSE:DPZ) right now, however. In fact, I recently wrote an article on McDonald's and on Domino's, but I also like the Denmark-based developer of insulin analogues, human insulin, and oral anti-diabetic drugs for diabetes care.
Let's take a look at the performance of Novo-Nordisk over the years: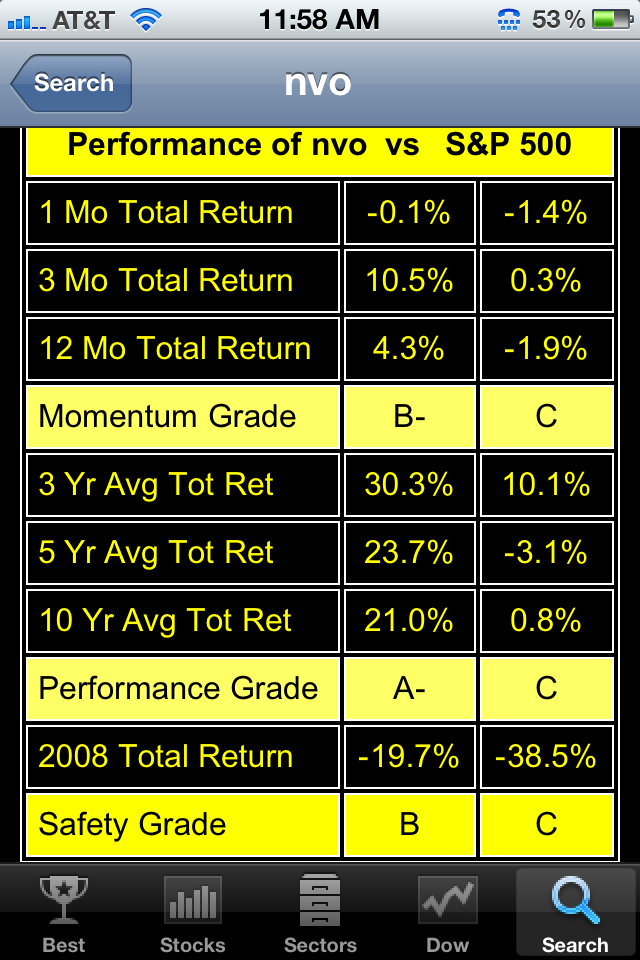 Data from Best Stocks Now App
Now, NVO has delivered some serious alpha over the years! Investors in the leading diabetes company have received a total return of 21% per year over the last ten years. The last three years have also been good, with average returns of 30.3% per year. The last 12 months has not been very good, however with a return of just 4.3%. Novo-Nordisk has not been as popular as other drug stocks lately, as it only pays investors a 1.2% dividend. Consider the growth that it has delivered, however.
Has this stock been overlooked as of late, because of investors seeking fatter dividends? Let's take a look at the current valuation and growth prospects for the company.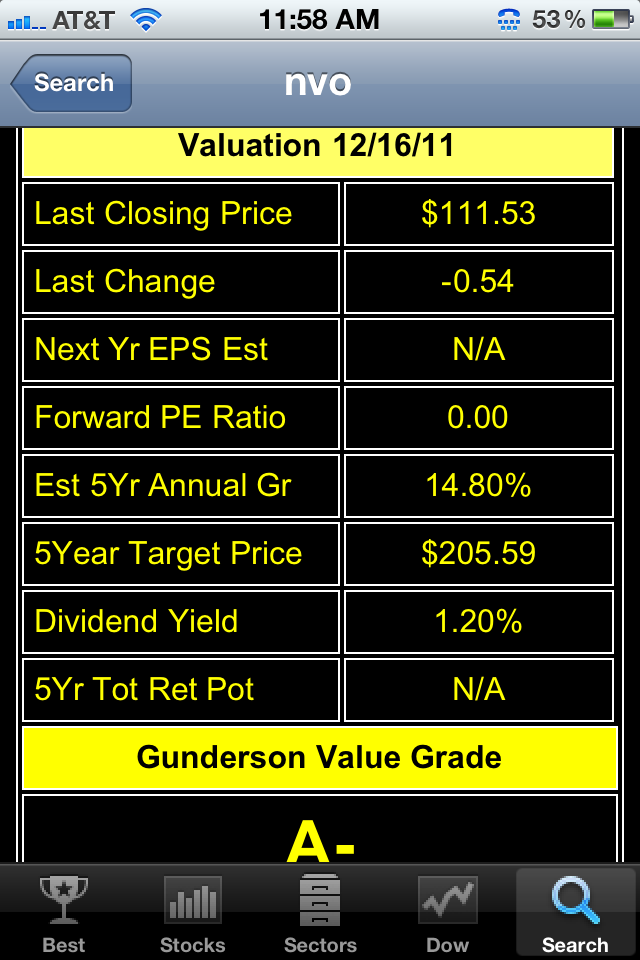 Data from Best Stocks Now App
Novo-Nordisk is expected to earn $6.23 in the coming year. It is expected to grow those earnings by about 15% per year over the next five years. At that rate, Novo-Nordisk would be earning $10.72, five years from now.
I give the stock a multiple of 19 to come up with a $205 target price. I believe that NVO has more than 90% upside potential over the next five years.
I love the performance, I love the current valuation, and the chart of NVO also looks pretty good right now.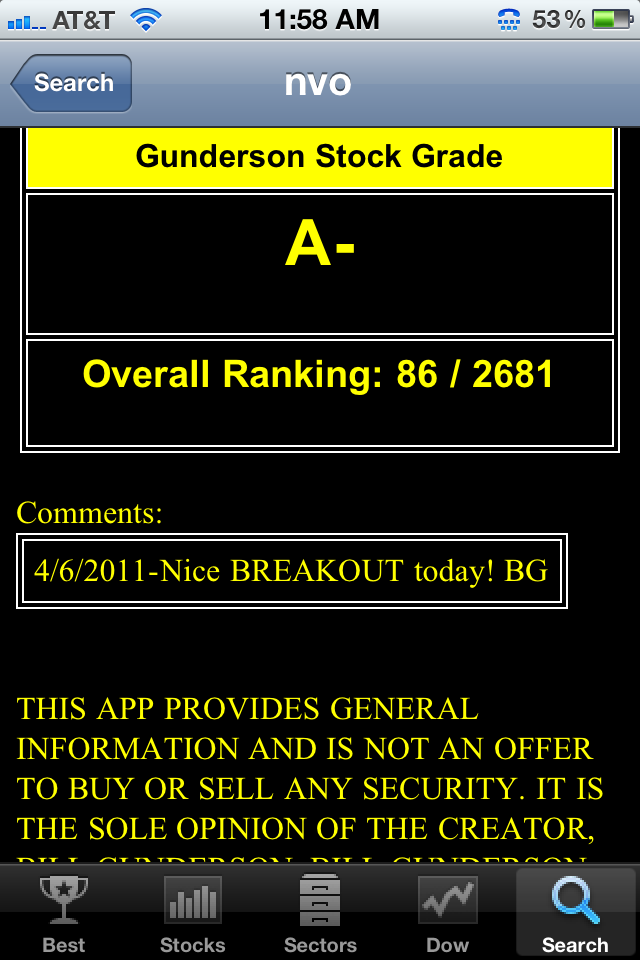 In fact, when I weigh the value and the performance, I get an "A" grade with my proprietary stock grading system right now.
It's your choice. You can go along with the crowd into big-pharma stocks that have had a big run lately, because of investors chasing yield, or you can buy a great growth stock that is cheap right now.
Novo-Nordisk is currently my favorite drug stock!